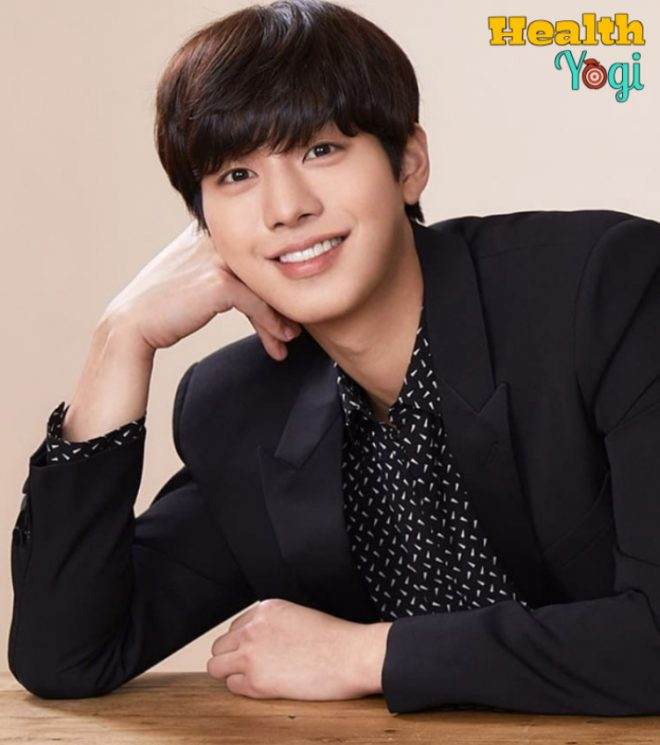 Ahn Hyo-seop Workout Routine and Diet Plan: Ahn Hyo-seop or also known as Paul Ahn was born on April 17, 1995. Paul Ahn is a prominent South Korean actor & singer. He has worked in several Korean dramas, TV shows, web series & hosting but he became famous & earned recognition or fame from Still 17 (2018), Abyss (2019), and Dr.Romantic 2 (2020). Even he has received the "Best New Actor" award in 2021 by APAN star awards for his character in Dr. Romantic 2.
Ahn Hyo-seop has over 3.5 million fans following on his Instagram handle. The Korean singer has always been praised for his lean & toned physique with a cute smile. He has won millions of hearts with his acting skills and sweet looks. So, here we are going to present you with the charming K-singer Ahn Hyo-Seop workout routine and Ahn Hyo-Seop diet plan in a precise detailed manner. 
Ahn Hyo-seop Body Stats 
| | |
| --- | --- |
| Body Stats  |   Units  |
| Height | 6 ft. 1 inches  |
| Weight | 70 kg  |
| Age | 26 years  |
| Chest  | 40 inches  |
| Waist  | 28 inches  |
| Biceps  | 13 inches  |
Also Read: Kim Yoo-Jung Diet Plan and Workout Routine [Updated]
Ahn Hyo-seop Workout Routine 
Ahn Hyo-seop is just 26 years old and earned a lot of fame or recognition in the world. He is very popular for the leading character of the young competent surgeon that he played on-screen in Dr. Romantic. He has inspired his fans with his hard work, dedication & passion to achieve his fitness goals. Ahn Hyo-Seop has maintained a slim & fit body image with his regular workouts. Ahn Hyo-seop jaw-dropping physique and charming aura have always grabbed the attention of his fans.
Ahn Hyo-seop workout schedule has a strange trick that helps him lose massive weight for a Korean drama. Ahn Hyo-seop said in an interview that he has an unusual habit of taking a shower before doing his workouts. The Korean actor Ahn Hyo-seop workout routine is a bit bizarre but very beneficial. He enjoys doing his workouts and exercises. The notable K-actor workout schedule is mainly comprised of strength training and cardio exercises which he performs without fail every four days a week. 
Ahn Hyo-Seop can be apparent in his physical appearance which is quite striking. Paul Ahn shares his striking physique pictures on his social media handles. The workout routine of Paul Ahn has perfectly divided into four days a week in which he exercises each day for different body parts. So, for his fans and other fitness enthusiasts, we have brought the Ahn Hyo-Seop workout routine in brief. So, if anyone wants to have a lean & elegant physique like the Korean singer can be able to achieve. 
Ahn Hyo-Seop Workout routine Includes:
Strength Training 
Before performing these endurance workouts or exercises, a proper warm-up or stretching of the body for 10 to 20 minutes is a must, so that every muscle group of the body gets active. 
Monday 
      Legs and Shoulders 
      No.of sets – 4
      Reps count – 10
Rest duration – 1 minute 
Back squats 

Overhead press 

Leg extension 

Seated dumbbell lateral raise 

Hamstring curl 

EZ-bar upright row 
Tuesday 
       Chest and Triceps 
       Reps count –10
       No.of sets – 4
Rest interval – 60 seconds or 1 minute 
Bench press 

Incline dumbbell Flye 

Triceps dip 

Include dumbbell shoulder press 

Cable triceps press down

Press-up 
Wednesday 
       Back and Biceps 
       Reps count – 10
       No.of sets – 4 
Rest timing – 60 seconds 
Chin-up 

Lat pull-down 

Prone dumbbell row 

Prone dumbbell reverse Flye 

Dumbbell biceps curl 

Dumbbell hammer curl 
Thursday 
       Arms and Abs 
      No.of sets – 4
      No.of reps – 10
Rest duration – 1 minute 
Romanian deadlift 

Crunch 

Plank 

Underhand Lat pull-down 

Cable biceps curl 

Barbell lateral raise
Cardio Training
There are cardio workout machines available in the gym such as treadmill, elliptical, rowing machine, spinning cycle, stationary cycle, etc for performing cardio exercises. Cardio workouts are best for the healthy functioning of the cardiovascular system of the body. Here is the best collection of cardio workouts for the gym that Paul Ahn performs. 
Firstly, warm-up or stretching of the body is essential for 5 to 10 minutes. 
Jumping jacks 

Squats 

Step-out burpees 

Push-ups 

Running in place 

Swimming 

Kickboxing 

100-meter sprints 

Lunges 

Inchworm 

Run stairs 

Mountain climbers 
This is what is all included in the Korean singer Ahn Hyo-seop workout routine that he happily accomplishes to stay in shape and healthful. Ahn Hyo-seop striking personality & physique is the terrific compilation of these resistance training plus cardio exercises workout routines that he never misses out on. 
Also Read: Han So Hee Diet Plan and Workout Routine
Ahn Hyo-seop Diet Plan 
Ahn Hyo-seop has shown splendid acting skills in his K-dramas, shows, etc. But the look of the characters that he portrays on-screen requires a lot of workouts, strict diets, and so on. Ahn Hyo-seop with his body image has attracted & motivated many young individuals. So, here we will share the incredible Korean singer Ahn Hyo-seop diet plan that he follows properly with regular workouts to maintain his alluring physique. 
Is Ahn Hyo-seop a vegan? 
No, Ahn Hyo-seop isn't a vegan.
Breakfast 
Collard green/kale

Shabu pork 

Miyuki gook 

Green onion pancake 

Kimchi soup 
Lunch 
Vegetable curry 

Silken tofu 

Sundubu 

Quinoa & cauliflower bibimbap 
Snakes 
Dinner  
Kimchi fried rice 

Joomla-bap 

Mixed green salads 

Zucchini pancakes 
That's all that Ahn Hyo-seop diet plan consists of, he strictly eliminates dairy products, sugars, fats, alcohol, junk foods and is on from his eating plan. The perfect physique that the Korean actor possesses is the miscellany of a healthy nutriment routine and rigid workout training that he performs regularly. The Korean star is always trending for his acting in K-dramas or his lean and adorable body image.
Also Read: Lee Joon-gi Workout Routine and Diet Plan