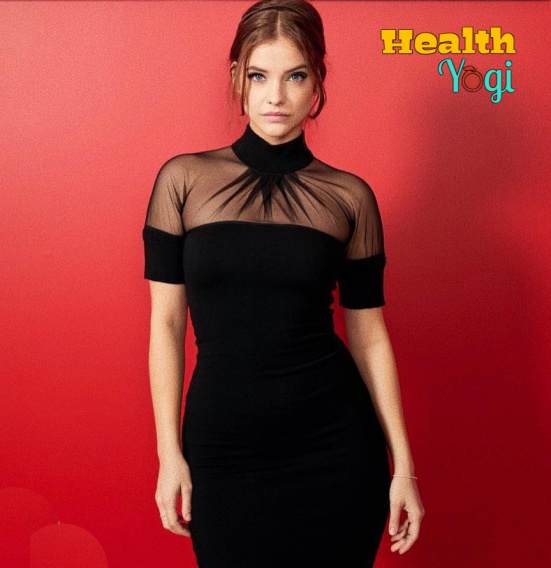 Barbara Palvin Workout Routine And Diet Plan: Barbara Palvin is a popular and gorgeous Hungarian Model. She first appeared in the Sports Illustrated Swimsuit Issue in 2016. In 2019, Barbara Palvin was chosen as a model in the prestigious and most recognized "Victoria's Secret Angel". She shot her first editorial in 2006 for spur magazine at a very young age. She has worked for multiple international magazines and covers like Vogue, Marie Claire, Elle, etc.
One of the most common features of all the models working with Victoria's Secret Angel is that they have a well maintained and gorgeous body. They take the utmost care of their workouts and diets to remain in perfect shape and showcase their talent on the ramp. Barbara is also one such model. She has an amazing body and does everything possible to maintain it. Let's look at the gorgeous Barbara Palvin's Workout Routine and Barbara Palvin diet plan.
Barbara Palvin Body stats
| | |
| --- | --- |
| Age | 27 years |
| Height | 5 feet 9 inches |
| Weight | 57 kgs |
| Bust | 34 inches |
| Waist | 26 inches |
| Hips | 34 inches |
 Also Read: Taylor Hill Workout Routine and Diet Plan
Barbara Palvin Workout Routine
Barbara Palvin is smart, beautiful, and extremely humble. Her workout routine and diet plan are very strict and tough. She is very serious about her work and knows how to maintain that body and is giving us major body goals. Her workout routine is a blend of high interval intensity training or HIIT, Pilates, and bodyweight workouts. Let's look at all these one by one to get insights into the model:
HIIT (high interval intensity training)
Her HIIT workout included the following exercises:
Jump lunge: 40 seconds and rest for 40 seconds

High knees: 40 seconds and rest for 40 seconds

Jump squat:  20 seconds and rest for 40 seconds

Bodyweight squats: 30 seconds

Push-ups: 30 seconds

Ab lower and lift: 30 seconds

Plank: 40 seconds
These are some go-to HIIT exercises of Barbara Palvin, she usually hits the gym 10 times a week to make sure she is ready to hit the runway with great power.
Pilates
Pilates is extremely useful for those who like to keep it simple and acquire a great physique when done consistently. Barbara Palvin likes to squeeze her Pilate session 2 to 3 times a week. These are some go-to Pilate exercise Barbara Palvin loves doing:
Standing Lat pull: 40 seconds

Donkey kicks: 40 seconds (very useful for great butt)

Single leg squat with slide: 40 seconds

Battle ropes: 1 minute

Single leg squats on the Bosu Ball: 40 seconds
perform these exercises by taking a few breaks and regularly to achieve that fit body. But, you will need a good diet too that will complement your workout routines like Barbara Palvin workout routine complements with her diet plan. Let's look at what she eats to remain in a great figure.
Also Read: Gigi Hadid Diet Plan and Workout Routine
Barbara Palvin Diet Plan
Barbara makes sure that her body feels good after she eats, for this she follows the 80/20 diet plan. This means she eats clean and healthy 80% of the time and the remaining time that is 20% she splurges. Here is a diet plan Barbara prefers:
Morning Breakfast
Her day usually starts with a cup of coffee.

She generally eats oats or granola in the morning. These are full of fiber and little protein and give Barbara the fuel she needs to work for the whole busy schedule she has.

She keeps the oats overnight in her favorite type of milk like almond milk and then uses them in the morning with her coffee to kickstart an energetic day. Also, she tops the oats meal with favorite fruits and drizzles it with sweeteners like honey.
Lunch
During lunchtime, Barbara focuses on increasing and enhancing her vegetable intake.
She often tries to enjoy her lunch with baked chicken with a salad prepared with cauliflower and broccoli. She

eats

an apple too.

When Barbara wants to add some carbs or craving carbs, she adds a serving of puree sweet potato.

She replaces the chicken with fish sometimes.
Dinner
She goes for light dinners, of course, unless it's a cheat day with friends.

She likes to prepare her favorite Hungarian dish like goulash.

When she is out with Dylan or other friends, she eats her favorite burgers and drinks. Also, she never misses her ice cream when partying.
This was all about Barbara Palvin workout routine and diet plan. You can also include these workouts and diets to have a body like this gorgeous model Barbara Palvin. For more questions and information, do leave your comments below.
Also Read: Adriana Lima Diet Plan and Workout Routine