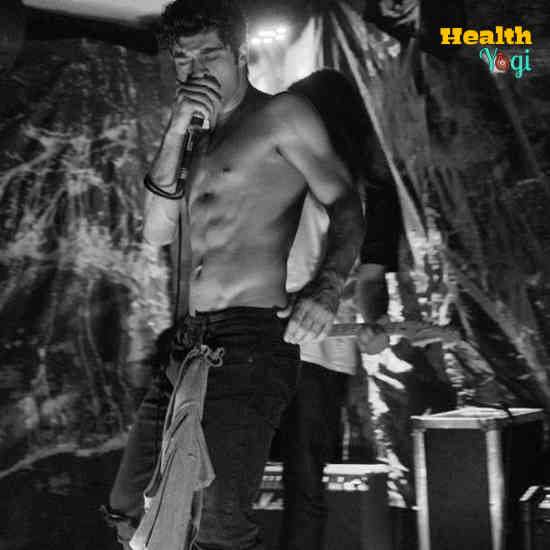 Burak Deniz Workout Routine and Diet Plan: Burak Deniz is an actor from Turkey known for his movies and TV shows like Arada, Yarim Kalan Asklar, Sultan, Kaçak, Night Queenz, etc. He got the title of the Turkish Zyan Malik by his fans because of the similarity in facial features. Or else in physical characteristics, Burak is way too ahead of Zyan.
That's why many girls love him, and many guys admire his body shape and would like to achieve that shape someday as well. So if you also want to learn about the Burak Deniz workout and the Burak Deniz diet plan, then keep reading.
Burak Deniz Body Stats
| | |
| --- | --- |
| Height | 6 ft 1 inch |
| Weight | 80 kg |
| Age | 29 years |
| Chest | 43 inch |
| Waist | 32 inch |
| Biceps | 15½ inch |
Also Read: Burak Ozcivit Workout Routine and Diet Plan
Burak Deniz Workout Routine
After searching for the Burak Deniz workout routine, I learned that he likes to do many functional, compound training, and weights. Burak's daily routine usually contains a mixture of different body parts, as you can see in this fan video posted a while ago.
There is not much information given to specify his workout regime and the exercises that Burak does. However, as we have the idea of the workout, it's not hard to make a workout routine that will be beneficial for you while working for a body like Burak.
So we will also add the workouts like strength training, weight training, isolation and compounds movements, and even cardio workouts. Usually, I love to do and practice a single body part, but Burak's body type is very lean and aesthetic. That's why we will focus on doing a mixed routine with a higher reps count. The workout will be five days long with two days rest. That way, you will have time to recover from the activities.
Burak Deniz workout includes:
Cardio
In the cardio routine, we will be doing a High-Intensity interval training routine that will be quick but tiring. If you are a beginner, do a simple cardio routine like running, biking, etc. We will be doing 20 t 25 minutes of HIIT cardio non-stop with any rest with one minute switch between sprint and moderate pace. Exercises to do:
10 minutes incline treadmill run

10 minutes hydro-rowing machine

100 to 200-speed jump ropes
Burak Deniz Weight Training
We will be doing upper body and lower body workouts with strength training for the weight training. After every workout, we will do a 15 minutes core workout that will work out the abdominal area and give us the abs.
Sets: 3
Reps: 12 to 20
Monday
Bench press

Dumbbell flyes

Chest press

Cable flyes

Shoulder press

Lateral raise to front raise

Shrugs

Lat pulldowns

Inverted ring rows

Cable rows

One-arm dumbbell rows

Deadlifts
Tuesday
Smith squats

Weighted overhead squats

Walking lunge

Leg press

Leg extension

Step-up lunge

Kettlebell sumo squats

Squat pulse
Thursday
Snatch

Clean and jerk

Kettlebell swings

Squats press-ups

Hammer slams

Ball slams

Battle ropes

Muscle-ups

Sumo deadlifts (8 sets of one rep with maximum weight)
Friday
Bicep dumbbell curls

Isolation curls

Barbell curls

Cable curls

Preacher curls

Triceps pushdowns

Single-arm pushdowns

Triceps overhead press

Triceps kickbacks

Delt flyes

Delt lateral raise
Saturday
Deep squats

Hack squats

Leg press

Leg curls

Curtsy lunges

Stiff-leg deadlifts

Thigh abduction

Hip thruster

Glute kickbacks
Burak Deniz Core Workout
Circuits: 3
Reps: 20
Rest time after the circuit: 90 seconds
Crunches

Hanging leg raises to bar toe touch.

Russian twist

Ball slams

V-ups

In and out

Side plank hold for 30 seconds

Stability plank hold for one minute
That's all for the Burak Deniz workout routine.
Also Gets: Engin Öztürk Workout Routine and Diet Plan
Burak Deniz Diet Plan
Burak did not mention anywhere about his recent diet; even previous ones are not from reliable sources. So whatever I will tell you in his diet will be my own opinion and advice of what diet would be best for achieving a body like Burak. I will go for a high protein, low carbs diet with lots of water.
Burak Deniz diet includes:
Breakfast
Avocado toast

Oatmeal with berries and nuts
Snack
Lunch
Chicken

A small bowl of rice

Veggies
Evening Snack
Dinner
Steak/turkey/fish

Veggies

Salad
That's all for the Burak Deniz diet plan.
Also Read: Can Yaman Workout Routine and Diet Plan