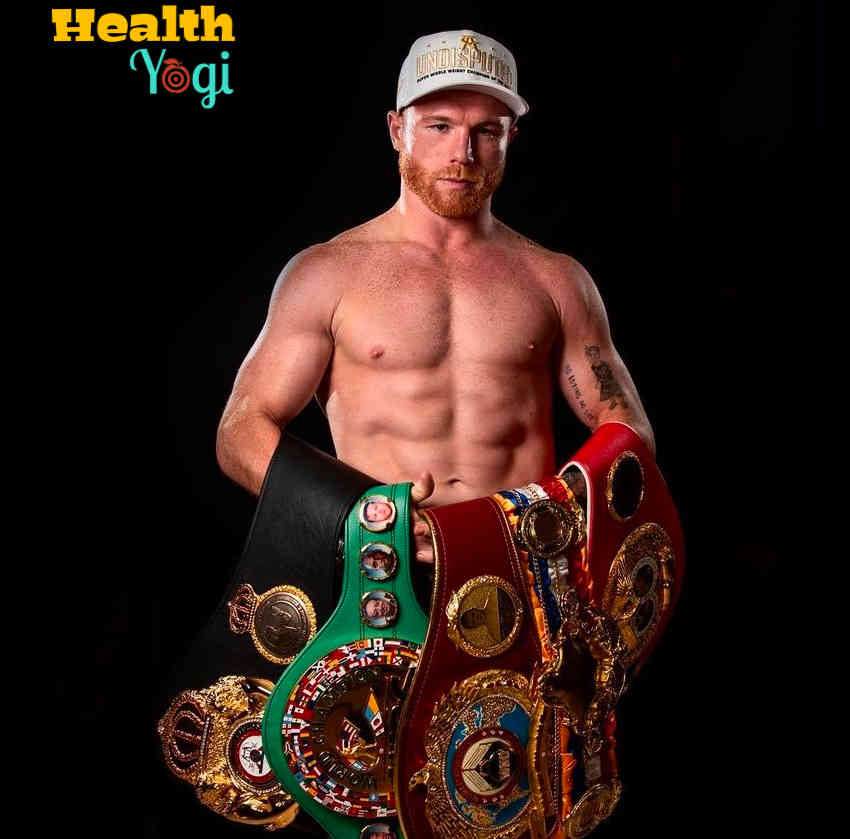 Canelo Alvarez Workout Routine and Diet Plan: Canelo Alvarez is a professional boxer and the rarest boxer. Canelo Alvarez has fought in many weights and won championships in four of them.
Canelo Alvarez has dominated the world, whether it's a light welterweight or light heavyweight. So if you also want to know how and want the Canelo Alvarez workout and the Canelo Alvarez diet, keep reading.
Canelo Alvarez Body Stats
| | |
| --- | --- |
| Height | 5 ft 10 inch |
| Weight | 76 kg |
| Age | 31 years |
| Chest | 43 inch |
| Waist | 32 inch |
| Biceps | 14 inch |
Also Read: Ryan García Workout Routine and Diet Plan
Canelo Alvarez Workout Routine
Canelo Alvarez is a professional boxer like no other ever seen globally, holding a record of 60 fights, 57 wins, and one loss. The most exciting thing is that in those 57 wins, 39 wins are by TKO. So Canelo Alvarez has knocked more than 60% of his opponents when they step in the ring with him. He is known for his powerful punch that can break your ribs and know you are out cold. Also, Canelo Alvarez is well known for his incredible speed. You won't even realize when he punches, and he would last his second punch.
Canelo Alvarez is nothing but an impressive athlete; now, what do you have to do to be that impressive and unique? Well, you have to train your butt off day and night every week, day by day. If you also want to know what Canelo Alvarez does in those weeks and days, then keep reading, as I will try to break it down for you. Thanks to this video by Boxing Life channels, I understood how Canelo Alvarez might approach his training.
The video shows how he would train according to the things Canelo Alvarez has shared over the past years on his training. Canelo workouts seem to have a lot of cardio, which is essential for the boxers. Running is super essential going on the run every morning helps boxers to get used to the impact of moving around. Later on, Canelo Alvarez would divide his workouts three days of the week on strength training and the other three days for boxing sparring. Finally, one day he takes a rest to recover his body.
Canelo Alvarez's workout includes:
Cardio
We will be starting with an hour of running every day. Yes, as there are 12 rounds of 5 minutes, equal to 60 minutes of boxing, you need your legs to get used to moving for at least that much duration. That will help your legs get in condition and be ready for the damage in the actual fight; it also helps you get better stamina and build up endurance.
Strength and Conditioning
Canelo Alvarez mainly trains full-body workouts for three days a week in strength and condition. His workouts would be more similar to other athletes that fight for a living like MMA fighters. So we will be doing circuit training mixed with many compound movements and a few isolated movements. Also, do remember to get a good stretch before and after the workout.
Monday 
Rounds: 4
Reps: 4-6
Rest time: 30 seconds
Dumbbell curls

Squats to press-ups

Cable pulls

Curls to shoulder press

Kettlebell swings
Wednesday
Rounds: 4
Reps: 4-6
Rest time: 30 seconds
Muscle activation SMR with a foam roller (Do it for 5 minutes and target as many muscles as you can)

HIIT routine (45 seconds on 15 seconds off for five sets)

Glute bridge (with barbell)

Lateral leg swing

Arm swings

Lunge with a twist (weight plate)
Friday
Rounds: 5
Reps: 5-7
Rest time: 1 minute
Med ball Rotational throw

Med ball overhead throw

Med ball slams

Landmine push press

Rack pulls

Barbell good morning
Core workout (after every routine)
Sets: 4
Crunches x 20

Cross crunches x 20

Leg raises x 15

Russian twist x 20

Side plank x 40 seconds

Plank hold x till failure
Ring workout and Sparring
For the next three days, we will do a sparring workout that will help you increase your boxing skills and get used to how a boxer used to fight. However, before you start the workout, follow an in-ring workout before starting up your boxing sparring. Canelo Alvarez himself gives the workout, and you can read about that right here in Men's Health. The workout includes workouts with resistance, some bodyweight routines, and stretches.
That's all for the Canelo Alvarez workout routine.
Also Read: Floyd Mayweather Diet, Workout
Canelo Alvarez Diet Plan
Now in the same video, they also break down the diet of Canelo Alvarez, which is also get backed up by an interview of Canelo Alvarez with GQ magazine. Canelo Alvarez's diet would be full of protein, carbs, healthy fats, and other nutrients. So now let's see a diet mentioned by Canelo Alvarez in GQ magazine.
Canelo Alvarez's diet includes:
Is Canelo Alvarez a Vegan?
No, Canelo Alvarez is not a Vegan.
Breakfast
Egg whites with ham

Orange juice
Snacks
Lunch
Chicken breast 

Carrots, squash broccoli, and cauliflower
Evening Snacks
Dinner
Protein shake with no carbs
That's all for the Canelo Alvarez diet plan.
Also Read: Tyson Fury Workout Routine and Diet Plan