Women over the age of 40 often have to work a little bit harder to stay in shape than when they were in their 20s or 30s. But the good news is that there are plenty of celebrity diets and workout routines out there to help them do just that. 
In this blog post, we'll take a look at some of the most popular celebrity workout secrets and diets, all over the age of 40. We'll also explore how you can get started on your own healthy routine, no matter your age!
Jennifer Lopez
Jennifer Lopez is one of the most successful entertainers in the world. Not only is she a talented actress and singer, but she's also a savvy businesswoman. And she's got the body to show for it!
Jennifer Lopez Body Stats
Lopez is known for her curves, and she works hard to maintain her figure. Her body stats are:
Height – 5'5″ or 165 cm

Weight – 127 lbs or 57 kg

Bust – 36″ or 91 cm

Waist – 25″ or 63cm

Hips – 36″ or 91cm
Jennifer Lopez Workout Routine
Lopez's workout routine is just as intense as her diet. She does a mix of cardio and strength training, and she also incorporates yoga and Pilates into her routine. She is also known to be a fan of beauty treatments such as Trusculpt ID for toning her body.
Jennifer Lopez Diet Plan
Lopez starts her day with a cup of warm water with lemon. She then has a protein shake or smoothie for breakfast. For lunch, she typically has a salad with grilled chicken or fish. And for dinner, she likes to have either a steak or salmon with vegetables.
In between meals, Lopez snacks on healthy foods like fruits, nuts, and yogurt. She also drinks plenty of water throughout the day. Jennifer is proof that you can have it all–a successful career, a happy family life, and a killer body!
Click here for full workout and diet plan of Jennifer Lopez
Keanu Reeves
Keanu Reeves has always been in great shape. He's a martial artist and has done his own stunts in many of his movies. In order to stay in such excellent physical condition, Keanu Reeves follows a very strict diet and workout routine.
Keanu Reeves Body Stats
Heigh – 6′ 1″ or 185 cm

Weigh – 165 lbs – 75 kg

Chest Size – 38 inches or 96 cm

Waist Size – 32 inches or 81cm

Biceps Size – 14 inches – 36 cm
Keanu Reeves Workout Routine
Keanu Reeves is known for his dedication to staying in shape. He regularly follows an intense exercise routine to stay fit and healthy. His workout typically includes a mix of weightlifting, cardio, and martial arts training. He works out six days per week, for two hours each day. He focuses on strength training and cardiovascular exercise. He also practices martial arts regularly.
Reeves is a big fan of martial arts and has been training in various forms for many years. He holds a black belt in Brazilian Jiu-Jitsu and has also studied Karate, Kung Fu, and Taekwondo. Reeves often incorporates martial arts moves into his workout routine to keep things interesting.
Keanu Reeves Diet Plan
Keanu Reeves's diet is very strict and healthy. He focuses on eating lean protein, vegetables, and whole grains. He avoids processed foods and excessive amounts of sugar. He also makes sure to stay hydrated by drinking plenty of water throughout the day. This healthy diet helps Keanu Reeves maintain his excellent physical condition.
Click here for the full workout and diet plan of Keanu Reeves
Jennifer Aniston
Jennifer Aniston is an American actress and producer. She has appeared in some of the most popular films and television shows of all time, including Friends, The Office, and Horrible Bosses. She is also known for her stunning skin and amazing body. Here's what her routine looks like.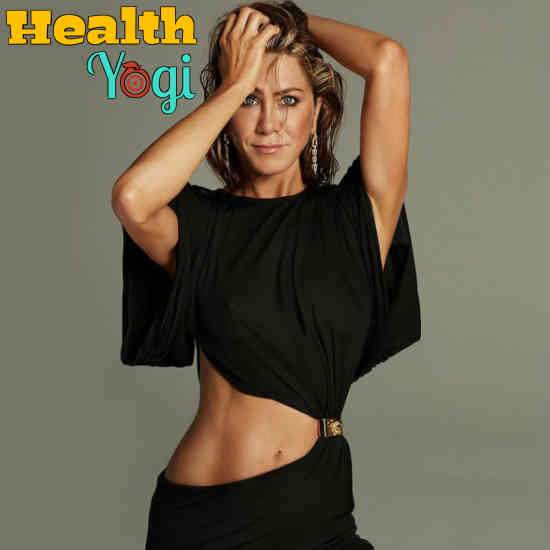 Jennifer Aniston Body Stats
Height – 5'4 in or 164 cm

Weight – 117 pounds – 53 kg

Chest Size – 34 inches or 86 cms

Waist Size – 23 inches or 58 cms

Hips Size – 35 inches or 89 cms
Jennifer Aniston Workout Routine
Jennifer Aniston's exercise regime is a mix of cardio and strength training. She starts her day with a cardiovascular workout, followed by a session of strength training. She then ends her workout with a cool-down and stretching routine.
Aniston usually begins her cardio workout with a brisk walk or light jog. She then moves on to more intense cardio exercises such as running, cycling, or elliptical training. After her cardio workout, she moves on to strength training exercises. These exercises help to tone her muscles and give her the strength she needs for her daily activities.
Aniston's cool-down routine consists of gentle stretches and deep breathing exercises. This helps her body to recover from the strenuous workout she just completed. It also helps to prevent injuries by keeping her muscles and joints loose.
Jennifer Aniston Diet Plan
Jennifer Aniston diet plan is based on the philosophy of eating clean and healthy. She believes in consuming whole, unprocessed foods that are rich in nutrients. Jennifer also advocates for moderate portion sizes and avoiding processed foods, sugary drinks, and unhealthy fats. In addition to eating healthy, Jennifer Aniston also exercises regularly to maintain her fit figure.
Click here for the full workout and diet plan of Jennifer Aniston
George Clooney
George Clooney is well-known for his handsome looks and enviable physique. The actor reportedly follows a very strict diet and exercise plan to maintain his health and good looks.
George Clooney Body Stats
Height – 5'11 – 180 cm

Weight – 78 kg – 172 pounds

Chest – 42 inches – 106 cm

Biceps – 14 inches – 36 cm

Waist – 35 inches – 89 cm
George Clooney Workout Routine
George Clooney's workout routine begins with some cardio. He likes to start his day with a run or a bike ride. This helps him get his heart rate up and gets him ready for the rest of his workout. After his cardio, Clooney moves on to some weightlifting. He likes to focus on compound exercises that work for multiple muscle groups at the same time. 
Clooney also likes to mix things up with circuit training and HIIT workouts. These are intense, short workouts that help him get the most out of his time at the gym. As he gets older, Clooney has said that he is focusing more on working out for health rather than aesthetics. 
George Clooney Diet Plan
Clooney allegedly starts his day with a cup of hot water with lemon. For breakfast, he usually has oatmeal or eggs. For lunch and dinner, Clooney likes to eat lean protein such as fish or chicken, along with vegetables. He also avoids eating processed foods, sugar, and alcohol. He typically has a light lunch and dinner, and he limits his intake of sugar, salt, and alcohol.
The George Clooney diet is a healthy and balanced approach to eating that can help you lose weight and improve your overall health. If you're looking to follow a similar diet plan, be sure to speak with your doctor or a registered dietitian first to ensure it's right for you.
Kim Kardashian
Kim Kardashian is no stranger to flaunting her enviable figure. The reality star and businesswoman often poses in revealing outfits that showcase her curves, and she isn't afraid to experiment with her look. Kim has worn everything from skimpy bikinis to latex dresses, and she always looks incredible.
Kim Kardashian Body Stats
Height – 5'2 inches or 157 cm (1.57 m)

Weight – 53 kg or 116 pounds

Chest Size – 38 inches or 96.52 cm

Waist Size – 26 inches or 66.04 cm

Hips Size – 41 inches or 101.14 cm
Kim Kardashian Workout Routine
Kim Kardashian's workout routine is a mix of strength training, cardio, and Pilates. 
She starts her workout with a warm-up of light jogging on the treadmill. Then she moves on to more intense cardio by doing sprints or incline walking. After her cardio session, she heads to the weight room to lift weights. 
Her strength-training routine consists of exercises such as squats, lunges, and chest presses. She finishes her workout with a cool-down on the treadmill followed by some stretching. 
Pilates is also a big part of Kim's workout routine. She takes classes several times a week and uses the exercises to help tone her body and improve her flexibility.
Kim Kardashian Diet Plan
Kim Kardashian has long been known for her curves and enviable figure. Recently, she has been sharing her diet and workout routine with the world, and it turns out that she is pretty disciplined when it comes to staying in shape. Here's a look at what the Kim Kardashian diet plan consists of.
For breakfast, she typically has eggs and avocado. For lunch and dinner, she'll have protein like chicken or fish, along with vegetables. She also snacks on nuts and fruit throughout the day.
This type of diet helps Kim stay slim and toned, as well as gives her lots of energy to keep up with her busy lifestyle. It's also easy for her to stick to when she's traveling or on the go.
Click here for the full workout and diet plan of Kim Kardashian