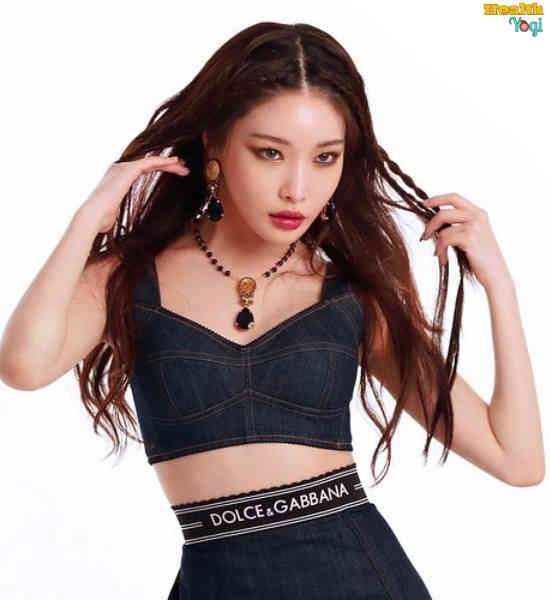 Chungha Diet Plan and Workout Routine: Chungha is a singer, dancer, and ex-member of the Korean Girl group I.O.I. She usually gets recognized for her solo albums like Flourishing, Hands on Me, Blooming Blue, etc.
Chungha also has a very fit and lean body figure, and many people love to get that body shape like Chungha. So if you also want the Chungha workout and the Chungha diet plan, then keep reading.
Chungha Body Stats
| | |
| --- | --- |
| Height | 5 ft 3 inch |
| Weight | 45 kg |
| Age | 25 years |
| Breast | 32 inch |
| Waist | 24 inch |
| Hips | 33 inch |
Also Read: [Somi Diet] Jeon Somi Workout Routine and Diet Plan
Chungha Workout Routine
Chungha is one of the singers that is famous for her songs and solo career as well as her group career in K-pop. She started her journey with a live show and later got selected and became a member of the K-pop group. Now you see her doing solo songs and making shows. However, one thing that didn't change about Chungha is her physical fitness.
That is the most crucial factor in showbiz, especially if you are part of the Korean industry. Like you cannot get famous and stay on top in K-pop if you are not fit. So how does Chungha maintain and keep herself fit? I tried to find the workout that Chungha might be doing but could not find any interviews or articles recently in the last two years.
However, looking at her Instagram does tell me about one of her workouts that is a daily part of Chungha training. That routine is the dance practice, Chungha does a lot of dance practice for hours, and you can see that in many of the posts that Chungha shares on her Instagram. Now there is a possibility that Chungha may not be doing any other workout other than the Dance routine.
Many of the idols do stick mainly to dancing to keep them fit and maintain a good diet. Still, to make sure, I will give you a version of K-pop that I have created after reading most of the K-pop idol's workout routine. We will be working out five days a week and training for almost 3 hours a day so let's get started:
Chungha workout includes:
Cardio
As we know that Chungha does dance routines as her cardio routines which help Chungha burn many calories. So you can either do that in the morning for an hour to two hours.
If dancing is not your thing, you can do any other cardio workouts, but I would recommend doing this as other activities will be tiring. That's why you should stay with dance and get a toned body with flexibility.
Pilates
Now to increase that flexibility even more, we will do an hour of Pilates in the evening. We have already seen almost all K-pop girl idols doing Pilates as a regular workout routine.
So you can do this activity in the evening, which will help you get a good body shape while toning your body and giving you a slim waistline and flexible body shape.
That's all for the Chungha workout routine.
Also Read: Sunmi Workout Routine and Diet Plan
Chungha Diet Plan
Now I found this one article from Koreaboo where they mentioned one of the things Chungha said: "I don't follow a strict diet, instead of that I believe in controlling the foods."
So you can stay in moderation, eat what you want and what you like while staying lean. However, I will be giving you a diet that you can eat to get faster results more healthily. This diet is not the Chungha diet, so don't get confused.
Chungha diet includes:
Breakfast
Oats with fruits and nuts
Lunch
Snack
Dinner
Salmon or chicken

Veggies or sweet potato

Salad
That's all for the Chungha diet plan.
Also Read: Hyuna Workout Routine and Diet Plan