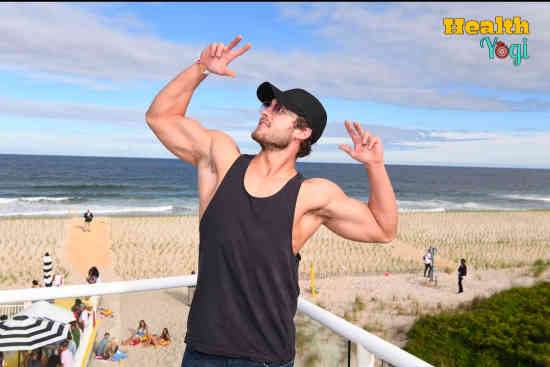 Cody Christian Workout Routine and Diet Plan: Cody Christian is an actor known for his role in the Teen Wolf series. Cody has also starred in movies and TV shows like All American, Pretty Little Liars, The Starving Games, Assassination Nation, etc. Cody rose to fame after he played Theo in two seasons of Teen Wolf.
After that, he has no sign of stopping, especially his current series of All Americans being famous worldwide. In that series, he plays a footballer role, and for that, Cody trained quite hard to look and play like a real athlete. So if you also want to know the Cody Christian workout and the Cody Christian diet plan, then keep on reading.
Cody Christian Body Stats
| | |
| --- | --- |
| Height | 5 ft 8 inch |
| Weight | 68 to 72 kg |
| Age | 25 years |
| Chest | 42 inch |
| Waist | 32 inch |
| Biceps | 15 inch |
Also Read: Daniel Sharman Workout Routine and Diet Plan [2020]
Cody Christian Workout Routine
The Cody Christian workout is not that hard to find. However, it's not that easy to understand either, especially since the series of All American. It was mostly a simple routine of cardio and muscle training with some strength and other workouts. However, now it's a little different, as Cody likes to give all he can for his role.
Cody showed and talked about his workout in the interview with Young Hollywood, where he showed how he gets trained in an athlete's way. Even though the video is from 2018, I think it's still mostly the same kind of training focusing on agility, HIIT, cardiovascular muscles, weight training, explosive workouts, resistance workouts, etc.
The reason for that is I checked his Instagram, and in 2019, Cody shared a post where he was working on agility training. Also, the series is still going on and just dropped another season that you can watch. I can't explain the exact routine of Cody as that would be impossible to do so because Cody trains with his professional trainer that works on athletes.
However, I can still give you an idea of how much and what type of training to focus on to provide you with a body structure like Cody. We will train five days a week, and each day there will be two hours of training in the morning and evening. So let's get into the workout:
Cody Christian workout includes:
Morning Routine
So in the morning routine, I would recommend you focus on doing workouts like HIIT cardio training, resistance training, and agility training. Do this routine from Monday to Saturday for the best results. This routine will help you get that necessary foundation of an athlete and build up your body strength and condition your muscles while you gain a lot of stamina. You can follow the routine in this manner:
HIIT cardio:

10 minutes each on the air bike and treadmill with one minute switch between moderate pace and sprints.

Resistance training:

In resistance training, you can focus on doing workouts like squats, frog jumps, single-leg pushdowns, explosive push-ups, pull-ups, planks, etc.

Agility training:

In the agility workout, I would recommend you do 20 minutes of exercise that can include activities like agility drills, sidestep, two steps, ladder jumps, etc.
Evening Routine
In the evening, we will focus on working on exercises that will get mostly based on strength training and weight training. However, I would recommend doing a circuit routine of weight and strength exercises so while working on your muscles, you can also work your cardiovascular muscle and gain stamina.
So do a four days workout based on the lower body and upper body. Also, train your core all four days for about 15 to 20 minutes, and keep the volume of exercises around 5 to 6 maximum. So we will prepare the upper body on Monday and Thursday and the lower body on Tuesday and Friday. As it's quite an intense workout, we will rest there days in the week for muscle training.
That's all for the Cody Christian workout routine.
Also Read: Dylan O'Brien Diet Plan and Workout Routine
Cody Christian Diet Plan
Cody Christian's diet consists of eating a very high protein diet with a moderate amount of carbs, vitamins, greens, veggies, etc. I couldn't find any current diet plan, but I have seen a post from him where he eats on the set, mostly like a Tupperware pre-cooked lunch. So I will give a diet that will work great with my workout routine.
Cody Christian diet includes:
Breakfast
Chicken sausage

Scrambled egg whites

Coconut water
Snack (after the morning routine)
Protein smoothie with almond, berries, nuts, and banana
Lunch
Evening Snack
Dinner (eat at least three hours before sleeping)
Salmon/sweet potato

Rice

Veggies
That's all for the Cody Christian diet plan.
Also Read: KJ Apa Diet Plan and Workout Routine