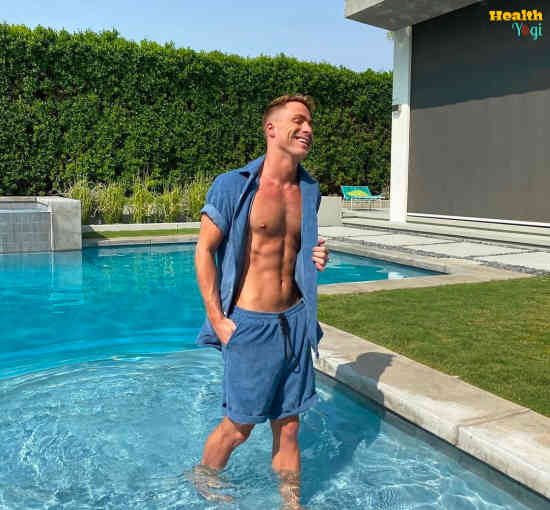 Colton Haynes Workout Routine and Diet Plan: Colton Haynes is an actor known for his movies and TV shows like Teen Wolf, Arrow, San Andreas, Love, Simon, Rough Night, Bigger, Triumph, etc. Colton also shines in many brands' photoshoots while modeling.
Colton has an incredible personality and even more Incredible body physique that makes him worthy of being one of the top actors. Who knows, maybe soon we see him playing some significant superhero role. So if you also want the Colton Haynes workout and the Colton Haynes diet plan, then keep reading.
Colton Haynes Body Stats
| | |
| --- | --- |
| Height | 5 ft 9 inch |
| Weight | 75 kg |
| Age | 32 years |
| Chest | 43 inch |
| Waist | 32 inch |
| Biceps | 15 inch |
Also Read: Cody Christian Workout Routine and Diet Plan
Colton Haynes Workout Routine
Colton is undoubtedly a great actor who excels in many different roles and stands proud on the list of great actors. He has a powerful personality, and that's why he was able to get the role of Roy Harper in the series Arrow. Other than that, he also has done many other roles worthy of being his career highlight.
However, he also deserves respect for maintaining such an incredible body shape over the years. I have seen him in shape for more than eight years now, and he has been in this industry for a more extended period. So for sure, there was a change in his appearance. Like in his early days, it was more of a lean body shape, and now Colton Haynes is more about the bulk and aesthetic.
In this article from the US Magazine, you can see Colton telling them that he used to do a lot of yoga and now focusing on weight training a lot since he is in the Arrow series. This interview goes way back in 2013, but that's what Colton did, and since then, he has gained a lot of muscles.
You can see this post on Colton Haynes Instagram, where he gets seen bashing a punching bag. Colton now focuses on boxing, fighting, and weight training. While there are no details about his regime, we still can figure out the primary method he uses. So that's what I will be giving you to work on as well.
I will take what I found about Colton and make them into a routine to follow and get a body physique like Colton. We will be focusing on training five days a week and twice a day. The total duration of the workout will be two hours a day, where we will cover your cardio as well. So let's get started:
Colton Haynes workout includes:
Boxing
We will be doing an hour of boxing in the morning routine. Try to join a boxing gym nearby and train your core and cardio in this hour of boxing. It will also work as an intense cardio routine that will help you burn many calories while toning your entire body while you workout. As all of these activities, you need to do in boxing.
Weight Training
As we aim to keep the bulk while getting a fit and aesthetic shape, I will give you a basic but effective workout that will surely help you get a good physique. We will keep the weights from light to heavy as we go on to the next set.
Sets: 3
Reps: 15, 12, 10
Monday
Push-ups (add weights if needed)

Bench press (flat and incline)

Dumbbell press

Hex press

Dumbbell flyes

Cable flyes

Low cable flyes

Dips
Tuesday
Pull-ups (add weights if required)

Lat pulldowns (wide and close grip)

TRX rows

Cable rows

Bent over rows

T-bar rows

Back lat pushdowns

Deadlifts
Wednesday
Arnold press

Seated shoulder press

Dumbbell shoulder press

Lateral raises

EZ bar front raises

Shoulder shrugs

Delt flyes

Bent over lateral raises
Thursday
Dumbbell isolation curls

EZ bar barbell curls

Hammer curls

Preacher curls

Triceps pushdowns

Single-arm cable pushdowns

Tricep extension

Triceps dumbbell kickbacks
Friday
Squats

Hack squats

Lunges

Leg press

Leg extension

Stiff-leg deadlifts

Hip thrusters

Calf raises
That's all for the Colton Haynes workout routine.
Also Read: Daniel Sharman Workout Routine and Diet Plan
Colton Haynes Diet Plan
I couldn't find a diet that Colton talked about recently in the past few years, so I think I will be making a plan for you that you can follow. We will be consuming protein, healthy fats, carbs, veggies, vitamins, etc. Also, make sure you remember this diet is not what Colton eats, so don't comment below as it's not what Colton eats because I know.
Colton Haynes diet includes:
Breakfast
Oatmeal with almond milk, a scoop of protein, fruits, and nuts
Snack
Lunch
Chicken or turkey

Veggies

Rice
Evening Snack
Dinner
Salmon or chicken

Veggies

Salad
That's all for the Colton Haynes diet plan.