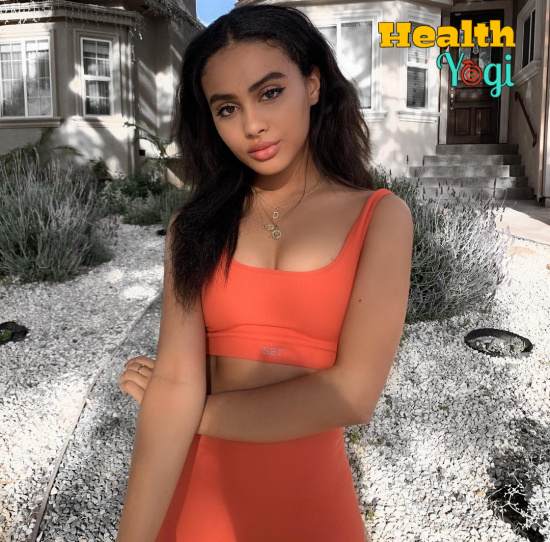 Daniella Perkins Workout Routine and Diet Plan: Daniella Perkins is an actress known for her roles in the Knight Squad, Blurt, Red Ruby, etc. She also runs a YouTube channel and likes to tell a lot about how you can stay fit and healthy. So if you are also interested in knowing the Daniella Perkins workout and diet plan, then I got you covered.
Daniella Perkins Body Stats
| | |
| --- | --- |
| Height | 5 ft 1 inch |
| Weight | 55 kg |
| Age | 20 years |
| Breast | 32 inch |
| Waist | 24 inch |
| Hips | 32 inch |
Also Read: Jojo Siwa Workout Routine and Diet Plan
Daniella Perkins Workout Routine
If you follow Daniella Perkins, you may already know most of the stuff that she does, for months, she has already posted a lot of challenges and workout videos in her YouTube channel and Instagram account. Her workout routine is an open book, and that's what we will cover in this article.
Daniella Perkins is usually a very fit girl who likes to go to the gym; she also got herself a personal trainer who makes different programs for her to follow and keep her fit. However, like us in the quarantine time, she also can not leave home, so Daniella is now working out in her home.
Daniella Perkins recently, like a couple of months ago, posted a video of her at home quarantine workout, where she shows some of the exercises that you all can do at your home. In that video, the training got mostly focused on her core and legs, so let's go with it. All you need to work out like Daniella Perkins is your mat, a waist shaping belt, and your body.
Daniella Perkins workout includes:-
Stretching
Daniella Perkins starts with a few minutes of stretching, which is quite good for your body; it helps the blood flow through the body and decreases the chances of getting injured. She does a full-body stretching, which includes butterfly, toe touch, roll down, etc. You can check the routine and the stretches by clicking just right here.
My Quarantine Workout by Daniella Perkins
So before the workout stats, Daniella Perkins runs on a treadmill for a few minutes, in the video, she doesn't show how many minutes she runs for, but I'm guessing a good 20 to 30 minutes run would be good to get your blood flow going and burn some of your calories.
Bent over glute kickbacks with resistance bands

Resistance band flutter kicks

Resistance band hip thrusts

Resistance band alternative lunge

Plank twisters

Donkey kickbacks to fire hydrants

Sit-ups

Ball leg raises

Side thigh abduction with Resistance band

Thigh abduction with resistance band

Side leg lifts Resistance band
So that was what Daniella Perkins is doing in her quarantine workout. You can do it every day if you want as there is not going to be any adverse result. Even though she didn't state any amount of sets and reps, I would suggest you do each exercise for about 30 to 40 seconds and do at least three rounds. 
This is all about Daniella Perkins Workout Routine.
Also Read: Baby Ariel Workout Routine and Diet Plan
Daniella Perkins Diet Plan
So without taking a lot of your time, I will let you know the secret of her diet plan, which is no longer a secret as she revealed it on October five, 2019, at her YouTube channel.
Daniella Perkins diet includes:-
Daniella Perkins Breakfast Meal
Or
Smoothie ( berries, protein, water, etc.)
Snacks
Daniella Perkins Lunch Meal
Chicken Salad or any light food
Daniella Perkins Dinner Meal
Stir-fried veggies

Steak or any meat
This is all about Daniella Perkins Diet Plan.
Also Read: Jade Pettyjohn Workout Routine and Diet Plan