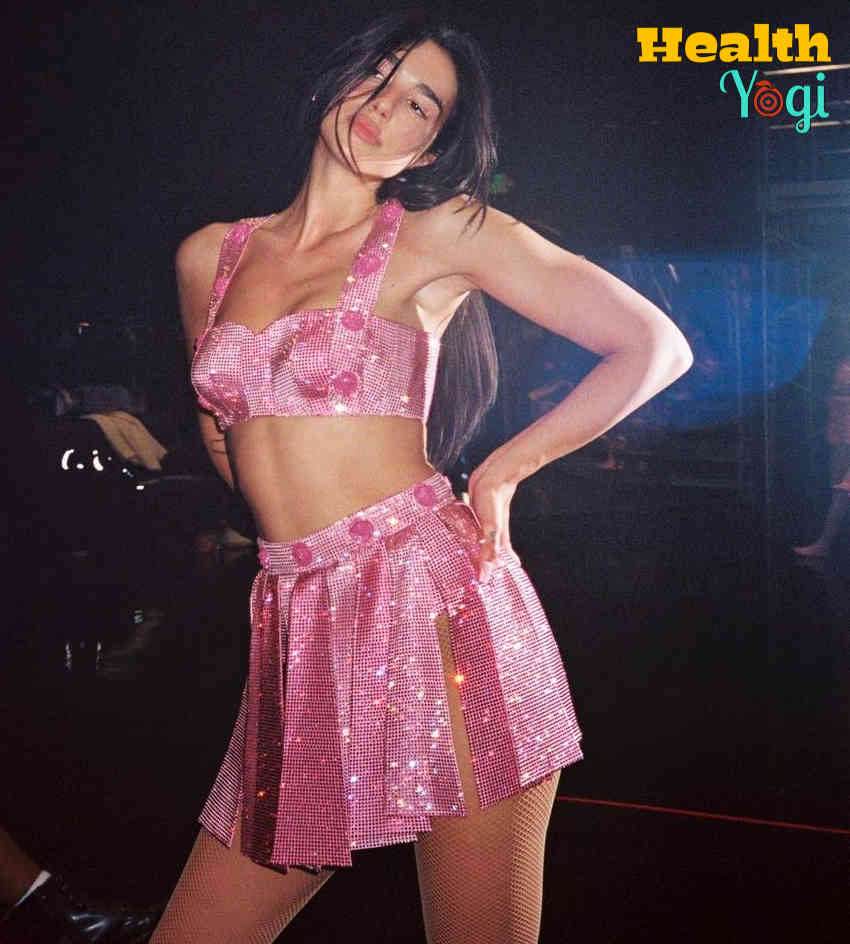 Dua Lipa Weight Loss | Diet & Workout: Dua Lipa is a singer, model, and personality known for her songs and albums. She has dropped some of the most outstanding singles like No Lie, IDGF, etc.
Dua Lipa is also an inspiring figure when taking care of her body. She has always been fit, and when she did gain a few pounds, Dua Lipa was able to get back in shape and lose all that fat. So if you also want to know the Dua Lipa weight loss workout and the Dua Lipa weight loss diet, keep reading.
Dua Lipa doesn't need an introduction. She has risen to fame quite quickly and is now having a following of millions. She is not just talented as a musician but also extremely careful about her health and fitness. Probably it comes as a part of the process she is in.  Dua has undergone a healthy shift in her weight and many media outlets have covered her transition for quite some time now.
So in this post, we will help you discern Dua's way too good health, high energy levels, and radiant physique despite busy schedules.
As always, the basic is the steel frame and so we request you to try and be as consistent as possible.
Dua Lipa Body Stats
| | |
| --- | --- |
| Height | 5 ft 8 inch |
| Weight | 60-62 kg |
| Age | 26 years |
| Breast | 34 inch |
| Waist | 25 inch |
| Hips | 35 inch |
Also Read: Billie Eilish Workout Routine and Diet Plan
Dua Lipa Weight Loss Workout
Dua Lipa is a singer and model known for having great songs and entertaining the audience with her live performances. However, while her songs help people get over relationship problems and love themselves, Dua Lipa also learned to love herself more. Dua Lipa started working out a long time ago, and there was a time when she did gain quite a few pounds, but now she has abs and looks lean and toned.
So surely when someone like Dua Lipa makes that big a change, everyone wants to know their secrets. If you are also interested in Dua Lipa weight loss workout and the exercises she followed, keep reading as I will explain all the things Dua Lipa has done for all these years to stay fit. Women's Health mentioned the whole routine of Dua Lipa, and they have also helped us by summarizing all of the other interviews.
You can read there that Dua Lipa does a lot of workout routines and starts her day with morning yoga and sculpting by Ella. However, if she doesn't feel like working out, Dua Lipa would call out a friend and do some HIIT workouts to stay motivated. Dua Lipa would also go on occasional workout classes like Pilates, Yoga, Boxing, etc., to stay fit and keep herself healthy. Now, if you also want to get a body physique like Dua Lipa, you need to balance the routines like her. 
Dua Lipa Weight Loss workout includes:
Yoga & Sculpt with Ella
Dua Lipa has been doing yoga daily for 30-40 minutes every day in the morning, and it does help her stay flexible tone and get her body warmed up before she does any workout. So surely start your workout with 30 minutes of a full-body workout that will help you burn calories while you get a great warm-up.
After that, Dua Lipa does the sculpt with Ella workout, but in the recent videos on her Instagram, you can see her doing workouts with maybe a trainer. So I'm not sure if she is still doing that, but that was Dua Lipa Weight Loss workout routine for the year. So you can also start with Sculpt with Ella classes, a mixture of good workouts that includes minimum equipment.
Workout Classes
Now, Dua Lipa also loves to add different workout classes to her weekly routine, especially when it comes to boxing. Dua Lipa has even mentioned that boxing is not only a workout, but it also helps her get over bad moods. So now, you can add boxing and different workouts like Pilates, Barre classes, and other cardio classes if needed. Add at least 3-to four classes per week to get that extra push.
Dua's weight loss journey has been quite worthwhile in terms of the number of people who took inspiration from her. Her weight loss journey has mostly revolved around adding a level of lifestyle shift in her daily routines. It's noteworthy that she is constantly conscious of her workout requirements and makes out time to work out even during tours. Her workouts are mostly classic exercises like YOGA, CARDIO, and RESISTANCE Training.
Yoga
The singer carries very very calm and pure energy, which one can clearly discern from her interviews. She seems to be pretty wide too, for her age and in contrast to what one may expect a pop star of her stature to be.
Dua has revealed that she follows a regular yoga routine that lasts for about 30-40 minutes every day. This is also the warm-up for further high-intensity exercises. 
Warm-ups can come in form of running, jogging, or Yoga. The main function of warm-ups is to reduce the risk of injury and aid recovery. So, Dua, has a session of 30-40 mins of yoga cum warm up.
Cardio
Cardio is an exercise that's a staple in almost everybody's exercise regime. Cardio workouts for Dua are usually in form of Treadmill runs in the gym or through dancing. Her well-known popular lazy dance meme went viral on Twitter.
Dancing is an excellent exercise for weight loss, especially for healthy weight loss which is essentially fat loss. Cardio workouts increase your heart rate, improve circulation and aptly promote cardiovascular health while burning calories and toning your body at the same time.
Running too is a great and popular cardio workout. You can start at your own pace, maintain consistency and slowly improve your capacity.
Boxing
Boxing too is found in DUA Lipa's regime for weight loss. According to Dua boxing is more of her let out for the negativity that surrounds every celebrity's life inevitably.  She releases all the negative emotions and reactions on a boxing session. Boxing thus has had both mental, physical, and emotional benefits for Dua. 
Boxing is especially good for strength-building and heart health. It supports weight loss and also lowers hypertension. Altogether it's a great regime to add to your weekly health sessions.
Other Exercises
According to the women's health website, Dua Lipa's trainer has been Peter MacIver who revealed that the singer doesn't need motivation and she is very conscious about her exercise routines. They work out for about 1 hour every day for 3-4days every week. This gives enough time to rest and recover which is the base of progressive overload and injury prevention.
They start the session with 20 min of Hill sprints and then move to conventional exercises like  Crunches, Plank, Leg Raises, Mountain climbers and its various variations. The singer revealed that out of all exercises, its planks that she likes the least.  But can someone tell that from her hourglass figure?
Resistance training in form of squats, pushups, pull-ups, and other common lower body and back exercises too are found in her Workout Routine.
That's all for the Dua Lipa weight loss workout routine.
Also Read: Ariana Grande Workout Routine
Dua Lipa Weight Loss Diet Plan
Now for the diet for Dua Lipa Weight Loss, she does eat a lot of healthy but doesn't stop herself from having occasional treats once in a while. It's all about balance, and Dua Lipa is good at keeping the balance in her diet, focusing on whole foods, fruits, eating veggies, salad, etc. It's all primarily healthy foods mixed with things she wants to eat. So now, let's see a Dua Lipa-inspired diet for her weight loss.
Dua's diet plan to hinges on balance. And she does not follow a strict routine as to diet per se. She definitely eats healthy most of the time but occasionally gives herself a break and indulges in her favorite foods guilt-free. 
In fact in her approach to sugar, she never completely cut it off, rather tried to stick to basics and eat healthy 80% of the time.
Hydration is another important aspect of her weight loss diet plan. 
Hydration keeps you detoxified which in turn unclogs the system and improves its efficiency and burns a large number of calories. Further, it improves the digestive capacity of the body, which in turn facilitates healthy weight loss.
Dua Lipa Weight Loss diet includes:
Is Dua Lipa a Vegan?
No, Dua Lipa is not Vegan. She says once you know about the way things work in the meat industry, it's difficult to go back to meat eating.
Breakfast
Snacks
Fruit smoothie or nuts and almonds
Lunch
Chicken breast

Veggies

Brown rice
Evening Snacks
Dinner
When it comes to her diet, she maintains a routine of not eating after 6 pm. Also, she occasionally fasts which seems to be another secret to her highly toned abs. 
Her staple meals include cashew butter, Fruits, Salads, wraps, and vegetable-rich diets.
She relies fully on plant-based proteins for daily protein needs.
That's all for the Dua Lipa weight loss diet plan.
Also Read: Camila Cabello Workout Routine and Diet Plan