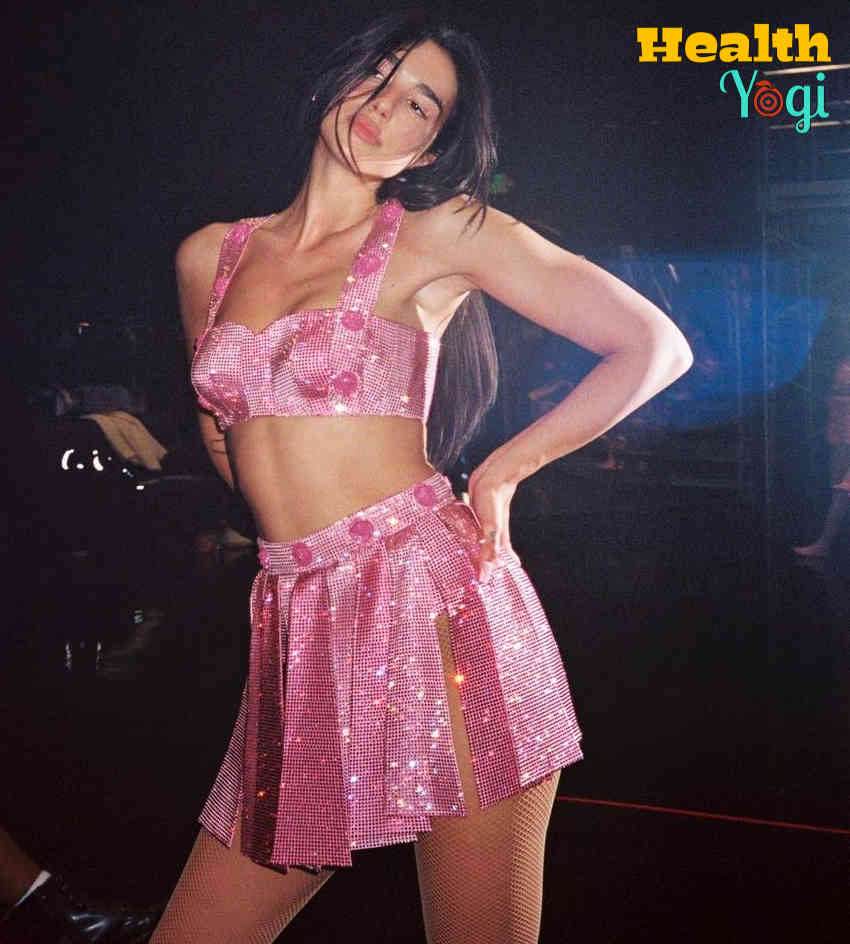 Dua Lipa Weight Loss Diet Plan and Workout Routine: Dua Lipa is a singer, model, and personality known for her songs and albums. She has dropped some of the most outstanding singles like No Lie, IDGF, etc.
Dua Lipa is also an inspiring figure when taking care of her body. She has always been fit, and when she did gain a few pounds, Dua Lipa was able to get back in shape and lose all that fat. So if you also want to know the Dua Lipa weight loss workout and the Dua Lipa weight loss diet, keep reading.
Dua Lipa Body Stats
| | |
| --- | --- |
| Height | 5 ft 8 inch |
| Weight | 60-62 kg |
| Age | 26 years |
| Breast | 34 inch |
| Waist | 25 inch |
| Hips | 35 inch |
Also Read: Billie Eilish Workout Routine and Diet Plan
Dua Lipa Weight Loss Workout
Dua Lipa is a singer and model known for having great songs and entertaining the audience with her live performances. However, while her songs help people get over relationship problems and love themselves, Dua Lipa also learned to love herself more. Dua Lipa has started working out a long time ago, and there was a time when she did gain quite a few pounds, but now she has abs and looks lean and toned.
So surely when someone like Dua Lipa makes that big a change, everyone wants to know their secrets. If you are also interested in Dua Lipa's weight loss workout and the exercises she followed, keep reading as I will be explaining all the things Dua Lipa has done for all these years to stay fit. Women's Health mentioned a whole routine of Dua Lipa, where they have also helped us by summarizing all of the other interviews.
You can read there that Dua Lipa does a lot of workout routines and starts her day with morning yoga and sculpting by Ella. However, if she doesn't feel like working out, Dua Lipa would call out a friend and do some HIIT workouts to stay motivated. Dua Lipa would also go on occasional workout classes like Pilates, Yoga, Boxing, etc., to stay fit and keep herself healthy. Now, if you also want to get a body physique like Dua Lipa, you need to balance the routines like her. 
Dua Lipa workout includes:
Yoga & Sculpt with Ella
Dua Lipa has been doing yoga daily for 30-40 minutes every day in the morning, and it does help her stay flexible tone and get her body warmed up before she does any workout. So surely start your workout with 30 minutes of a full-body workout that will help you burn calories while you get a great warm-up.
After that, Dua Lipa does the sculpt with Ella workout, but on the recent videos on her Instagram, you can see her doing workouts with maybe a trainer. So I'm not sure if she is still doing that, but that was Dua Lipa's workout routine for the year. So you can also start with Sculpt with Ella classes, a mixture of good workouts that includes minimum equipment.
Workout Classes
Now, Dua Lipa also loves to add different workout classes to her weekly routine, especially when it comes to boxing. Dua Lipa has even mentioned that boxing is not only a workout, but it also helps her get over the bad mood. So now, you can add boxing and different workouts like Pilates, Barre classes, and other cardio classes if needed. Try to add at least 3-to four classes per week to get that extra push.
That's all for the Dua Lipa weight loss workout routine.
Also Read: Ariana Grande Workout Routine
Dua Lipa Weight Loss Diet Plan
Now for the diet, she does eat a lot healthy but doesn't stop herself from having occasional treats once in a while. It's all about balance, and Dua Lipa is good at keeping the balance in her diet, focusing on whole foods, fruits, eating veggies, salad, etc. It's all primarily healthy foods mixed with things she wants to eat. So now, let's see a Dua Lipa-inspired diet for her weight loss.
Dua Lipa's diet includes:
Is Dua Lipa a Vegan?
No, Dua Lipa is not a Vegan.
Breakfast
Snacks
Fruit smoothie or nuts and almonds
Lunch
Chicken breast

Veggies

Brown rice
Evening Snacks
Dinner
That's all for the Dua Lipa weight loss diet plan.
Also Read: Camila Cabello Workout Routine and Diet Plan