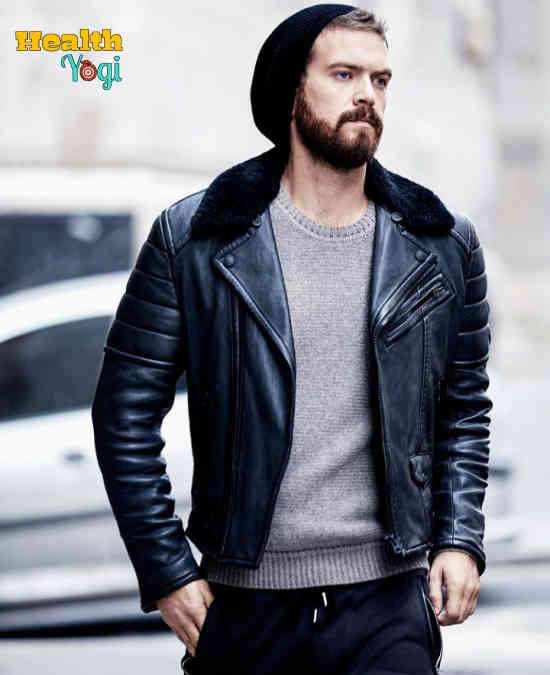 Engin Öztürk Workout Routine and Diet Plan: Engin Öztürk is an actor known for his movies and TV shows like; The Protector, The Way You Are, 50m², Magnificent Century, My Home My Destiny, etc. Engin Öztürk gained worldwide fame after The Protector series, and now many people worldwide know about Engin.
However, many of the guys want to look like Engin or get a body shape similar to Engin Öztürk. If you also want to know the Engin Öztürk workout and the Engin Öztürk diet plan, then keep reading.
Engin Öztürk Body Stats
| | |
| --- | --- |
| Height | 6 ft 1 inch |
| Weigh | 80 kg |
| Age | 34 years |
| Chest | 43 inch |
| Waist | 32 inch |
| Biceps | 16 inch |
Also Read: Can Yaman Workout Routine and Diet Plan
Engin Öztürk Workout Routine
Engin is one of the fittest Turkish guys in the industry, and because of his height and body physique, Engin has gotten on the cover of many magazines like the Vogue, etc. All of the secrets he has to his body shape are in his workout routine, so what is the Engin Öztürk workout routine?
After looking for a while on the Google and Instagram accounts of Engin, I found a few things, and even the fan accounts helped me figure out Engin's workout routine. Engin focuses on doing two workouts mostly and keeps them always part of his workout routine. One of them is his mixed martial arts training routine that he practices.
The other workout is weight training, a mixture of standard exercises, isolation, compounds, and functional movements. I was able to look at a few training videos from fan accounts, but there was no full workout explained anywhere.
I will be telling you now will be my variation of the Engin workout routine to help you achieve a physique like Engin Öztürk. The amount of workout we will do is not that much and will get divided into two morning and evening routine sessions to help you stay fit and rest before the other training.
Engin Öztürk workout includes:
Mixed Martial Arts
To get a body and athletic ability like Engin, you will need to work on your fighting skills, sharpen your reflex, increase your strength, and condition your body. This routine will also work on your cardio, which will also be our main cardio routine as we won't be doing any other cardio exercises on the whole day other than this training. So join a gym where you can also learn any martial arts or boxing, which also has weight training equipment. You will be doing this routine for an hour or at least four days a week.
Weight Training
We will do a workout routine for the weight training that will involve training a singular body part every other day with some strength and compound movements. Weight training workout will get done in the evening, so your body can recover from the fighting practice. 
Sets: 3 
Reps: 15
Monday
Push-ups

Bench press

Incline bench press

Dumbbell press

Hex press

Chest flyes

Cable flyes

Chest weighted dips
Tuesday
Lat pulldowns

Cable rows

TRX rows

Inverted rows

One-arm dumbbell rows

Back lat pushdowns

Pullovers

Sumo deadlifts
Wednesday
Shoulder press

Seated Arnold press

Seated one-arm dumbbell lateral raises

Dumbbell front raises

Shrugs

Delt flyes

Delt lateral raises

Clean and jerk to snatch ( 5 single reps sets)

Tire flip
Thursday
Dumbbell curls

Barbell curls

Isolation curls

Cable bicep curls

Spider curls

Hammer curls

Preacher curls

Battle ropes until failure.

Hammer slam (25 slams)
Friday
Triceps overhead press

Triceps extension

Triceps close grip bench press

Skull crusher

One-arm cable pushdowns

Dumbbell kickbacks

Triceps dips

Triceps weighted push-ups
Saturday
Kettlebell squats

Hack squats

Overhead squats

Leg press

Leg

extension to curls

Walking lunges

Calf raises

Glute thruster

Wall sit till failure.
Core (Monday to Saturday)
Ball incline crunches

V-ups

Leg raises with a twist.

Russian twist 

Ball slams 

Medicine ball plank hold

Stability plank hold

Abs roller
That's all for the Engin Öztürk workout routine.
Also Read: Burak Ozcivit Workout Routine and Diet Plan
Engin Öztürk Diet Plan
I couldn't find much for his diet plan, but I did know that he follows a healthy diet, especially when it's a critical role Engin plays in a proper diet plan. However, I still can't give you the diet of Engine, as there is no update about that, but I can always provide you my variation of Engin diet.
Engin Öztürk diet includes:
Breakfast
Protein oatmeal with walnuts, a tablespoon of honey, and lots of blueberries

Juice
Snack
Protein smoothie with berries, almond, egg, banana, and soy milk
Lunch
Chicken breast

A small bowl of rice

Veggies

Salad
Evening Snack
Dinner
Salmon or steak

Veggies

Salad
That's all for the Engin Öztürk diet plan.
Also Read: Kerem Bursin Workout Routine and Diet Plan