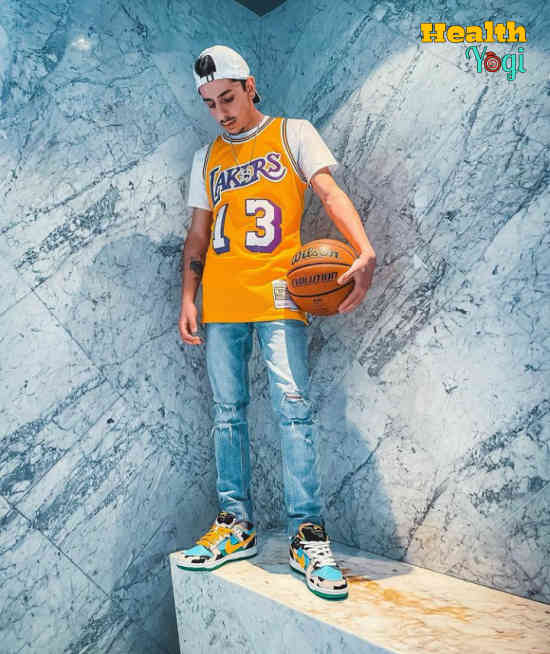 Faze Rug Workout Routine and Diet Plan: Faze Rug is a FaZe Clan member and is known for his YouTube videos and gaming videos. He does a lot of other stuff; all of the clan is always collaborative and makes vlogs together. 
However, he's a big deal when it comes to music, with over 18 million subscribers; Faze Rug is undoubtedly one of America's most prominent YouTubers. Now, many of his fans have been requesting the workout routine to stay fit like Faze Rug, so here it comes the Faze Rug workout and the Faze Rug diet plan.
Faze Rug Body Stats
| | |
| --- | --- |
| Height | 5 ft 9 inch (approximately) |
| Weight | 65 kg |
| Age | 24 years |
| Chest  | 40 inch |
| Waist | 30 inch |
| Biceps | 14 inch |
Also Read: Logan Paul Workout Routine and Diet Plan [2020]
Faze Rug Workout Routine
I will clarify that if you are expecting an exciting and intense routine for Rug, you might quit it right now. While other Faze members might be quite fit and healthy, Faze Rug tries to stay fit by being active only. He doesn't do a workout; sometimes, he has to go with the flow and be in a workout video for videos and content.
However, most of his workout is by playing sports like soccer, basketball, etc. It's not a bad thing and might be an excellent approach to stay naturally fit as you have noticed that the YouTuber doesn't have a lot of muscles. That's because he isn't a person that goes to the gym. So play all sports as much as you want every day to get a body like Faze Rug.
The other way is to follow my routine, which will be nothing like what Faze Rug would do, but it will get you lean and in shape. We will focus on doing the necessary bodyweight workout and cardio for most of the days, as that would be the closest approach to get a body like Faze Rug. You don't have to work out every day. Just five days a week will be great for a start.
Faze Rug workout includes:
Cardio
Now even in cardio, you can do different workouts like running, biking, etc. It's up to you to follow whatever exercises you want to get the results. My recommendation would be to try a different cardio workout every day. That way, you can get your workout done without feeling bored like you are doing the same exercise every day. You can also join some group activities if you want, as that's another way to get fit while being accompanied by other people with the same goal as you. If I were aiming for the Faze Rug body, I would do this routine:
Monday-

Running for 3 to 5km.

Tuesday-

Spin class

Wednesday-

Rest day

Thursday-

Zumba or Dance workout

Friday-

Barre class or Pilates session

Saturday-

Yoga for an hour
Bodyweight Exercises
I would recommend doing some standard bodyweight workouts to help you get your muscle toned while you burn calories and fat with cardio. Ensure that you do this training in the evening, so your body gets enough rest to recover from the cardio workout.
Sets: 4
Reps: 20
Push-ups

Pike push-ups

Crunches

Leg raises

Russian twist

Plank hold for 30 seconds

Squats

Lunges
That's all for the Faze Rug workout routine.
Also Read: Jake Paul Workout Routine and Diet Plan [2020]
Faze Rug Diet Plan
Faze Rug doesn't have a diet plan; while his girlfriend is a fit person and healthy, it wouldn't be a surprise if she makes Faze Rug eat healthy too. Faze enjoys eating the food he wants without restriction; maybe his metabolism is relatively high. However, I did read in a post where Faze said he would start a diet and workout. Before that, he always ate unhealthy and fast foods, but don't worry. As for you guys, I will give you a controlled diet plan that will keep you under 21℅ BMI.
Faze Rug diet includes:
Breakfast
Protein smoothie with nuts, almonds, berries, and oats
Snack
Lunch
Evening Snack
Dinner
Steak or turkey

Veggies

Salad
That's all for the Faze Rug diet plan.
Also Read: Brent Rivera Workout Routine and Diet Plan [2020]