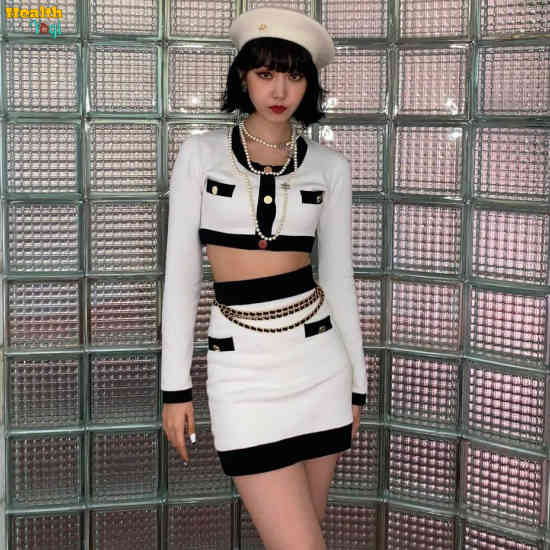 GFriend SinB Diet Plan and Workout Routine: GFriend SinB is a singer, actress, dancer, and member of former K-pop band GFRIEND. She is well known for her vocals and clean dance moves.
However, many of her fans are mesmerized by her beautiful body shape and want to achieve that. So if you also want the GFriend SinB workout and the GFriend SinB diet plan, keep reading.
GFriend SinB Body Stats
| | |
| --- | --- |
| Height | 5 ft 5 inch |
| Weight | 46 kg |
| Age | 23 years |
| Breast | 32 inch |
| Waist | 24 inch |
| Hips | 33 inch |
Also Read: GFRIEND Sowon Diet Plan and Workout Routine
GFriend SinB Workout Routine
SinB is one of the former members of the GFriend band; sadly, they officially disbanded earlier in May. Well, for now, they are not getting signed by anyone. But, maybe in a few months, they might make a comeback with some other agency or might follow a solo career in singing or get into acting.
There are many things that K-pop idols can do; well, anyway, we hope to see SinB soon back on the stage. But, for now, SinB is staying low and working on other things. One of them is her body shape; we know that SinB loves to work out and stay fit. However, during the practice and when she was part of the group, her routine was so busy that SinB could not work out that much.
That time her dance practice and daily activity were enough to keep SinB slim and well-shaped. K-pop idols take part in weekly dance practice for hours to get the choreography right. Besides that, SinB has also been doing Pilates for many years now. I saw an interview from ELLE magazine on YouTube where SinB stated that she likes doing Pilates more than Physical training.
So I'm sure SinB continued with that during her practice and routine; she went to the Pilates gym three days a week. However, now that she has no more team workouts and activities, maybe SinB has started going to Pilates classes more often.
Now, let's try turning all of this information into a workout routine that you can follow. We will be doing a five days workout in which we will do two routines every day. Each routine will be an hour or two hour-long. So let's get started with the SinB workout.
GFriend SinB workout includes:
Morning Routine
In the morning routine, we will be doing a Pilates workout. You can see that interview and adapt a few SinB exercises, but it will be best to join a Pilates gym and learn from a professional Pilates instructor. Pilates will help you tone your body muscles and get them shaped. It will also increase flexibility and provide you with that slim waistline and well-shaped butt.
Evening Routine
In the evening routine, we will be doing workouts like cardio or dance routine. However, it would be better if you also added some circuit training. So for two-three days, try doing an hour of dance workout to get that calorie burning. Then two-three days, do this circuit routine to tone your whole body:
Circuits: 3
Sets: 3
Reps: 45 seconds
Rest time after the whole circuit: 1-2 minutes
Circuit 1 (upper body)
Burpees

Push-ups

Pike push-ups

Triceps dips

Mountain climbers
Circuit 2 (core)
Crunches

Leg raises

Plank twister

Side plank with hip dips

Plank hold
Circuit 3 (lower body)
Squats

Squat pulse

Lunges

Donkey kickbacks to a fire hydrant

Glute bridge
That's all for the GFriend SinB workout routine.
Also Read: Seulgi Workout Routine and Diet Plan
GFriend SinB Diet Plan
SinB and other members once said in an interview that they are finally allowed to eat outside. SinB explained that before, they were not allowed to eat outside and got held on a strict diet. Unlike Yerin, other members are not fond of dieting as much as her.
So for them, it was the best thing. That's why SinB said we ate as much as we could when we went out, but they were still on a diet when they came back. I couldn't figure out the diet, but I know that SinB does eat fruits a lot and enjoys foods.
So I will be giving you a diet that will help you get a body like SinB, do remember it's not a SinB diet; it's a diet that I think will help you get a body like SinB.
GFriend SinB diet includes:
Is GFriend SinB a Vegan?
No, she enjoys a good amount of meat products.
Breakfast
Chicken sausage and eggs or oatmeal with fruits and dry fruits on top
Snack
Lunch
Chicken breast

Veggies

Rice
Dinner
Salmon salad or whole-grain pasta with veggies
That's all for the GFriend SinB diet plan.
Also Read: Red Velvet Singer Yeri Diet Plan and Workout Routine