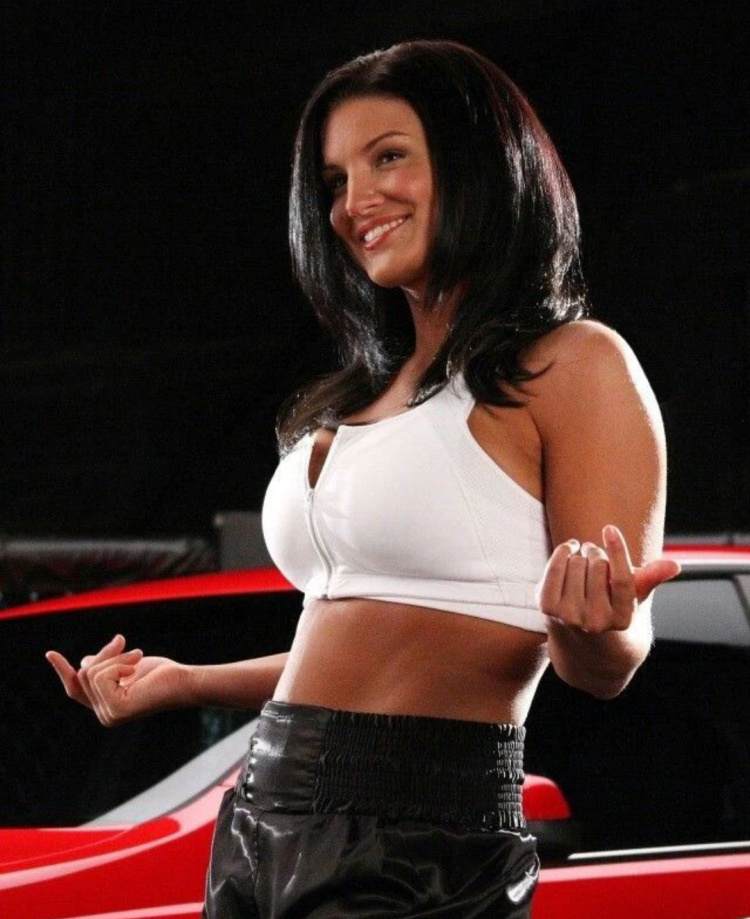 Gina Carano Diet Plan and Workout Routine: Gina Carano is in the middle of backlash for her support of restricting female sports to biological females and the exclusion of trans females. Amidst this, she has also been fired from the third season of Disney's 'The Mandalorian', which was released early last month. The actress has been the center of attention for her strong opinions in the recent past. But she is not a weak soul and doesn't bend in the face of bullying and violence. She recently came out in support of Railey Gains who faced violence during one of her speeches at SFS University.
With the release of 'The Mandalorian' Season 3 people are missing Gina Carano as Cara Dune. With 8 Episodes, the season is nonetheless getting its well-deserved viewership on Disney Plus. Gina is not just a strong person in her head, but also in her physique. She is a former MMA fighter and has coveted records to her name; at a time she was considered to be the face of women in  MMA.
So in this post, we will look at Gina Carano Diet Plan and Workout Routine and what's the secret behind her power-packed performance in Deadpool, Fast and Furious, and Blood and Bone.
Gina Carano Body Stats
| | |
| --- | --- |
| Height | 5 feet 6 inches |
| Weight | 65 kgs |
| Age | 40 years |
| Shoulders  | 38 inches |
| Waist | 28 inches |
Also Read: Brianna Hildebrand Workout Routine and Diet Plan
Gina Carano Workout Routine
Gina has been a professional Mixed Martial Artist and has competed in EliteXC and Strikeforce, compiling a record of 7-1. So, her workout routines are also that combative. Being an actress she might have toned it down a little bit but her overall passion for working out and building strength has not reduced. Here is a list of Exercises Gina Does
When Training for fights
Training for fighting as a Mixed Martial Artist is pretty intense. She has shared her workout routines and diet plan on numerous occasions and in interviews. As one may expect, it's pretty hard on the body and mind.  Gina Carano workout Routine starts with a cardio session where she is either running a treadmill or jumping a rope.  This is followed by a 15-minute shadow boxing.
Shadowboxing is a combative training where you are punching in the air. This is done to prepare the muscles before the actual training. After this, she trains for 2 hours. This includes practicing the sparring and techniques for Muay Thai or Mixed Martial Arts, whichever she is training for.
The schedule is repeated twice a day.
When Not Fighting
As you might have guessed, following the above workout routine is unsustainable for most of our readers. In fact, Gina herself doesn't resort to this routine unless she is fighting. In an interview, she shared her reluctance to do gym workouts. Gina prefers to go slow but is consistent with her workouts when she is not specifically training for a fight. Her workouts are mostly outdoors then, like hiking. She also loves good Yoga and Pilates session. These are then followed by lightweight training to keep the muscles.
This is a much more sustainable approach for our readers, and you can add it up with a few Mixed Martial Art sessions every week for the best results.
Hiking
Hiking is one of the most efficient yet fun ways to lose weight and get a cardio workout. Hiking has been proven to reduce stress and balance hormones. It also builds leg muscles and tones the lower body. Gina loves her hiking sessions and usually goes on hikes.
Yoga and Pilates
The former MMA fighter shared she goes to extremes in workout regimes. On the one hand while training she'd do lots of intense workouts, but when not training, she loves low-impact and deep exercises like Pilates and Yoga. No wonder she looks much younger, even in her early forties. 
Yoga and Pilates regulate your body, especially building sustainable health which isn't bulked up and yet resilient.
Training for Haywire
When Training for Haywire, the actress did pretty intense sessions. Start with 4 hours of Stunt Training, then Gun Training and Weight Training. She also worked with a trainer for getting a good posture while fighting.
That's all for Gina Carano Workout Routine.
Also Read:  Rosario Dawson Diet Plan and Workout Routine
Gina Carano Diet Plan
Gina believes that setting up too many rules is counterproductive and she goes for a sustainable approach to food. When she is training to fight, her meal is usually just Vegetables and White meat(Chicken). But when is not training for a fight, her meals include  Chicken and Couscous with green beans, lots of wheat pasta, and Fish. Her diet is heavily protein based. But when she is on cheat meals, she loves her Italian Cheese Ravioli with extra Alfredo sauce for more calories.
Is Gina Carano vegan?
No, Gina is not vegan.
Gina's message about fitness is to not shy away from taking care of yourself. She believes only when you take care of yourself, you can take care of others around you. Fitness makes her feel happy and healthy.  She also relies on supplements for extra nutritional support to her body. Her supplement includes Whey Protein, Creatine, and Glutamine.
That's all for Gina Carano Diet Plan.
Also Read: Ronda Rousey Diet Plan and Workout Routine [Updated]