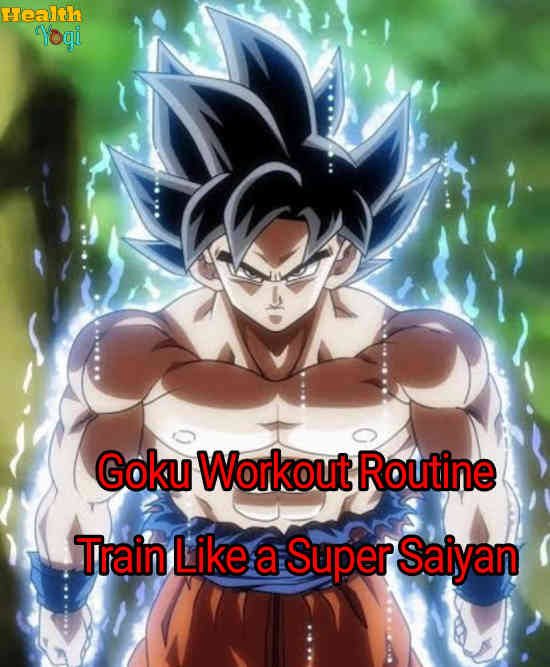 Goku Workout Routine: Train Like a Super Saiyan: Goku is a character from the world-famous anime series The Dragon Ball, Dragon Ball Z, Dragon Ball Super, Dragon Ball GT, etc. There are lots of seasons of the series, as it continues to attract every generation of people.
Now, Goku itself gets considered one of the strongest characters in the whole anime world. He is indeed in the Top 5 MC ever created in any anime series. So if you also want to train like a super Saiyan and want to know the Goku workout routine, keep reading.
Goku Body Stats
| | |
| --- | --- |
| Height | 5 ft 9 inch |
| Weight  | 73 kg (typically), and over 120 kg when turned into a Super Saiyan (pure muscle weight) |
| Age | 38 years old |
| Chest | 44 inch, and over 47 inches (SS) |
| Waist | 32 inch, and over 34 inches (SS) |
| Biceps | 15 inch and over 17 inches (SS) |
Also Read: Saitama Workout Routine | One Punch Man Superhero Fitness Challenge 2021
Goku Workout Routine
We all know that Goku is considered one of the strongest characters, and with his ultra instincts form, he can even defeat the destroyer. However, it's not the end, as there may be even more awesome Saiyan transformations that we will see soon that might even be at the same level as Zeno, the creator of the whole universe and every being. So how does Goku train?
If you watch The Dragon Ball series like I'm, then you won't need me to tell you the basics of his training. We all know in the end, Goku and all other friends and comrades train through martial arts basics. Yes, believe it or not, that's all martial arts, just in the super Saiyan level that it became invisible to catch with the human eye.
However, since he was born, Goku has trained in nothing but martial arts, as we have seen in the first Dragon Ball series, where he could not even fly or turn into a Super Saiyan. The first time Goku was able to turn into a Super Saiyan was when he was fighting Frieza, who is one of the strongest villains of the series.
Now, there are lots of training that Goku does that sometimes includes weight training, eating a lot, meditating a lot, and of course, his favorite fight a lot. Goku loves to fight with his friend/rival Vegeta that is almost equivalent to Goku when it comes to powers. So I do guess I can give you a way to train your body like a Super Saiyan.
Goku workout includes:
Martial Arts
If you need to be like Goku, you need to fight like him and train like him. Although Goku tends to take training in a time capsule where he can train for years and in the real world, those years will be equivalent to one day.
Sadly we don't have that technology, at least not yet! However, we can still train our body two hours to three hours every day, learning and training in the martial arts dojo. I would suggest Chinese martial arts for a closer approach to the Goku style.
Meditation
Meditation is something that Goku and Vegeta do often, even though they both are impatient most of the time. This routine is an essential part of their training as through meditation, only they could evolve their "Chi." Which is like the chakra or your inner life energy by which they can shoot a Chi beam and fly and do much other stuff.
It has often stated that you can activate your body's inner gates if you do meditate enough. Your life energy will be flowing all over your body, and you will gain an incredible amount of powers that can be destructive and helpful at the same time. Even though we won't achieve that many years of continuous meditation, we can still benefit by doing 30 to 60 minutes of meditation every day.
That's all for the Goku workout routine.
Also Read: Itachi Workout Routine: Train Like Itachi Uchiha From Naruto