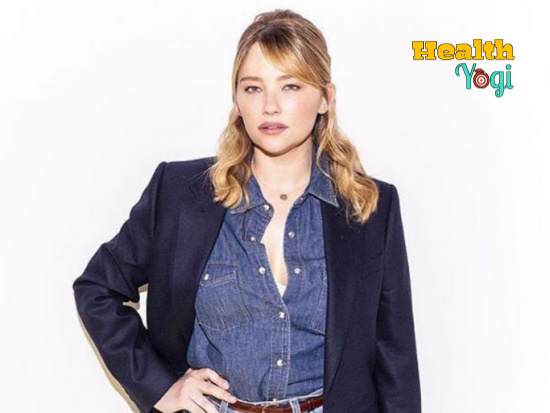 Haley Bennett Diet Plan and Workout Routine: Haley Bennett is an actress known for her role in Music and Lyrics movie; after that, Haley has done countless films like; The Girl On The Train, The Magnificent Seven, Swallow, The Equalizer, The Devil All The Time, Hillbilly Elegy, etc. Other than her acting career, the actress is also known for her incredible lean and slim body shape. So if you are also a fan of Haley's body shape, and want to have a figure like her, then look no further, as I will discuss all the Haley Bennett workout and Haley Bennett diet plan.
Haley Bennett Body Stats
| | |
| --- | --- |
| Height  | 5 ft 7 inch |
| Weight | 54 kg |
| Age | 32 years |
| Breast | 34 inch |
| Waist | 25 inch |
| Hips | 35 inch |
Also Read: Eliza Scanlen Diet Plan and Workout Routine
Haley Bennett Workout Routine
Haley Bennet is an actress that has started her journey by losing weight for her first role ever. In this article from Grazia Daily, you can see that they have stated about Haley accepting that because of the Hollywood culture, she got forced to lose weight just to get in the role. Haley lost almost 20 pounds to get in that movie.
Well, after that, also she has been keeping herself in shape. However, in the year 2018, she was pregnant and having a child, which made her gain a lot of post-pregnancy weight. Haley managed to get back in splendid shape after a while and now looks more significant than ever. Now, coming back to her routine, well after searching for a time, I didn't found her new workout that she follows as there is not much information available on Haley's workout routine.
However, she did a few interviews before pregnancy, where she talked about how she kept herself healthy and in shape. In this interview with The Cut, Haley has stated that wellness is all about balancing and maintaining. Haley also said that she does what she wants, whether it's yoga, dance class, meditation, or give herself a rest.  Which I guess Haley still does to keep herself fit. The reason I say that as this post that Haley posted 21 weeks ago on her Instagram account shows Haley doing a yoga pose.
Haley also stated that her best way to sweat is by going to the ballet class to learn and practice ballet dancing. Haley said that she wanted to become a ballerina, but didn't have enough dedication to stick on doing that. However, Haley still goes to do the ballet class at least thrice a week. Haley also stated that the ballet class is at the top, so she has to climb around seven flights of stairs that also helps her to stay moving.
Later on, Haley finishes talking about her fitness routine by telling The Cut that she goes to the ballet class every day and walks a lot when she is in New York. So yeah, Haley is an active person all around, which also helps her stay healthy. If you check Haley's Instagram profile, you will see Haley doing the shooting, swimming, horse riding, doing Hoola Hoops, etc.
Haley Bennett workout includes:-
So, as we read, she does a lot of yoga, dance class, ballet class, meditation, and stay active. So you guys can follow that as there is no reason for not to follow. Make sure to stay active every day and burn calories with simple things like walking, playing, etc. and make sure to meditate daily for a few minutes. Start by following this simple routine if you want:
Monday:

Yoga for an hour

Tuesday:

Rest day

Wednesday:

Ballet or dance class

Thursday:

Yoga for an hour

Friday:

Rest day

Saturday:

Ballet or dance class

Sunday:

Yoga for an hour
That's all for the Haley Bennett workout routine.
Also Read: Chloe Grace Moretz Diet Plan and Workout Routine
Haley Bennett Diet Plan
Haley, in that same interview with The Cut, talks about her eating habits and diet plan. Haley states that her morning starts with a coffee cup and then walks her dog and drinks cold brew coffee. Haley also said that she eats a lot of Thai food like eating spicy and ethnic foods. Haley also said that she's not a big salad fan, but she loves to eat Som Tum Der's salad with fish sauce. 
Haley eats out a lot when she is alone; however, when she is at home, Haley likes to cook food like Italian food; she also loves to elaborate foods and try new things. Haley is also a vast pie fan, so she never misses the pie season. However, Haley does need to work when it comes to drinking enough water and holding back the caffeine.
That's all for the Haley Bennett diet plan.
Also Read: Tom Holland Workout Routine and Diet Plan