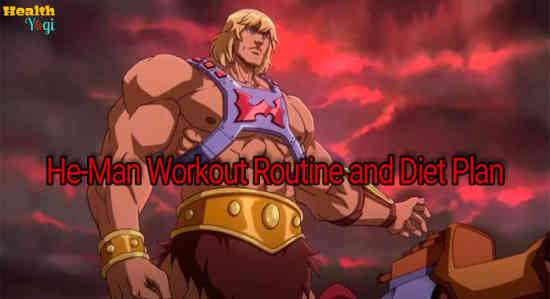 He-Man Workout Routine and Diet Plan: He-Man is a fictional character and one of the most popular characters even before Hulk or Thor got on TV. Now we know He-Man as a character that has overwhelming strength.
He is also quite flexible and looks super bulked up, so many of the YouTubers have tried to get the He-Man workout routine and the He-Man diet plan. So now it's time for me to give it a try and give you a workout that will help you get a body and fitness like He-Man.
He-Man Body Stats
| | |
| --- | --- |
| Height | 6 ft 2 inch |
| Weight | 109 kg |
| Age | 29 to 30 years |
| Chest | 45 inch |
| Waist | 32 inch |
| Biceps | 18 inch |
Also Read: Goku Workout Routine: Train Like a Super Saiyan
He-Man Workout Routine
He-Man is one of the characters you have looked up to since childhood and want to be as strong as him. We all wanted to have that unlimited strength and hard skin that is unbreakable, and the agility plus his flexibility makes him the ultimate warrior. So when someone is trying to be like that, how should he train?
Before I started researching the workouts, I saw the stats of He-man and found out that even if he looked super bulked up, most of his weight was pure muscle. So we are looking here for a combination of excessive training with proper nutrition. Now how do you persuade that body type?
We can start by doing a few things that can make you look and be flexible like He-Man. However, remember that it's impossible to look like Arnold Schwarzenegger and be as flexible as a gymnastics athlete. As when you bulked up a lot and gained lots of muscle mass, it restricts your movements. So we will be aiming for more of an aesthetic body type.
The workout we will follow will have a six-day workout routine consisting of weight training, aerobics, cardio, and strength training. We will be training for two hours a day, so let's see the exercises you can try to get a good workout.
He-Man workout includes:
Cardio/Warm-up
We will start with a few minutes of cardio, and in that, you can do any cardio workout. I would recommend following a HIIT running workout or Hydro-row. You can also do some stretches for a few minutes before starting the weight training and cardio workout.
Weight Training/Strength Training
In this, we will train for four days a week to focus on lifting heavyweights. Heavyweights and low reps with control moments will help you get more bulk and better strength. Try to do 6 to 9 exercises every day mixed with two or more body parts in this workout.
Also, add compound movements and other movements to get a better workout routine like the snatch, battle rope, clean, jerk, deadlifts, sumo deadlifts, etc.
Gymnastics/Aerobics
We will be doing either of these two workouts routine two days a week. It will help you get flexible and keep your agility like He-Man. You won't get precisely like He-Man, but excellent and will give you an incredible balance.
That's all for the He-Man workout routine.
Also Read: Vegeta Workout Routine: Train Like a Super Saiyan
He-Man Diet Plan
The diet is most important here; you can not be like He-Man unless you eat healthy and clean. Looking at his personality, we need lots of protein, carbs, and other essential nutrients. So that's how we will be working out, eating 5 to 6 meals a day with lots of protein and carbs.
He-Man diet includes:
Breakfast
Four eggs

Avocado

Toast

Turkey bacon
Snack
Protein smoothie with almond milk, banana, oats, egg, almond butter, flex oil, and berries
Lunch
Chicken breast

Rice

Veggies
Post Lunch
Evening Snack
Dinner
Bison steak or chicken 

Veggies
That's all for the He-Man diet plan.
Also Read: Saitama Workout Routine | One Punch Man Superhero Fitness Challenge