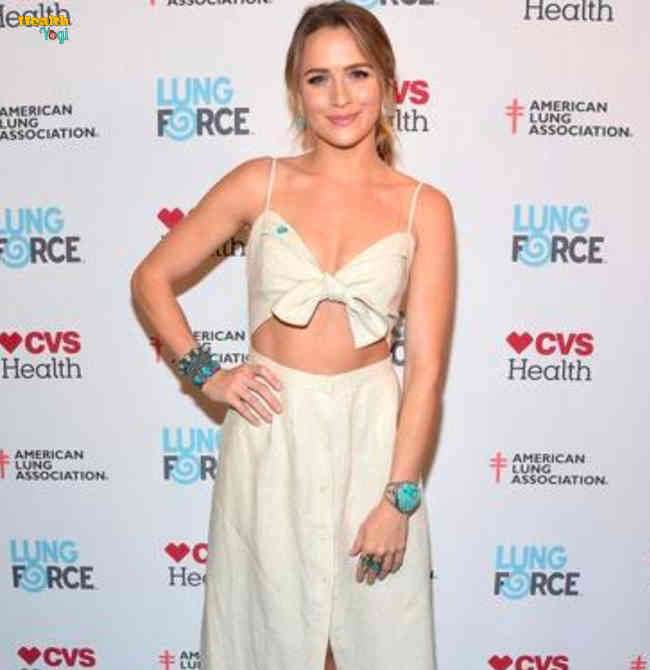 Holland Roden Diet Plan and Workout Routine: Holland Roden is an actress and a YouTuber known for her movies and TV shows like Teen Wolf, Escape Room, Follow Me, Escape Room 2, etc.
Holland Roden also uploads Vlogs and other content on her YouTube channel. Besides all these things, people also follow Holland for her fit body physique, so if you also want the Holland Roden workout and Holland Roden diet plan, keep reading.
Holland Roden Body Stats
| | |
| --- | --- |
| Height | 5 ft 4 inch |
| Weight | 50 kg |
| Age | 35 years |
| Breast | 33 inch |
| Waist | 25 inch |
| Hips | 34-35 inch |
Also Read: Lili Reinhart Diet Plan and Workout Routine
Holland Roden Workout Routine
Holland Roden is an actress known for her acting skills and became famous after being featured in Teen Wolf's series. It was undoubtedly one of the most famous series and still quite famous. So yeah, after that, Holland Roden got quite famous and busy with different movies and series. Besides being an incredible actor Holland Roden is well-known for her lean and slender body shape. That's why many of her fans like yourself want to know what Holland Roden does in her daily routine to stay fit?
To get that information, I went to her Instagram account and saw some posts; by the way, I never knew that Holland was a Blink and super fan of Lisa. I know, right; you find out something new every day. So after browsing through her Instagram account, I did find this post where she was doing an online workout class. After that also read an article from Allure where Holland Roden mentioned that she just moved and stayed active to stay fit.
Her Instagram account can indeed back it up, as you will see Holland doing climbing, playing tennis, going for hikes, etc. So yes, indeed, an active lifestyle does help Holland to stay the way she looks. Now, when Allure asked Holland if there was any workout that she preferred, Holland Roden said that she loved going to Barry's Bootcamp, and it's the most she ever committed to any workout. Barry's Bootcamp is a gym with group classes focused on cardio and strength training HIIT exercise.
Holland Roden workout includes:
Cardio
We will start with 20-30 minutes of running in intervals. For the first five minutes, you can take it easy as the warm-up and do brisk walking, but after that, for 15-20 minutes, we will be doing interval training. I suggest this pattern:
One minute at a moderate pace 

30 seconds sprint at your best pace
Circuit Training
Now, I'm not too familiar with Barry's Bootcamp training methods, but I have my training methods. So I will be giving you my version of HIIT and Strength training mixed. This routine will be different from what Holland may do and contain four days of intense workouts.
Circuit: 3
Exercise in each circuit: 4
Reps: 20
Sets of each exercise: 3
Rest time after the circuit: 80 to 120 seconds
Monday
1st
Weighted squats

Barbell squats

Banded crab walks

Leg press
2nd
Leg extension

Lunges

Calf raises

Seated calf raises
3rd
Crunches

Leg raises

Russian twist

Plank hold
Tuesday
1st
Push-ups

Chest press

Dumbbell press

Dumbbell flyes
2nd
Wide grip lat pulldowns

Cable rows

Dumbbell rows

Dumbbell deadlifts
3rd
Ball plank in and out crunches

Hanging leg raises

Cable wood chops

Side plank to a crunch
Thursday
1st
Shoulder press

Lateral raises

Front raise

Shrugs
2nd
Biceps curls

Barbell curls

Triceps pushdown

Triceps kickbacks
3rd
Reverse crunches

Bicycle crunches

Plank twister

Plank to toe touch
Friday
1st
Deep smith machine squats

Hack squats

Leg curls

Stiff-leg deadlifts
2nd
Hip thruster

Hip abduction

Glutes hyperextension

Glutes cable kickbacks
3rd
Toe touch crunches

Hanging leg raises

Side high plank

Stability ball plank
Activity Day
For the rest of the week, you should do some activity to help you stay fit and burn calories. You can form of activity like hiking, climbing, trekking, sports, etc. The aim is to keep the body moving while having fun; you can even join a yoga or Pilates class if you want to get flexible and lean.
That's all for the Holland Roden workout routine.
Also Read: Ana De Armas Diet Plan and Workout Routine
Holland Roden Diet Plan
Holland doesn't seem to have a strict diet, but she still moderates foods and eats healthily. However, if Holland Roden wants to eat something unhealthy, she will not think twice. That's because of her healthy lifestyle, so if you are working out and staying active as much as Holland, you will need to only focus on keeping your food in moderation. Also, making sure you don't eat junk all the time, once or twice a week, is okay, but not every day or every other day. So now, let's see a diet that I created for you to get the results faster.
Holland Roden diet includes:
Is Holland Roden a Vegan?
No, Holland Roden is not a vegan.
Breakfast
Snacks
Lunch
Chicken breast

Veggies

Rice
Evening Snack
Dinner
Salmon or tuna

Veggies

Salad

Soup (optional)
That's all for the Holland Roden diet plan.