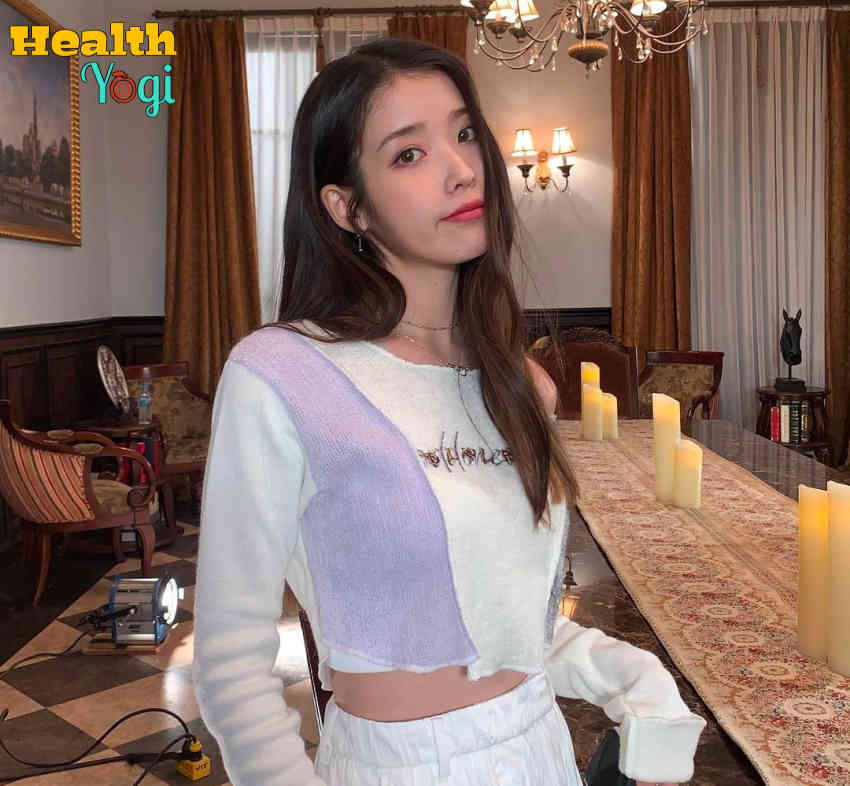 IU Diet Plan [Updated]: IU is a singer, actress, and songwriter known for her movies and TV shows like Hotel Del Luna, My Mister, Dream High, Dream, Shades Of the Heart, Baby, etc.
IU is undoubtedly one of the biggest names in the whole K-pop industry. However, besides her acting and singing, there is also another thing that IU gets known for, and it's her diet. So if you also want the IU diet plan, keep on reading.
IU Body Stats
| | |
| --- | --- |
| Height | 5 ft 4 inch |
| Weight | 45-46 kg |
| Age | 28 years |
| Breast | 32 inch |
| Waist | 23 inch |
| Hips | 33 inch |
Also Read: Bae Suzy Workout Routine and Diet Plan
IU Diet Plan
IU is one of the most important names in the Korean industry; whether you talk about singing or acting, IU has gained success in all of them. Besides all of these things, IU also gets known for another thing: IU Diet that turned into a challenge, and YouTube's around the world came and tried IU diet. It was not something IU wanted others to try, but you know, the world, right? So they saw an opportunity and tried it, and some Youtubers even went as far as trying it for 2-4 weeks.
IU has gone through many phases in her life, including eating healthy and eating unhealthy. However, as you can read in this article, IU mentions that she has gone through binge eating and eating disorders that lead to anxiety. In K-pop, the body physique is your source of success. Whether you admit it or not, we often see it in K-pop and have heard many idols admit to doing diets that eventually lead them to get hospitalized.
Luckily IU didn't get hospitalized, but she was surely puking through the time she was eating, puking the food that was already good to nothing. The IU diet in 2013, which she followed to lose weight, consisted of three meals: breakfast, lunch, and dinner. For breakfast, IU would have an apple, later moving to two sweet potatoes for lunch and finishing the day with a protein shake for her dinner. Yep, only that, she ate no rice, meat, or anything.
IU later stopped that diet once she lost a lot of weight, but later in 2014, IU also opened up about her eating disorder and how she was dealing with the anxiety. IU, later on, sought help from professionals and was able to work things out so much that in 2018, she started going to yoga. Yoga helped IU a lot with overall health and fitness, and she was also able to get help from Lee Hyori.
IU started working out, but she also started to eat healthier and sought a nutritionist to help her out. Now, about the diet that she does consume right now, it's still quite strict but way better than her apple and sweet potato diet. Sadly, I could not get a lot of information about her new diet IU Diet, but I would say you don't have to follow that strict diet, but instead of that, if you have to lose weight, try to eat 1200-1600 calories a day minimum.
IU diet includes:
Is IU a Vegan?
No, IU is not a Vegan.
Breakfast
Eating healthy meals and eating only 1200-1600 a day will help you lose weight slowly but more healthily. For breakfast, you should consume around 440 calories that can have some toast, poached eggs, and fruits.
Snacks
Try for healthier options like fruits like an apple or orange for snacks. You can also eat nuts, seeds, almonds, etc.
Lunch
For lunch, eat chicken breast and have a small bowl of rice.
Dinner
For dinner, I suggest you eat either chicken breast again or go for sauteed veggies with salad or sweet potato for some carbs.
That's all for the IU diet plan.