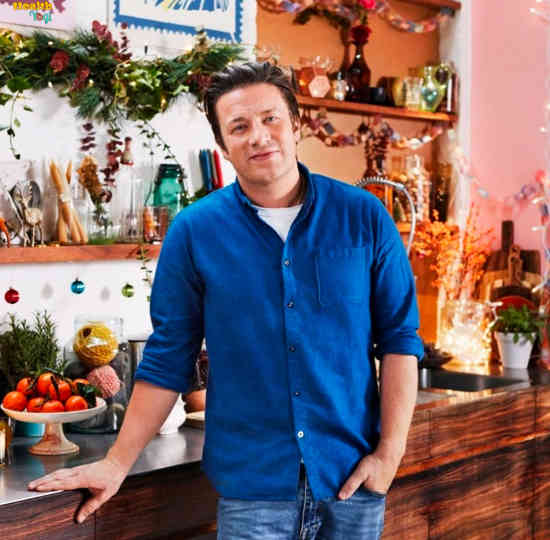 Jamie Oliver Workout Routine and Diet Plan: Jamie Oliver is a British chef, celebrity, Tv personality, author, and restaurant owner. He's mostly known for his YouTube channel and shows on different channels.
Jamie is quite well known as one of the good-looking chefs and also quite fit. He did gain weight in between but is now back to a very healthy state. So if you also want the Jamie Oliver workout and the Jamie Oliver diet plan, keep reading.
Jamie Oliver Body Stats
| | |
| --- | --- |
| Height | 5 ft 10 inch |
| Weight | 78-80 kg |
| Age | 46 years |
| Chest | 43 inch |
| Waist | 32 inch |
| Biceps | 14 inch |
Also Read: Gordon Ramsay Workout Routine and Diet Plan
Jamie Oliver Workout Routine
Jamie Oliver is one of the most prominent chefs around the world and especially in Britain. He has gained popularity with many cookery books, shows, and restaurants like Barbecoa and Jamie Oliver's Diner Piccadilly. However, Jamie had also left people astonished when Jamie lost 12kg in over a month and where Jamie claimed that's all-natural. He did that with diet and exercise, so we will look into it as much as possible.
So I looked into it and found his official website, where he explained how exercise would help you stay healthy and fit. Jamie explains that an adult needs at least 150 minutes of moderate-intensity or 75 minutes of high-intensity exercises every week. With that, you also need to do 2-3 days of weight training every week. So one thing is for sure that Jamie does at least that much exercise per week.
So Jamie later says that exercises that count are aerobic, running, swimming, brisk walk, cycling, etc. Also, muscle training that you can also do as circuit training or in a standard training method. So if we follow Jamie's advice, we will be doing 30 minutes of cardio five days a week and hitting the gym for four days at least. I won't tell you much about cardio, as you can do whatever cardio exercise suits you the best. We will see a weight training routine that will help you get a body like Jamie.
Jamie Oliver workout includes:
Weight Training
You can follow an excellent four-day weight training routine to get a great whole body workout routine. If you don't know which routine to follow, then you can also add this routine to your workout:
Sets: 4
Reps: 15,12,10,8
Monday
Push-ups

Pull-ups

Bench press

Dumbbell flyes

Lat pulldowns 

Cable rows

Shoulder press

Lateral raises

Shrugs
Tuesday
Squats

Jump squats

Weighted squats

Barbell front squats

Leg press

Lunges

Leg extension

Stiff-leg deadlift
Thursday
Wide grip push-ups

Diamond push-ups

Biceps dumbbell curls

Barbell curls

Hammer curls

Triceps pushdowns

Triceps bench press

Triceps dumbbell kickbacks
Friday
Smith machine squats

Hack squats

Crusty lunges

Single leg pushdown

Hip thrusters

Hip abduction

Calf raises

Hyperextension
That's all for the Jamie Oliver workout routine.
Also Read: Andy Allen Workout Routine and Diet Plan
Jamie Oliver Diet Plan
Jamie Oliver's diet includes eating lots of iron, veggies, protein, very few carbs, and making sure he burns more calories than he consumes. That way, Jamie can keep himself fit and lose extra fat and stay lean. Of course, he does let himself drink and eat like on weekends sometimes and enjoy, without worrying about calories. However, most of the time, Jamie follows a diet of healthy foods. Now let me give you a diet that can help you get a body like Jamie:
Jamie Oliver diet includes:
Is Jamie Oliver a Vegan?
No, Jamie Oliver is not a Vegan.
Breakfast
Avocado toast

Oatmeal

Eggs
Snack
Lunch
Lentils

Veggies

A small bowl of rice
Evening Snack
Some salad, fruits, or walnuts
Dinner
Chicken/salmon/turkey

Veggies

Sweet potato
That's all for the Jamie Oliver diet plan.
Also Read: Jock Zonfrillo Workout Routine and Diet Plan