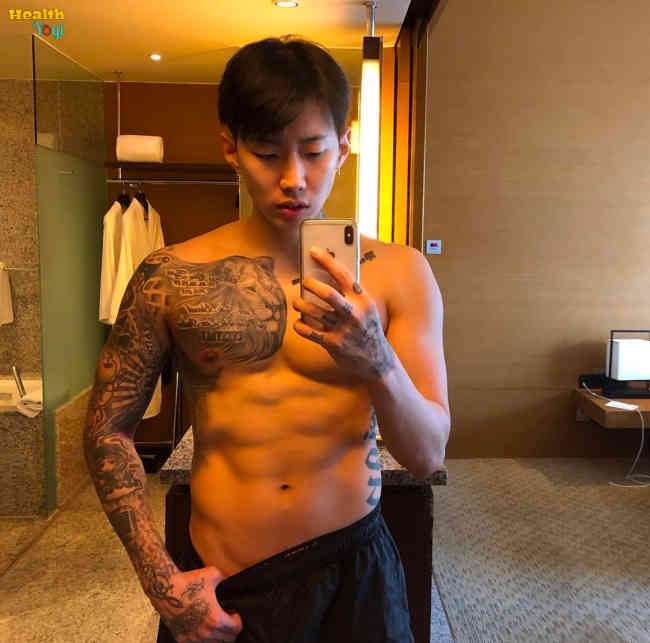 Jay Park Workout Routine and Diet Plan: Jay Park is a dancer, rapper, songwriter, record producer, entrepreneur, and TV personality. He was widely known for his music career, where he dropped many famous singles like Mommae, All I Wanna Do, My House, and many more.
While he is super famous for being one of the successful solo rappers in the Korean industry, Jay Park is also quite famous for his body shape and fitness. So if you also want the Jay Park workout and the Jay Park diet plan, keep reading.
Jay Park Body Stats
| | |
| --- | --- |
| Height | 5 ft 7-8 inch |
| Weight | 58-62 kg |
| Age | 34 years |
| Chest | 41 inch |
| Waist | 30 inch |
| Biceps | 13 inch |
Also Read: Lee Jun-Ho Workout Routine and Diet Plan
Jay Park Workout Routine
Jay Park is a rapper, dancer, record producer, songwriter, and entrepreneur known for being a massive part of the K-pop industry. Jay Park started his journey with different labels and now owns his Record Labels, where he puts his time and effort. So other than that, Jay Park is also known for being a fabulous dancer and having a fantastic body physique. I mean, girls love him, as they love him too much.
If you also want a body shape like Jay and want to know the things he does in his daily routines to keep himself fit, then don't worry, as I got you. So Jay Park interviewed with Men's Health, probably the most excellent magazine. There he mentioned his workout and all the details about his routine. Jay Park's workout consists of doing an MMA routine; it's one of the workouts that make him feel better. Jay Park said that "I make a lot of dance moves like flips, handstands, etc., and focus more on b-boying. So I need to keep myself fit and light."
That's why he focuses so much on MMA workouts, and, of course, the dance routine is still his favorite thing. So Jay Park went to the Korean Zombie gym and trained with a professional UFC fighter where he would be doing workouts like a warm-up, switching to pad workouts, and ending up with weight and resistance finisher where he trains some compound movements. Also, when he is not doing an MMA routine, Jay focuses on weight training. So let's get you a summary of a routine you can follow to get a body like Jay Park.
Jay Park workout includes:
Morning Routine (Dance)
We will be doing dance workouts for about an hour to two hours in the morning. This routine is what Jay Park does for his cardio exercises, so make sure you don't miss this routine and try to do it at least four days to five days a week. It won't even hurt to do it every day if you can, since dance is more like an art and hobby, once you start liking it, you can't leave it at all.
Evening Routine (MMA & Weight Training)
MMA
Training days: three days a week
For three days a week, we will be focusing on the MMA training that Jay Park showed us in the interview. In that routine, follow the same methods Jay showed: do warm-up, get to pad workout, and then finish with some weight training and core workout.
Weight Training & Core
We will do four days of weight training to train each body part on different days in the evening. However, I will give you 10 minutes to 15 minutes core workout that you will do every time after weight training. It will be a mixed workout routine focusing on specific areas of your upper body and lower body.
Sets: 3
Reps: 15
Monday
Push-ups

Flat bench press

Incline bench press

Dumbbell flyes

Lat pulldowns 

Cable rows

Shoulder press

Lateral raises

Shrugs
Tuesday
Squats

Jump squats

Weighted squats

Barbell front squats

Leg press

Lunges

Leg extension

Stiff-leg deadlift
Thursday
Wide grip push-ups

Diamond push-ups

Biceps dumbbell curls

Barbell curls

Hammer curls

Triceps pushdowns

Triceps bench press

Triceps dumbbell kickbacks
Friday
Smith machine squats

Hack squats

Crusty lunges

Skater lunges

Hip thrusters

Hip abduction

Calf raises

Hyperextension
Core
This workout will be a circuit routine focusing on your core muscles. We will be doing a quick 15-minute routine to get the best workout.
Circuits: 3
Exercises in each circuit: 8
Reps: 30 seconds
Rest time after the whole circuit: one-two minutes
Crunches

Resistance hanging leg raises

Side to side hanging resistance leg raises

Russian twist

Plank ball in and out

Plank twister

Plank hold

Side plank to a crunch
That's all for the Jay Park workout routine.
Also Read: Enhypen Singer Sunoo Diet Plan and Workout Routine
Jay Park Diet Plan
In another video interview with Harper's Bazaar, Jay Park breaks down everything he eats daily. My guy is such an excellent eater and doesn't care about diet. Well, looking at his interview was so cool that he indulges in whatever he feels like starting his day with some light and non-greasy food, which is brunch as he doesn't have breakfast, and then jumping to dinner and a late-night snack.
Is Jay Park a Vegan?
No, Jay Park is not a Vegan.
Jay Park diet includes:
Jay Park says that his diet will include eating chicken, rice, beef, salad, coffee, pizza, burger, chips, etc. The list goes on and on; Jay Park also can't eat dinner without coke, and yes, not the zero coke a regular coke. It's not the healthiest diet for sure, but is it wrong? Nope, as Jay Park works a lot, and when I say work, I mean physically work; he is always on the move, dances, works out in the MMA gym, etc.
That's all for the Jay Park diet plan.