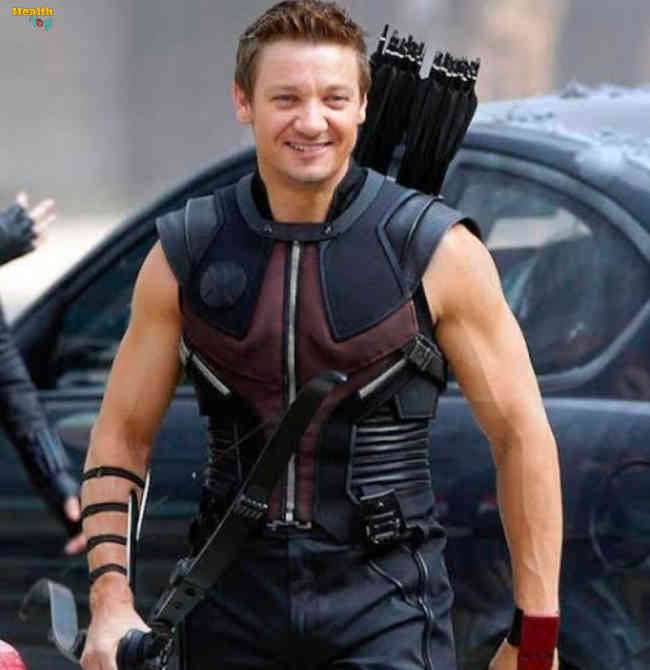 Jeremy Renner Workout Routine and Diet Plan: Jeremy Renner is an actor known for his movies and TV shows like Hawkeye, Avengers, The Bourne Legacy, Loki, The Hunt Locker, Hansel & Gretel: Witch Hunters, Mission Impossible, etc.
Jeremy Renner is one of the biggest names in the Hollywood industry for sure. However, to keep himself at the top, Jeremy Renner must work hard to keep his body in the best shape. So if you also want the Jeremy Renner workout and the Jeremy Renner diet plan, keep reading.
Jeremy Renner Body Stats
| | |
| --- | --- |
| Height | 5 ft 10 inch  |
| Weight  | 78-80 kg  |
| Age  | 50 years |
| Chest  | 43 inch  |
| Waist  | 32 inch |
| Biceps | 15 inch  |
Also Read: Chris Evans Workout Routine and Diet Plan
Jeremy Renner Workout Routine
When you talk about superheroes and action movies, Jeremy Renner is one of the most appealing actors. Jeremy Renner gets known as the Hawk-Eye, but he is also part of movies like Wind River, The Bourne Legacy, etc. So yeah, one thing for sure is that Jeremy Renner indeed has one of the best bodies shapes now. If you also want to know the secret behind that, then don't worry, I've got you covered. We will figure out everything needed to get you in shape like Jeremy Renner.
If you guys think Jeremy Renner is a gym freak, then let me tell you that it depends on his job. Whenever Renner gets a role where he needs to be in the shape of Hawkeye, that's the only time you will see Jeremy Renner sticking to daily training like bow training, gym routine, cardio, and lots of stretching. Stretching is one thing Jeremy regularly does whether Jeremy Renner is working on a superhero movie or not. As the body ages, he needs to do specific stretches to keep himself flexible.
You are now talking about what you can do to get a body like the Hawkeye? The workouts will need to contain at least 4-5 days of weight training, some cardio workouts, and some stretching exercises. So that's what we are going to focus on in this routine. I will be giving you a workout routine for five days, focusing on getting that lean and ripped shape. Since the workout will be longer, I will divide it into two routines.
Jeremy Renner workout includes:
Stretching + Core
I suggest you start the morning with a quick 30 minutes running and get your body loosened up. Once you get enough warm-up, we will switch to stretching routines. We will do 30-40 minutes of stretching workouts in the morning, for which I prefer following a yoga routine.
Yoga will help you get your full-body stretch, burn a few calories, get your muscles relaxed, help you tone your muscles, etc. If you don't know where to start, you can also follow this video of 30 minutes of stretching yoga workout by Sarah Beth Yoga.
Weight Training & Core
We will do four days of weight training to train each body part on different days in the evening. However, I will give you 10 minutes to 15 minutes core workout that you will do every time after weight training. It will be a mixed workout routine focusing on specific areas of your upper body and lower body.
Sets: 3
Reps: 15
Monday
Push-ups

Flat bench press

Incline bench press

Dumbbell flyes

Lat pulldowns 

Cable rows

Shoulder press

Lateral raises

Shrugs
Tuesday
Squats

Jump squats

Weighted squats

Barbell front squats

Leg press

Lunges

Leg extension

Stiff-leg deadlift
Thursday
Wide grip push-ups

Diamond push-ups

Biceps dumbbell curls

Barbell curls

Hammer curls

Triceps pushdowns

Triceps bench press

Triceps dumbbell kickbacks
Friday
Smith machine squats

Hack squats

Crusty lunges

Skater lunges

Hip thrusters

Hip abduction

Calf raises

Hyperextension
Core
This workout will be a circuit routine focusing on your core muscles. We will be doing a quick 15-minute routine to get the best workout.
Circuits: 3
Exercises in each circuit: 8
Reps: 30 seconds
Rest time after the whole circuit: one-two minutes
Crunches

Resistance hanging leg raises

Side to side hanging resistance leg raises

Russian twist

Plank ball in and out

Plank twister

Plank hold

Side plank to a crunch
That's all for the Jeremy Renner Workout Routine.
Also Read: Benedict Cumberbatch Workout Routine and Diet Plan
Jeremy Renner Diet Plan
Jeremy Renner gives a detailed description of his diet in an interview with Men's Health. The article here shows that Jeremy Renner talks about strict diets for specific roles. However, he eats anything and eats healthily when he is home with his daughter.
So what Renner starts with is a protein source for which he consumes egg whites, then some fats for which he takes avocado and some bacon. Later on, throughout the day, Jeremy will eat smaller meals, more like snacks, rather than eating a huge meal. Also, the dinner is always light, so he doesn't go to sleep with a full stomach.
On the cheat days, Jeremy eats everything he wants other than donuts. Of course, he loves donuts and wants to eat them, but since Jeremy read that it takes an 8-mile run to burn one donut off, Jeremy Renner stays away from it as much as he can. So now let's see a diet you can follow to get a body like Jeremy Renner.
Jeremy Renner diet includes:
Is Jeremy Renner a Vegan?
No, Jeremy Renner is not a Vegan.
Breakfast
Egg whites

Avocado

Turkey bacon
Snack
Lunch
Chicken breast

Rice

Veggies
Evening Snack
Dinner
That's all for the Jeremy Renner diet plan.