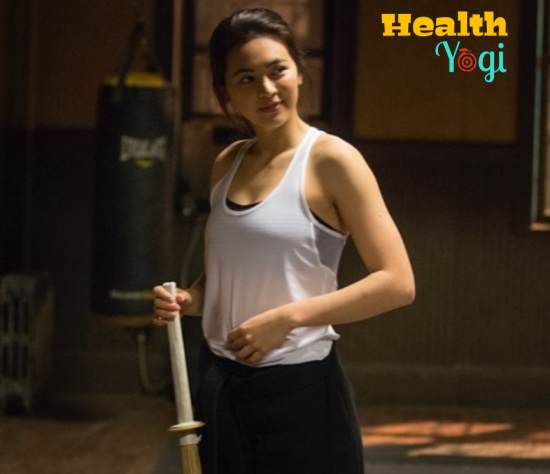 Jessica Henwick Diet Plan and Workout Routine: Jessica Henwick is an actress known for her roles in movies and TV shows like; Game Of Thrones, Iron Fist, The Defenders, Love and Monsters, Luke Cage, Spirit Warriors, Underwater, etc. Everyone is currently waiting for her upcoming movie with Keanu Reeves, The Matrix 4, and the movie Godzilla Vs. Kong.
Jessica has made an enormous impact on Hollywood with her fitness and incredible body physique. If you also want to know how she did that and the secret of the Jessica Henwick workout and Jessica Henwick diet plan, then keep reading.
Jessica Henwick Body Stats
| | |
| --- | --- |
| Height | 5 ft 5 inch |
| Weight | 55 kg |
| Age | 28 years |
| Breast | 33 inch |
| Waist | 25 inch |
| Hips | 34 inch |
Also Read: Kristen Stewart Diet Plan, Workout Routine and Beauty Secrets
Jessica Henwick Workout Routine
Jessica Henwick is one of the best action actresses in the whole of the Hollywood industry. She has played quite exciting roles in the Marvel series and soon with Keanu Reeves in The Matrix 4. All of that happens because of her acting skills and physical fitness, so let's see what Jessica does in her workout routine to maintain fitness. 
Jessica has a martial arts background as she loves martial arts and likes to train regularly. She also loves doing different things like weight lifting, bodyweight exercises, and cardio to keep herself fit and healthy. Usually, Jessica prepares for about five days a week when she has a role coming up, and she updates the routine according to the part she will be playing.
However, let's talk about her fitness during Iron Fist 2; as for me, that was the best shape she ever had. In this interview with Muscle and Fitness, Jessica has stated different things regarding Iron Fist 2. There Jessica noted that she started three to four months of working out five days every week. She was also training for Hapkido other than her usual routine, which contains weight training, cardio, and martial arts.
In this other article from Muscle and Fitness, you can see a collection of her Instagram post where Jessica has shared a lot of her training videos. So that's what Jessica Henwick does. So, let's make this into a routine for you guys to follow. We will also be working out five days a week, and doing different workouts, so get ready.
Jessica Henwick workout includes:-
Cardio
Training days: Monday to Friday
For the cardio routine, you will be training about 30 minutes to 40 minutes max. We will do a simple way that will contain running, water rowing, and skipping.
20 minutes of running

5 minutes of skipping

1 km on the water rower
Jessica Henwick Weight Training
Training days: Monday to Friday
We will be doing different types of workouts for weight training, like bodyweight, compound movements, isometric, etc.
Monday
Sets: 3
Reps: 8 to 12
Rest time: 30 seconds
Bench press

Dumbbell press

Cross cable flyes

Push-ups

Delt flyes

Shrugs
Tuesday
Sets: 3
Reps: 8 to 12
Rest time: 30 seconds
Pull-ups

Lat pulldowns

One-arm dumbbell row

Cable rows

Hyperextension

Deadlifts
Wednesday
Sets: 3
Reps: 8 to 12
Rest time: 30 seconds
Shoulder press

Lateral raise

Front raise

Shrugs

Hack squats

Glute thruster

Glute cable kickbacks
Thursday
Sets: 3
Reps: 8 to 12
Rest time: 30 seconds
Bicep curls

Barbell curls

Hammer curls

Tricep extension

Overhead press

Skull crusher
Friday
Sets: 3
Reps: 8 to 12
Rest time: 30 seconds
Squats

Lunges

Leg press

Leg extension to curls

Stiff-leg deadlift

Thigh abduction

Calf raises (seated and standing)
Martial Arts
Training days: Three days a week
You can join any local martial arts gym for martial arts training and go there three days a week. Make sure to do this workout after having rest, so do the cardio and weight training routine in the morning and train martial arts in the evening so your body can recover the energy.
That's all for the Jessica Henwick workout routine.
Also Read: Bridgit Mendler Workout Routine and Diet Plan
Jessica Henwick Diet Plan
Jessica Henwick talks briefly about her diet in the interview with The New Potato. Jessica stated that she only sticks to a diet when working out for a role in that interview. She was also eating a high protein diet for the Iron Fist as she needed to bulk up for the position. In the interview with Muscle and Fitness, Jessica stated that she drank many proteins every day to get in shape.
Later Jessica tells The New Potato that she was drinking three shakes a day, eating six egg whites, lean meat, and greek yogurt for the food. So yeah, you can tell that every meal that she was eating contains some kind of protein in it. So you just follow these things while dieting to have a body like Jessica Henwick.
That's all for the Jessica Henwick diet plan.
Also Read: Naomi Scott Workout Routine and Diet Plan