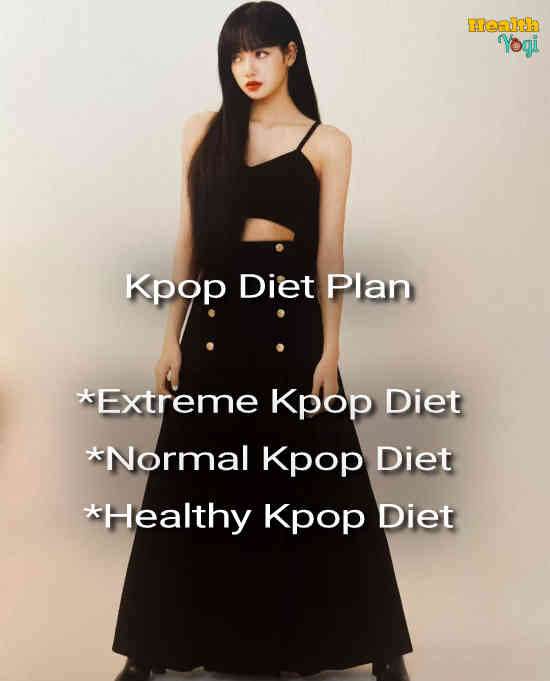 Kpop Diet Plan | Kpop Idol's Diet: We all are mesmerized by the beauty and incredible shape of Kpop idols. They have that slim and fantastic waistline, no matter if it's the girls or guys. So how do they achieve that?
The answer is mostly in their diet; we know all Kpop idols have worked out every day, dancing for hours. Other than that, the diet does the most important job here. So if you are looking forward to the Kpop diet Plan, then keep reading.
Also Read: [Jennie Diet] Jennie Kim Workout Routine and Meal Plan
Kpop Diet Plan
Now, I have covered so many Kpop idols and their diet that it's nothing new to me, and there was not much research that I had to do. I already covered almost everything that I should know. Now let's get into how to get a shape like Kpop idols by following the Kpop diet.
I will cover boys and girls diets both, and there are three phases in a Korean pop idol's life, where they do the extreme diet, then they slowly get into an okay meal plan, and then finally, once their body gets used to the workouts and get in shape, they get back to a healthy diet.
All of these phrases have come into every Korean idol's life, especially before their debut. Some are expected to have a high metabolism, which helps them stay in shape no matter what they eat. Before I go into the diet, let me tell you this diet is unhealthy, and I don't recommend anyone even to try this diet to lose weight. This article is to inform you of the diet.
Kpop diet plan includes:
Extreme Kpop Diet Plan
An extreme diet can give you stomach problems, digestion problems, malnutrition, and many other diseases. This kind of diet gets used by Kpop idols before their debut when asked to lose over 5kg to 10kg in less than a month and sometimes just two weeks.
Many famous stars like Jimin, Momo, IU, and many others have taken this diet before the debut. They would only eat one meal a day, or they would eat an apple in the morning, sweet potato in lunch, and dinner would be a protein shake. Do remember that's when they are practicing dancing for two to three hours.
Also Read: BlackPink Jisoo Workout Routine and Diet Plan
Normal Kpop Diet Plan
This diet phase comes after their debut when idols get back to eat some foods like rice, chicken, veggies, and snacks. Many stars here don't care what they eat, as they accepted that not eating enough will get them sick and end up going to the hospital. However, they control the portion and eat in moderation.
Many celebrities use this diet and stay fit; here, they eat three meals and consume a total of 1.3k to 1.8k calories a day while doing dance practice and even working out. That's why they don't gain any fat, but it's not exactly an ideal diet, in my opinion. However, it does help them stay in shape and also saves them the trouble of getting sick. 
Healthy Kpop Diet Plan
This diet type gets followed by only a few Kpop idols in a position where they go to the gym or do at least some kind of workout every day. This diet you can follow, and I will also explain and give you the diet.
Every idol has their diet plan, but their meal will be full of protein, carbs, vitamins, nutrients, etc. Stars like Lisa, Kai, V, Jackson Wang, etc., also follow a very healthy diet.
Lisa likes to eat lots of fruits, V loves having soup in his diet as snacks to control the calories. For Jackson and Kai, as they also go to the gym, their diet is a protein-based diet with some supplements.
Especially Jackson loves to eat healthily and eats lots of veggies, chicken, and he also takes vitamins that he eats alternative weeks. Now, let's look at a diet that I would suggest you try to get a Kpop look.
Girls
Breakfast
Smoothie of blueberries, strawberries, raspberries, a banana, and almond milk
Lunch
Snack
Dinner
Chicken or salmon

Veggies or sweet potato
Boys
Breakfast
Two boiled eggs

Chicken sausage

Juice
Snack
Lunch
Chicken breast

Veggies

A small bowl of brown rice
Dinner
Turkey or Tofu

Stir-fried veggies with the tofu of turkey 

Salad
That's all for the Kpop diet.
Also Read: Hyuna Workout Routine and Diet Plan