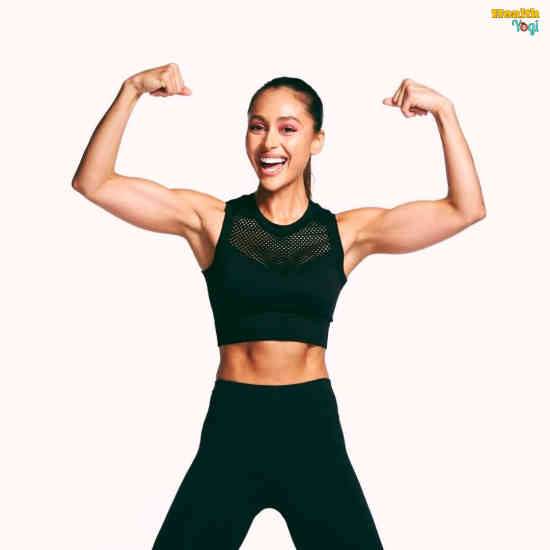 Lindsey Morgan Diet Plan and Workout Routine: Lindsey Morgan is an actress known for her roles in movies and TV shows like The 100, Beyond Skyline, Walker, Summertime, Detention, etc.
She is also well known for being one of the fittest and healthiest celebrities, and many people admire her body way too much. That's why we will also figure out and explain the Lindsey Morgan workout and the Lindsey Morgan diet plan.
Lindsey Morgan Body Stats
| | |
| --- | --- |
| Height | 5 ft 6 inch |
| Weight | 55-57 kg |
| Age | 31 years |
| Breast  | 33 inch |
| Waist | 25 inch |
| Hips | 34 inch |
Also Read: Rosa Salazar Diet Plan and Workout Routine
Lindsey Morgan Workout Routine
Lindsey is a talented actress known for her movies and tv shows and many roles that have significantly impacted the fans. While Lindsey looks awesome doing different roles, I think it's best to do action movies and roles that require action actresses. Additionally, as we have seen in Skyline and different movies, Lindsey's physical fitness and body shape are excellent for those roles.
So now the question about how and what activities Lindsey does to keep herself in that shape and make herself seem so fit. A couple of years ago, with the Sharp Magazine, Lindsey did an interview where she explains herself always keeping at 100. She explains that she loves to be active; she loves boxing, Muay Thai, Lifting Heavyweights, Hiking, and going outdoors.
I even found her post on Instagram showing her doing Boxing training, and there was this other post showing Lindsey doing the exercises lunges with the medicine ball. So I think that's what she does; sadly, there is no workout plan given by Lindsey anywhere. It's all about moving her body by doing specific workouts. Still, don't worry, as I think I can make you a workout plan to get a body like Lindsey.
Now, as we learned, Lindsey does a lot of workouts; that's why we will be doing five days of proper training in which we will train twice a day. While on two days, we will do activities like hiking or trekking to stay active and keep our bodies moving. The workout won't be easy, but getting a body like Lindsey is also not that easy.
Lindsey Morgan workout includes:
Morning Routine (MMA workout)
In the morning routine, we will do an hour of combat training. You can choose between Muay Thai or boxing, as those two are the recommended workouts that Lindsey does; I would suggest doing Muay Thai if you have access to a dojo nearby, or else boxing works nicely as well. Also, please don't overdo it; we will keep it for an hour only five days a week.
Evening Routine (Circuit Weight Training)
I doubt that Lindsey would be doing a whole-body circuit routine, so I think we will do a weight training routine consisting of three circuits where we will train our core every day and then dive the rest of the days with upper-body and lower-body workouts.
Training: Medium Weight to Heavyweight training (increase weight on every set)
Circuit: 3
Exercise in each circuit: 4
Reps: 20
Sets of each exercise: 3
Rest time after the circuit: 80 to 120 seconds
Monday
1st
Weighted squats

Barbell squats

Banded crab walks

Leg press
2nd
Leg extension

Lunges

Calf raises

Seated calf raises
3rd
Crunches

Leg raises

Russian twist

Plank hold
Tuesday
1st
Push-ups

Chest press

Dumbbell press

Dumbbell flyes
2nd
Wide grip lat pulldowns

Cable rows

Dumbbell rows

Dumbbell deadlifts
3rd
Ball plank in and out crunches

Hanging leg raises

Cable wood chops

Side plank to a crunch
Wednesday
1st
Banded squat walks

Dumbbell explosive squats

Stability squats

Leg curls
2nd
Dumbbell sumo squats

Curtsy lunge

Stiff-leg deadlift

Single leg pushdowns
3rd
Incline weighted crunches

Leg lifts up

Scissor kicks

Plank reach
Thursday
1st
Shoulder press

Lateral raises

Front raise

Shrugs
2nd
Biceps curls

Barbell curls

Triceps pushdown

Triceps kickbacks
3rd
Reverse crunches

Bicycle crunches

Plank twister

Plank to toe touch
Friday
1st
Deep smith machine squats

Hack squats

Reverse lunges

Bulgarian squats
2nd
Hip thruster

Hip abduction

Glutes hyperextension

Glutes cable kickbacks
3rd
Toe touch crunches

Hanging leg raises

Side high plank

Stability ball plank
That's all for the Lindsey Morgan workout routine.
Also Read: Rosa Salazar Diet Plan and Workout Routine
Lindsey Morgan Diet Plan
Lindsey shared this post on her Instagram where she talked about eating healthy and clean and once in a while letting herself eating foods that she wants. It's about keeping everything in control, so Lindsey will most likely follow the pattern of the 80:20 diet.
In that diet, Lindsey eats clean 80% of the time, while she enjoys the foods she wants for 20% of her time. Also, Lindsey seems to be vegan and enjoys veggies a lot; I'm not sure about it, but I have seen her use many vegan products. So now, let's see a diet that will help you get a body like Lindsey.
Lindsey Morgan diet includes:
Is Lindsey Morgan a Vegan?
Yes, Lindsey Morgan is Vegan. it seems Lindsey Morgan enjoys veggies and sticks to a vegan protein shake and supplements.
Breakfast
Oatmeal and blueberries pancake 
Snack
Lunch
Tofu steak or stir-fried veggies (tofu, mushroom, bell peppers, green chilies, onion, tomato, etc.)

Brown rice

Veggies
Evening Snack
Dinner
Whole-grain pasta, potato curry, tofu, or cottage cheese curry

Salad
That's all for the Lindsey Morgan diet plan.