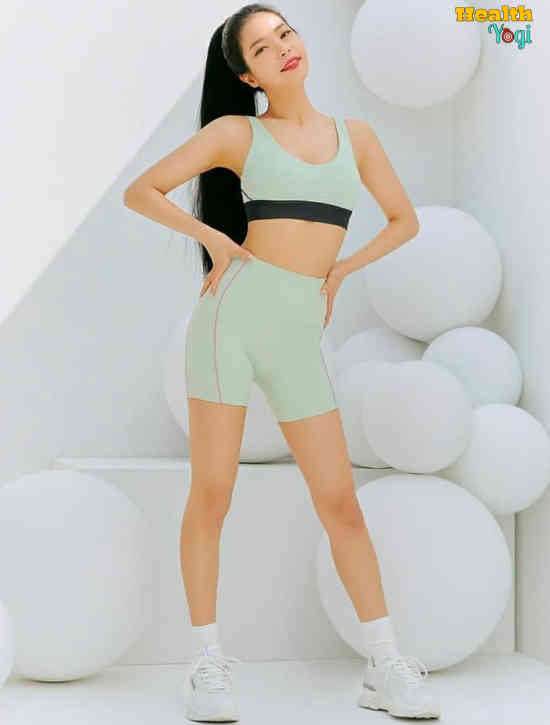 MAMAMOO Solar Diet Plan and Workout Routine: Solar is a YouTuber, singer, and songwriter that is part of the Kpop group MAMAMOO. We all have surely heard their songs, and we all know that Solar has also helped to write in many pieces.
Solar also made her single debut just the previous year in April, and we can say that it was pretty much a huge success. Solar also has that sexy and lean body that everybody desires to have. So if you also want the MAMAMOO Solar workout and the MAMAMOO Solar diet plan, then keep reading.
MAMAMOO Solar Body Stats
| | |
| --- | --- |
| Height | 5 ft 4 inch |
| Weight | 45 kg |
| Age | 30 years |
| Breast | 32 inch |
| Waist | 24 inch |
| Hips | 34 inch |
Also Read: MAMAMOO Moonbyul Diet Plan and Workout Routine
MAMAMOO Solar Workout Routine
Solar is undoubtedly the fittest person in their group; I didn't know that she was active before researching the information. Maybe it's because of her solo career that she has started gaining muscles and having that toned figure going on for her.
However, whatever it is, her workout is quite lovely and fun to try.
So yeah, if you are going to try anybody's workouts in the group MAMAMOO, do try this workout routine for sure! A healthy way to follow, and there are lots of variations. We have seen lots of different stuff from Solar since she started her own personal YouTube channel. Let's talk about a year ago when Solar uploaded her stretching workout. The 10 minutes video shows all the stretching she regularly does.
In that video Solar also stated that these exercises have helped her get a lean body and slim body shape. It also helped her lose the fats around the underarm and belly. Then recently, a month ago, actually not even a month yet. Solar posted this video on her YouTube channel showing the Tabata workout challenge.
When she was able to do all these exercises so nicely, and in good form, I could say that she does workout. Solar, surely getting fit by doing lots of different kinds of activity. Also, how can we forget her primary passion for dance? Did you know Solar has also done dance choreography on another singer like Ariana Grande songs?
So yeah, dancing her main workout indeed, and that goes from Monday to Friday. Solar does like to laze around on the weekends, which is okay as she can do that. After that much workout and working for five days, she surely needs to have rest days. Now let's see a routine containing these workouts that you can do; we will train in two parts to get the best results. One will be in the morning, and the other half activity will get finished in the evening. I know I make this pattern all the time, but that's because it's the best way to workout.
MAMAMOO Solar workout includes:
Morning Routine
In the morning, we will start with our cardio routine, including exercising like dancing for almost two hours. So get moving and join the dancing class for stretching before the dance. You can also follow the video of Solar, where she explained the stretches.
Evening Routine
In the evening, we will do a circuit routine that will be 30 minutes long maximum. If you are not used to activities, follow the exact video where Solar shows the Tabata challenge. It will help you get started. Even for an intermittent or advanced level, you can do similar workouts to increase the duration by making it 45 seconds of exercises and 15 seconds rest.
That's all for the MAMAMOO Solar workout routine.
Also Read: MAMAMOO Hwasa Diet Plan and Workout Routine
MAMAMOO Solar Diet Plan
Solar keeps it relatively simple, but Solar changes her diet frequently when she needs to lose weight. For today we will see a diet plan where Solar showed how she lost 2kg in three days.
I'm not sure if you guys should follow that, but yeah, even if I didn't show you, you will end up seeing it on her channel. So at least I can warn you before you follow this diet. Don't keep this diet as a plan that you will follow every day! Now let's see her weight loss diet:
MAMAMOO Solar diet includes:
Breakfast
Half apple

Sweet potato

One glass of soy milk
Lunch
Half a bowl of brown rice

Chicken breast

Grapes
Post Lunch
Dinner
That's all for the MAMAMOO Solar diet plan.
Also Read: MAMAMOO Wheein Diet Plan and Workout Routine