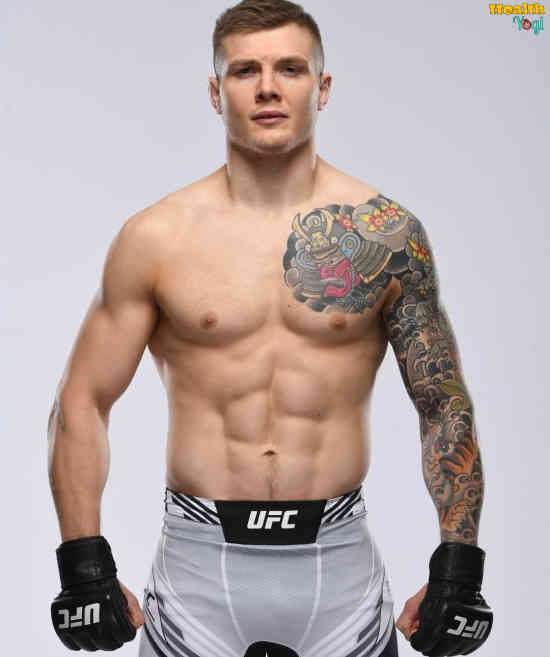 Marvin Vettori Workout Routine and Diet Plan: Marvin Vettori is an MMA fighter fighting in UFC Middleweight Division and soon about to fight champion Israel Adesanya. Oh, that's going to be a hell of a fight. He is also ranked 3rd in the whole UFC middleweight division now.
Other than that, Marvin is known for the fighting style and stamina that he shows in longer fights with round 5. So if you also want the Marvin Vettori workout routine and the Marvin Vettori diet plan, then keep reading.
Marvin Vettori Body Stats
| | |
| --- | --- |
| Height | 6 ft |
| Weight | 84 kg |
| Age | 27 years |
| Chest | 44 inch |
| Waist | 32 inch |
| Biceps | 16 inch |
Also Read: Israel Adesanya Workout Routine and Diet Plan
Marvin Vettori Workout Routine
Marvin is one of the best fighters in the current UFC middleweight division and has also achieved rank 3rd in all the fighters in the UFC middleweight. So he's one of the fighters you don't want to mess with, but again Israel is the champ with a record that is not just impressive but also scary. So how is Marvin preparing for his fight with Israel?
To figure that out, I tried searching for his workout and saw a different routine as Marvin does lots of mixture routines that include your MMA, Pad workout, sparring, cardio, weight training, strength training, etc. Plus, I don't think it's that different from the routine he was already following for Kevin Holland when he came out as a victor.
To get all the latest updates, I even checked his Instagram, where Marvin is quite active and posts many of his routine clips. So there was nothing new that we haven't seen from Marvin, for sure, mentally, he is doing some different training. However, as long as the workout itself goes, it contains mainly Pad workout, cardio, weight training, boxing, sparring, etc.
So now let's give you a brief routine to get you started on how you can follow a routine to get fitness like Marvin. The workout will be six days long, and we will train for about three to four hours at least each day. The routine will get divided into two parts, so we have time to recover before the next workout.
Marvin Vettori workout includes:
Morning
In the morning, it's usually cardio and weight training with some strength and core training. I can't give you the routine which Marvin follows, but I can give you few exercises that you can add to your routine to make it more effective:
Sumo deadlift

Romanian deadlift

Snatch

Kettlebell lunge

Sled Push and pull

Battle rope

Bench press

Military press

Farmers walk
Evening
In the evening, you will focus on your workout like MMA, Sparring, boxing, etc. It usually will contain pad workouts, some heavy sparring, defensive training, submission training, etc. These all make the workout pretty tiring, and you burn many calories. Keep the workout length for about two hours, and you will be good.
That's all for the Marvin Vettori workout routine.
Also Read: Platinum Mike Perry Diet Plan and Workout Routine
Marvin Vettori Diet Plan
Marvin takes a clean diet, especially while he's in training camp. The diet contains lots of protein intake, carbs, and veggies with healthy fats. However, Marvin hasn't come out and stated what he likes to eat.
So whatever diet I will be giving you is based on the post I saw on Marvin's Instagram. So it won't be the diet that Marvin follows, but it will help you get a fitness like him and suitable for a start.
Marvin Vettori diet includes:
Breakfast
Chicken sausage

Fruits

Avocado toast

Eggs
Snack
Lunch
Chicken breast

Veggies

Rice
Evening Snack
Dinner
Salmon or chicken/sometimes steak

Veggies

Salad
That's all for the Marvin Vettori diet plan.
Also Read: Conor McGregor Workout Routine and Diet Plan