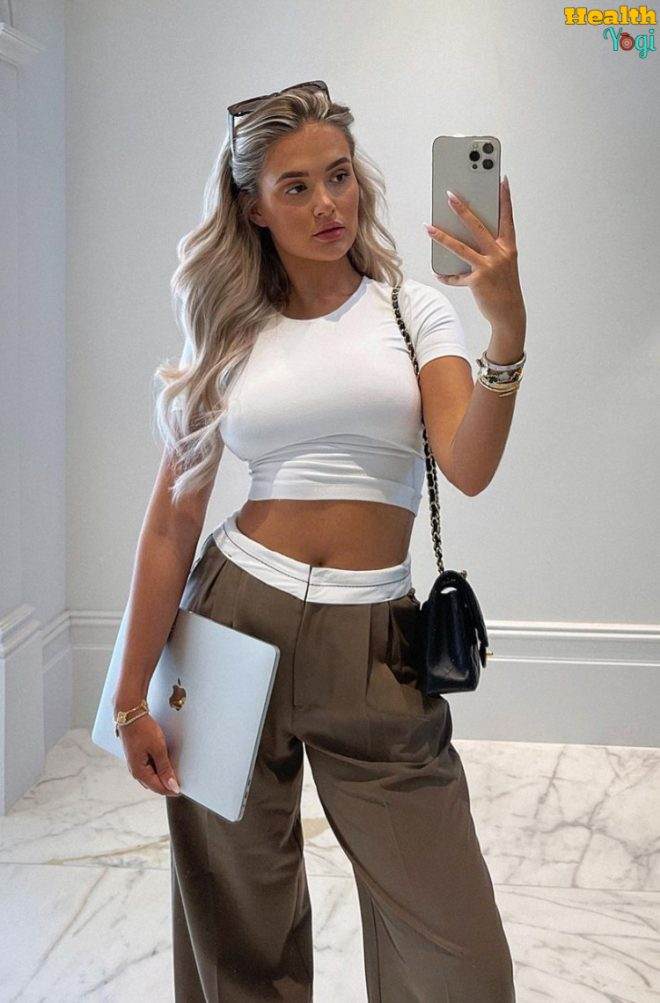 Molly-Mae Hague Diet Plan and Workout Routine: Molly-Mae Hague was born on the 26th of May 1999 and is a well-recognized English social media influencer. She has been a runner-up in the notable reality dating show Love Islands 5th series. Hague is the creative director of " Pretty Little Thing" since 2021. 
Apart from being an influencer, director, and reality show participant, Hague is known for her alluring looks and killer body figure. She is a famous social media personality. So, here we are going to look out at the Molly-Mae Hague workout routine and Molly-Mae Hague diet plan in detail. 
Molly-Mae Hague Body Stats 
| | |
| --- | --- |
| Body Stats  | Units  |
| Height | 1.65 m or 5 ft. 5 inches  |
| Weight | 48 Kg  |
| Age | 23 years  |
| Chest | 34 inches  |
| Waist | 25 inches  |
| Hips  | 36 inches |
Also Read: Tommy Fury Workout Routine and Diet Plan
Molly – Mae Hague Workout Routine 
Molly has ruled the hearts of millions of people around the globe which can be beheld through the huge number of fan following over all of her social media handles. Hague has around 6.6 million fan base on her Instagram handle and around 464.2 K followers on her Twitter account. Let's have a clear look at the famous public figure  Molly – Mae Hague workout routine. 
Molly has changed her body figure a lot after leaving Love Islands and now she has an adorable body image. She has altered her body figure by going through a rigorous workout regime. Molly – Mae Hague workout routine is based on endurance-gaining workouts, cardio exercises, core workouts etc. Additionally, she used to practice horse riding and walking for fitness & other health benefits. She goes to the gym six days a week to practice workouts for at least 60 minutes or an hour dedicatedly. 
Finally, we are putting together all the information about Molly – Mae Hague workout routine in the below section. For all the female fitness buffs and her fans, this is going to be a great fitness routine example to take ideas from. Let's begin:
Workout Training: 
Once you are ready to start a workout session, spend 10 to 15 minutes performing a warm-up or stretching for the entire body. 
Monday –  Strength Workouts: 
Upper body –
No.of sets – 4 to 5 
No.of reps – 10 to 12 
Up and over-shoulder press 
Assisted pull-ups and dips 
DB pullover and strict press 
Bear crawl and hang clean 
Tuesday – 
Lower body
–
No.of sets – 4 to 5 
No.of reps – 10 to 12 
Crossover punches in sumo squats 
Wednesday – Cardio Workouts: 
Reps count: 4-6 
Knee chops/ Reverse lunge 
Modified arm & leg crossover 
Thursday –  Core Workouts: 
No.of sets – 4-5 
Reps count – 10-12 
Single-leg Romanian deadlift
Friday – Pilates: 
Forward lunge with rotation
Saturday – Yoga workouts –
Hip width forward bend 

Eagle pose 
So, it ends here! All the information collected regarding the popular personality Molly – Mae Hague workout routine is delivered nicely in the above-mentioned paragraph. Check out the workout forms and number of sets, reps, etc recommended for better understanding. You can curate your workout plan as per convenience to attain a fit and healthy body image.
Also Read: Tyson Fury Workout Routine and Diet Plan [2020] | Train Like a Heavyweight Boxing Champion
Molly – Mae Hague Diet Plan 
Molly – Mae Hague diet plan has more protein-rich items included in it. She cuts off her high carbs content and puts more vehemence on consuming a high protein, fibre, minerals and nutrient-rich diet. Earlier, she doesn't drink much water as she admits in an interview but later on, she focuses on drinking water too to maintain a good hydration level in the body. Also, she avoids a few stuff in her diet plan like alcohol, high fats & sugar etc. 
Here is what exactly the Molly – Mae Hague diet plan looks like. Read this out properly to know her eating habits.
Is Molly – Mae Hague a Vegan?
No, Molly – Mae Hague is not a vegan. 
Breakfast 
Shakes made with water & ice

A slice of avocado toast 
Lunch 
Sweet potato mash 

Chicken breast 

Some falafel and broccoli 

Guacamole 
Snacks
Fresh fruit juices 

Dried nuts & seeds 

Protein shake 
Dinner 
Some Quorn chicken slices 

Spicy Mexican rice

2 Bacon rashers 

Lettuce, sweetcorn & some coleslaw.  
It's completed here! Molly – Mae Hague diet plan is explained in detail in the above paragraph with all the information that we have gathered. Hague perfectly maintains an equilibrium between her daily healthy eating routine and workout sessions. To attain and maintain a fit and toned body image, a well-planned workout sessions and everyday diet regime is very essential for any individual.
Also Read: Jake Paul Workout Routine and Diet Plan