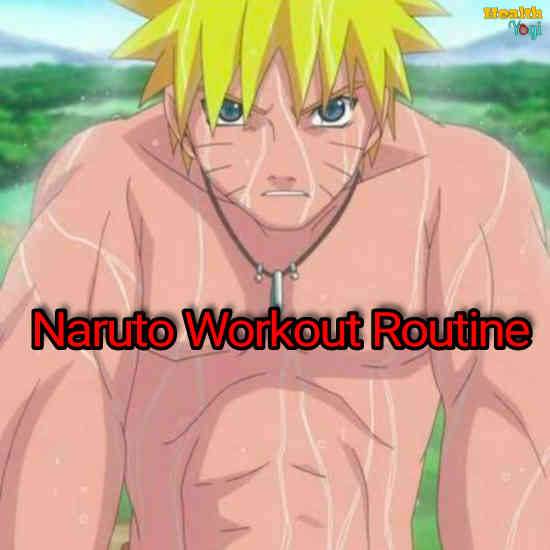 Naruto Workout Routine: Naruto is an anime character from Naruto, Naruto Shippuden, and Boruto. He's primarily famous for his willpower and never-giving-up attitude.
I love the way Naruto had made himself strong when he was just a nobody at the start of the series. So many people get inspired by Naruto, and many people also want to know the Naruto workout routine.
Naruto Body Stats
| | |
| --- | --- |
| Height | 5 ft 11 inch |
| Weight | 75 kg |
| Age | 32 years in the Boruto series |
| Chest | 42 inch |
| Waist | 32 inch |
| Biceps | 14 inch |
Also Read: Rock Lee Workout Routine
Naruto Workout Routine
Naruto is a character that you can see for real-life inspiration to watch. His journey from the start till the end was something incredible. I have seen all about his life and even took inspiration from how he works as the character. We know that in the Boruto series, Naruto is currently the most significant and Strongest ninja and Hokage ever born.
The reason that everyone respects him is nothing but pure hard work that Naruto has shown countless times while saving the Hidden Leaf Village. So how does the most excellent Ninja workout? What is the Naruto workout routine, and what are the abilities that he can control? Well, to find that, all we need to go back to his childhood.
When Naruto was a student, he was training hard every day, and that's why he was able to surpass Sasuke till the end of the series. During that time, we saw Naruto doing regular weapon training, ninja running, chakra meditation, and combat training, with some free-body exercises. However, once the series continued as Naruto Shippuden and then Boruto, not much has changed in training.
The only difference was the method used, and he learned much new Ninjutsu that made Naruto stronger. I even checked a few videos on Youtube where they were training like Naruto and didn't seem to be following what they should be doing. Like this video where this guy is training like Naruto for a month.
He involved running, shadow boxing, some free-body exercises, and fighting. However, the way he did that was not even enough to get a body fitness like Naruto. I won't deny the run's distance, but I think Naruto would be running at least equal to one punch, man. Then there are push-ups and other exercises, which are pretty straightforward and not enough to get a body like Naruto.
However, the biggest mistake was no combat training was involved in the whole workout. So you cannot just go out and fight random people and can be like Naruto. So I will give you guys a version of the Naruto workout that would be better than this workout and help you get a body shape like Naruto. We will work out and train six days a week and will be doing workouts twice a day.
Naruto workout includes:
Cardio
Now the cardio routine will consist of running; you don't have to do the Naruto run if you don't want to, as it's not necessary. Instead, you can start with a regular running style and keep it up if that's more comfortable.
We will be doing 5km running for the first two weeks and then increasing the distance to 7km for the next two weeks, and after a month, you will be doing a 10km run six days a week. So now, if you are not used to running, don't worry; you can break it down into sets and take breaks in between.
The best way would be running half the distance in the morning and then half the distance at night before you sleep. That way, your dinner will also get digested, and you can also achieve your aim. However, if you have the stamina to do that in one go, then feel free to do that in one run.
Combat Training
Don't join a boxing gym for combat training, as Naruto's fighting style was nowhere near boxing. Instead of that, I would recommend doing four to five days of an hour of MMA training in your nearby MMA gym. If you don't have an MMA gym nearby, you can access the MMA app or watch videos on YouTube.
Free-body exercises
You can add the last thing by doing everyday push-ups, sit-ups, squats, burpees, jump squats, pull-ups, plank, leg raises, etc. Try doing them in a circuit routine to help you better body shape and burn calories while working out. Also stretching, don't forget to stretch after each workout that I have mentioned so far.
That's all for the Naruto workout routine.
Also Read: Itachi Workout Routine: Train Like Itachi Uchiha From Naruto