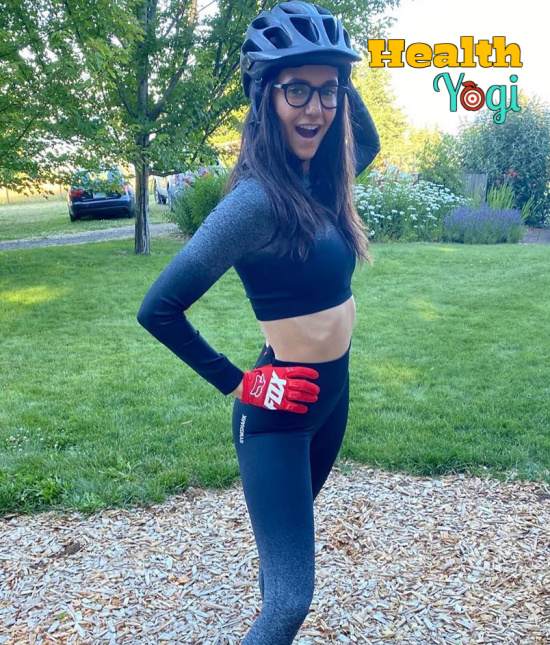 Nina Dobrev Workout Routine and Diet Plan: Nina Dobrev is an actress and model known for her role in Vampire Diaries; after that show, she has been in many different tv shows and movies.
Nina also gets recognized for her fantastic fitness routine and how she maintains her body with her consistent workouts regime. So if you are also looking for the Nina Dobrev workout routine and diet plan, then look no further.
Nina Dobrev Body Stats
| | |
| --- | --- |
| Height | 5 ft 6 inch |
| Weight | 55 kg |
| Age | 31 years |
| Breast | 33 inch |
| Waist | 24 inch |
| Hips | 34 inch |
Also Read: Kat Graham Workout Routine and Diet Plan
Nina Dobrev Workout Routine
Nina Dobrev is one of the most consistent people when it comes to working out. She has rarely skipped a workout; even when she is not in the gum and working out, Nina has other exercises that she focuses on like doing hiking, going for a run, etc. Nina also claims that there isn't a day when she doesn't sweat, no matter where she is and what she is doing, Nina likes to stay fit always.
In the interview with Women's Health, Nina talked about her routine and what exactly she does to stay fit and healthy. In that article, you will read about her method that includes cardio, strength training, weight training, boxing, yoga, group classes, etc. All these workouts help Nina stay active, and doing different exercises every day also helps you stay consistent with your fitness.
Nina Dobrev workout includes:-
Cardio
In cardio, Nina likes to run for a while on the treadmill, mostly she aims for a longer run at a moderate pace. However, when she is not in the mood, she likes to mix it up with spirits and walk, and interval runs; this way, Nina still gets her workout and burns the calories she needs to burn.
Yoga
Nina loves to do yoga, and it worked well for her before when she was not working out this much. Nina used to do just yoga to stay fit, so for her, yoga had always played a role in keeping her healthy and lean.
Yoga is an excellent workout for any body type of person, and you can get a lot of benefits from an hour of yoga every day. It also burns a lot of calories while making your body relaxed and flexible.
Boxing
Nina started boxing with her trainer Lissa; boxing helps her get super fit; it also provides an excellent cardio workout while building up a lot of upper body muscles.
In this workout, Nina mostly does 15 to 25 rounds of one minute; the sets mostly contain exercises like punching, lower body warm-up, upper body warm-up, jabs, hooks, combo, high cut, hitman jabs, etc.
Nina Dobrev Strength Training and Weight Training
The strength and weight training probably will be the workout that Nina does the most in her weekly routine. The exercise focuses on building overall strength with different compounds' movements while building muscles as well.
For weight training, it's mostly her standard bodybuilding routine, however for strength training, she must be doing exercises like; battle ropes, snatch, farmers walk, deadlift, renegade rows, etc.
Group Classes
When Nina is not doing all these workouts, she likes to go for different kinds of group classes, including CrossFit, barre class, ballet, dance, yoga, mountain climbing, trekking, and spin class, pilates, etc. This group activity helps her stay energized while focusing on staying healthy, as well.
Nina Dobrev Core Workout
Nina also likes to do a lot of core workout; the core workout mostly contains doing a circuit routine that helps Nina to burn calories while she sweats out the exercise.
I don't know the drill that Nina does, but I'm guessing the practices must be like; crunches, cross crunch, ball leg raises, hanging leg raises to side leg raises, abs roller, medicine ball Russian twist, plank twister, star planks, etc.
That's all for the Nina Dobrev workout routine.
Also Read: Victoria Justice Workout Routine and Diet Plan
Nina Dobrev Diet Plan
Nina's diet plan is to eat after every three-hour kind of program, just like a professional athlete would eat. Nina told shape magazine that when she was not this active and didn't have any knowledge, she used to eat three full meals that made her so lazy after eating that even walking was such a pain.
However, after meeting Lissa, Nina started eating more healthily, now she eats almost all the time but in the right portions. Nina usually consumes a lot of veggies, Nina theory for food is to consume fats as the size of her thumb, protein as the size of the palm and vegetables are unlimited. Nina also drinks a lot of water throughout the day, and lots of juice to stay fit and hydrated.
That's all for the Nina Dobrev diet plan.
Also Read: Elizabeth Gillies Workout Routine and Diet Plan