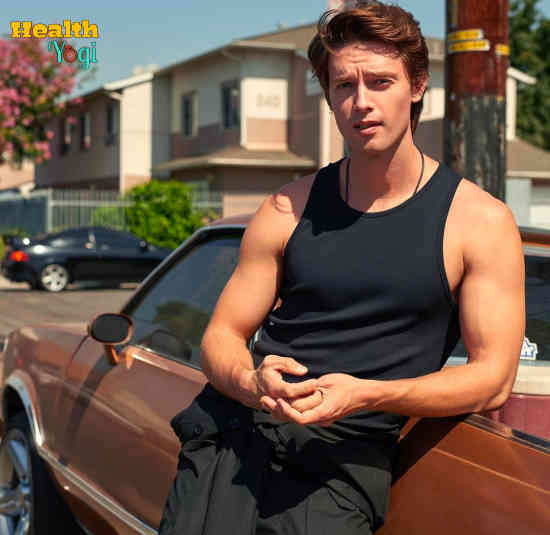 Patrick Schwarzenegger Workout Routine and Diet Plan: Patrick Schwarzenegger is an actor and son of one of the best bodybuilders and actors alive, Arnold Schwarzenegger. He mostly gets recognized for his Movies like; Midnight Sun, Daniel Isn't Real, Echo Boomers, Grown Ups 2, Moxie, etc. Patrick has an incredible physique; well, his body is more in the lean and ripped region.
Like his dad, he keeps himself in a specific physique, although these past few weeks, Patrick has started getting more bulkier. If you also want to know about the Patrick Schwarzenegger workout and the Patrick Schwarzenegger diet plan, keep reading.
Patrick Schwarzenegger Body Stats
| | |
| --- | --- |
| Height | 6 ft 1 inch |
| Weight | 82 to 85 kg |
| Age | 27 years |
| Chest | 43 inch |
| Waist | 32 inch |
| Biceps | 16 inch |
Also Read: Arnold Schwarzenegger Workout Routine [2020] | Train a Like a Arnold
Patrick Schwarzenegger Workout Routine
Patrick Schwarzenegger is undoubtedly on the list of fittest actors alive. While hearing the name Schwarzenegger you cannot help but think that he must know a lot about fitness. Well, it can be accurate, but his fitness goals are different from his dad. Unlike Arnold, his son Patrick isn't in the bodybuilding field. So getting a super bulky body isn't his goal; it's more of keeping himself in shape and staying fit.
If you see a couple of months before pics, you will see him in a very lean shape; however, finally, the actor has seen muscle gains. If I can be honest, I thought I would never see any resemblance in terms of body structure between Patrick and his dad. However, now when you see him getting a little more bulked up, we could see his body structure getting better.
Many of you would be thinking that Patrick must be training with his dad Arnold Schwarzenegger right? Well, sometimes, yes, but he has the trainer that helps him prepare him. The last time I checked, it was Eric Fleishman that helped Patrick with his movie body shape. I'm guessing Patrick is still working out with him. I even read an interview by Hollywood Life where they asked Patrick's trainer how he helped Patrick get such an incredible body shape.
Eric replied in that interview that, with Patrick, it was a combination of different things. In the end, we worked hard in the gym, and Patrick's genes also helped him gain muscles. Patrick's workout usually contains doing various types of activities depending on his current goal. However, Patrick has shared a few of the things from his training in the Instagram post. He's doing ram back hold in one of them, and on the other, you can see him doing an intense HIIT rope cardio machine workout.
So I would be saying that Patrick's workout will be mostly based on weight training and little HIIT cardio to finish the day off. I can't explain Patrick's whole movement and exercise format, as nobody other than his trainer knows what Patrick will do, but you can focus on a modified version of the standard weight training routine. So work with machines and dumbbells more, concentrate on isolation training and add some compound movement and some functional workouts.
After you did, you can do a HIIT cardio finisher workout on your favorite cardio machine. Also, make sure you don't do a lot of training, keep the amount of weight training less than one and half hours a day and take two rest days every week. For the cardio, keep the duration less than 20 or 30 minutes.
That's all for the Patrick Schwarzenegger workout routine.
Also Read: Sylvester Stallone Workout Routine and Diet Plan | Age, Height, Body Measurements 2019
Patrick Schwarzenegger Diet Plan
The diet plan of Patrick consists of eating meals made according to his taste by his trainer. In that interview, Eric stated the diet depends on the goals that his clients have in mind and what they prefer to eat. Eric also told Hollywood Life that they used the food delivery service called Sunfare to order the foods and nutrition required.
Eric also stated that whenever he sees Patrick trying ice cream and posting on social media, he texts him with a Fitness 911 text in hopes that Patrick would stop. However, Patrick is an ice cream lover; you can see him posting ice cream and trying various favors more than the workout videos or posts. However, overall, Patrick consumes a very balanced diet of protein, carbs, and other nutrients.
That's all for the Patrick Schwarzenegger diet plan.
Also Read: Arnold Schwarzenegger Diet Plan [2020] | Eat Like a Arnold