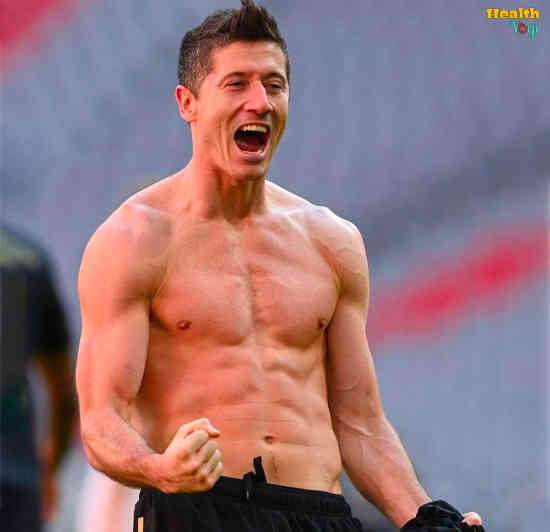 Robert Lewandowski Workout Routine and Diet Plan: Robert Lewandowski is a professional footballer that plays in the forward position for teams like FC Bayern Munich and Poland National Team.
Robert is well known for his football skills and is one of the fittest footballers. Especially his body shape and physique are incredible, so if you also want the Robert Lewandowski workout routine and the Robert Lewandowski diet plan, keep reading.
Robert Lewandowski Body Stats
| | |
| --- | --- |
| Height  | 6 ft |
| Weight | 80-82 kg |
| Age  | 32 years |
| Chest | 43 inch |
| Waist | 32 inch |
| Biceps | 15 inch |
Also Read:
Cristiano Ronaldo Workout Routine And Diet Plan
Robert Lewandowski Workout Routine
Robert is a professional player that loves to work out and stay fit. I think Robert indeed has one of the best body physiques in all footballers, as many footballers don't like to stay ripped and gain some good muscle mass. However, Robert is not like that. While he maintains his speed and flexibility, he also focuses on gaining muscle mass and keeping his body fat percentage as low as possible.
So the question comes how can Robert keep himself fit and in shape? Well, I searched for some articles and posts and figured the structure of his workout quite quickly. When Robert is not in the training camp doing lots of football drills, agility drills, and practicing soccer. He does a lot of workouts and stretching. Robert's workouts vary according to what Robert wants to do.
I also found posts on his Instagram about kickboxing, cardio, Cycling, running, resistance training, weight training, etc. So there is not a single workout that Robert sticks to, as his training changes constantly, and he likes to mix things up; that's why I can't give you much more details about his workout plan. However, I can still provide you with an excellent workout to help you get a body like Robert.
The workout will include doing all those things that Robert does, and we will train in two parts for about 2 hours each. Remember that this routine is what Robert is most likely to do when he's not in training camp. So let's get it started:
Robert Lewandowski workout includes:
Morning Routine
In the morning routine, I want to take care of all the C&C workouts. The C&C workout is your Cardio and Core workouts that I think goes the best when you do them together. It's something that I prefer to do, especially when you are training like an athlete.
Cardio
In cardio, I would say you can do different HIIT workouts that will help you gain that stamina and also remove unnecessary fat on your body. I have seen Robert doing a lot of Cycling, running, and kickboxing on his Instagram. So we will add that as well in this routine. We will be doing four different exercises that will include Cycling, Running, Jump rope, and Hydro-row.
Running:

15 minutes of running with 30 seconds of intervals sprints after every minute.

Cycling:

15 minutes of Cycling with 30 seconds of intervals after every minute.

Jump Rope:

15 minutes of Intense jump rope in sets of one minute with 15-30 seconds rest.

Kickboxing:

15 minutes of kickboxing with 30 seconds of intervals sprints after every minute.
Core
We will do a quick circuit routine in the core workout to help you get that cardio finisher and burn all the fat from your core area. So let's get it started:
Circuits: 3
Exercises in each circuit: 8
Reps: 40 seconds
Rest time after the whole circuit: two minutes
Crunches

Resistance hanging leg raises

Side to side hanging resistance leg raises

Russian twist

Plank ball in and out

Plank twister

Plank hold

Side plank to a crunch
Evening Routine
The evening routine is basically for our strength and weight training to give you a good workout routine. So let's get it started.
Weight Training
I prefer four days of mixed routine in weight training focusing on your upper body and lower body. Now I will give you a simple routine, but remember that you can add resistance bands to get that extra resistance in any one of these exercises. Also, try to be explosive with exercises like bench press, deadlifts, squats, with extra resistance.
Sets: 4
Reps: 15
Monday
Push-ups

Pull-ups

Bench press

Dumbbell flyes

Lat pulldowns 

Cable rows

Shoulder press

Lateral raises

Shrugs
Tuesday
Squats

Jump squats

Weighted squats

Barbell front squats

Leg press

Lunges

Leg extension

Stiff-leg deadlift
Thursday
Wide grip push-ups

Diamond push-ups

Biceps dumbbell curls

Barbell curls

Hammer curls

Triceps pushdowns

Triceps bench press

Triceps dumbbell kickbacks
Friday
Smith machine squats

Hack squats

Crusty lunges

Skater lunges

Hip thrusters

Hip abduction

Calf raises

Hyperextension
Strength Training
Now for two days (Wednesday and Saturday), we will be doing strength training in which I would say that it would be best if you do exercises like deadlifts, sumo deadlifts, snatch, clean and jerk, rope climb, battle rope, carriers, farmer walks, sled pull and push, etc.
This workout will help you get an overall body workout and strength and provide you with a good training routine. So make sure you do that, and feel free to add some resistance lunges, planks, TRX rows, muscle-ups, etc., if you want to add them to the routine.
That's all for the Robert Lewandowski workout routine.
Also Read:  Lionel Messi Workout Routine and Diet Plan
Robert Lewandowski Diet Plan
In an interview, I heard Robert saying that he's mainly on a high protein diet and eats carbs during training camp, so the next day, he can go out and play. Also that the breakfast that Roberts ate contained tuna, and the dinner was a rice pudding. So let's try to get a diet that will contain these foods and give you a fit body.
Robert Lewandowski diet includes:
Breakfast
Snacks
Lunch
Chicken breast

Rice

Veggies
Evening snack
Dinner
Dessert
That's all for the Robert Lewandowski diet plan.
Also Read: Kylian Mbappé Workout Routine and Diet Plan