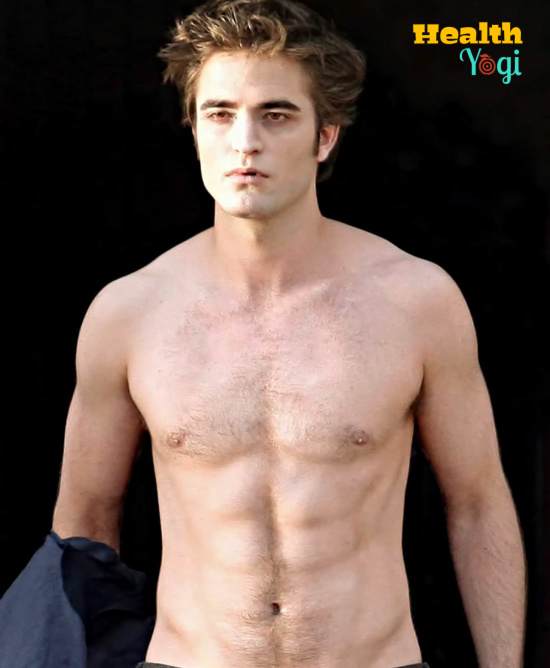 Robert Pattinson Workout Routine and Diet Plan: Robert Pattinson is a British actor who is mostly known for his role in the movie Twilight; he has gotten super famous after that. Even before he played a significant part in the Harry Potter movie, but it was the twilight that gave him the stardom.
Although now Robert Pattinson is looking at a much bigger picture in 2021, you will see Robert Pattinson in the movie Batman. That's why he even started to bulk for the film now if you also want to know Robert Pattinson workout Batman and the Robert Pattinson diet plan, then keep reading.
Robert Pattinson Body Stats
| | |
| --- | --- |
| Height | 6 ft 1 inch |
| Weight | 75 kg |
| Age | 34 years |
| Chest | 43 inch |
| Waist | 31 inch |
| Biceps | 16 inch |
Also Read: Zoe Kravitz Workout Routine and Diet Plan | Train like a CatWoman
Robert Pattinson Workout Routine
Robert Pattinson is known for working out most of the time doing all kinds of things like weight training, etc. He has always been in shape since we have seen him in the movie Harry Potter and the Goblet of Fire.
Although some of you might be surprised knowing that currently since we all have quarantined in our house. Robert Pattinson hasn't even lifted a single dumbbell or worked out for a single minute.
The actor told GQ magazine on May 12 that currently, he's not working out at all. This news was quite shocking when he is playing such a massive role in his upcoming movie, and shooting still hasn't finished yet.
Robert Pattinson also stated that Warner Bros. Has provided me with a trainer and a bosu ball, but I haven't used any of them during the time of quarantine.
Is it good for Robert Pattinson not to workout?
I would say as long as he takes the meals well, it won't harm his life or body in any way. As I still think, meal and diet are more important than a workout; if you eat well, you can maintain the body shape and reach your body goals. Now talking about if it's good or not?
I would say it's probably a good thing; he can finally get bulked up massively. As Batman is supposed to be bulky not ripped, you won't see the body ever in the bat suit, all you will see is the size. So, in my opinion, this reason can be why he looks good in the upcoming Batman movie.
Why did the actor refuse to workout?
Well, according to GQ magazine Robert Pattinson stated that working out too much is the problem. Sometimes people work out way too much, and that itself becomes your problem. Robert Pattinson said that earlier in the '70s or '80s, people playing the role never got ripped up. They just maintained the shape and had natural bulk.
I have been following a diet meal that Warner Bros. Send me and only eat those, but they never asked me to work out every day or said not to get fat. So that's what is going on in the life of Robert Pattinson, till the quarantine is still on. Although I'm pretty sure you all still want to learn about Robert Pattinson's workout, that will get you to look like Batman. Well, don't worry, I will give you one routine that will get you bulked up and ripped in perfect condition.
Robert Pattinson Workout routine Include:-
Training five days a week.
Cardio
Now the aim here is to get you bulk up, so the amount of cardio we are going to do is less, and it's mostly part of your warm-up routine. So in the cardio routine, the workout will be for just 15 minutes and 20 minutes. That's it. You will be performing a lot of intense intervals running with sprints and jogging for that time, and you are good to go.
Robert Pattinson Weight Training
For the weight training, we will be performing a standard bodybuilding routine to get you bulked up nothing too fancy. The aim here is to get you in Batman shape not to get you ripped and bulked up way too much like Arnold Schwarzenegger. So for this routine, you will be working out for about five days performing single body part exercises.
Each exercise you will aim to lift heavyweights only, and we will focus on correct form, and low reps count with more rest time. According to studies, when you pick heavyweights and do low reps with more sets, it helps you get more muscle mass than in any other way, so we will just focus on that only.
Day 1 Robert Pattinson Workout
Sets: 5
Reps: 6 to 10
Rest time: one minute
Bench press

Incline bench press

Dumbbell press

Dumbbell flyes

Hex press

Cable flyes
Day 2 Robert Pattinson Workout
Sets: 5
Reps: 6 to 10
Rest time: one minute
Pull-ups

Lat pulldown

Cable rows

One-arm dumbbell rows

Back lat push down

Pullover

Deadlift
Day 3 Robert Pattinson Workout
Sets: 5
Reps: 6 to 10
Rest time: one minute
Shoulder press

Military press

Side lateral raises

Front raises

Cable side lateral

Shrugs

Delt flyes
Day 4 Robert Pattinson Workout
Sets: 5
Reps: 6 to 10
Rest time: one minute
Bicep curls

Isolation curls

Barbell curls

Preacher curls

Tricep overhead press

Skull crusher

Tricep pushdowns

Dips
Day 5 Robert Pattinson Workout
Sets: 5
Reps: 6 to 10
Rest time: one minute
Squats

Hack squats

Leg press

Leg extension

Leg curls

Lunges

Calf raises
Robert Pattinson Core Workout
Now with a core exercise, it's up to you how many times you want to do each week, you can do it every day if you wish to, or just two days a week. I would recommend you do at least two to three times a week.
Sets: 4
Reps: 15 to 20
Rest time: 30 seconds
Crunches

Reverse crunches

Leg raises

Heel touches

Russian twist

Planks

Elbow to high plank

Side planks
This is all about Robert Pattinson Workout Routine.
Also Read: Ben Affleck Batman Workout Routine and Diet Plan
Robert Pattinson Diet Plan
Robert Pattinson is receiving a prepared meal plan by Warner Bros. That he needs to follow every day to stay in good shape and healthy body. Sadly we don't know what Robert Pattinson's meal plan contains, but I'm guessing mostly vegetables, salads, carbs, and high-fibre with healthy fats.
So I'm guessing to have him bulked up, Robert is eating five meals a day with salad, chicken, fish, steak, veggies, fruits, protein shake, etc. All this will help him get bulked up while staying fit as well, but again there is not enough proof to say he's precisely eating this diet. Also, he does drink a hell lot of water throughout the day.
Robert Pattinson Diet Includes:-
Robert Pattinson Breakfast Meal
Whole Eggs omelette

Coffee

Toast or oatmeal

Avocado
Snacks
Robert Pattinson Lunch Meal
Chicken or fish

Rice

Veggies

Salad
Snacks
Robert Pattinson Dinner Meal
This is all about Robert Pattinson Diet Plan.
Also Read: Christian Bale Workout For American Psycho and Diet For Machinist