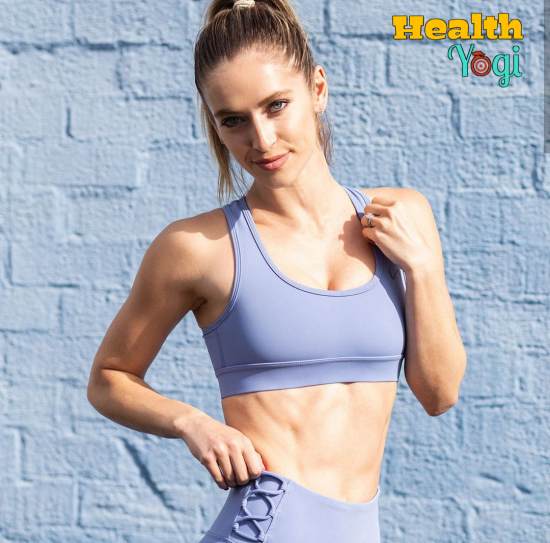 Sarati Workout Routine and Diet Plan: Sarati is a tik-tok influencer and now a YouTuber as well. Sarati just opened her YouTube channel, where she posts insights into her daily life and also her fitness tips.
She always was attached to a fit lifestyle and maintained a very fabulous physique. So today, we will talk about the Sarati workout routine and also take a look at the Sarati diet plan.
Sarati Body Stats
| | |
| --- | --- |
| Sarati Height | 5 Ft 8 Inch |
| Sarati Weight | 53 Kg |
| Sarati Age | 24 Years |
| Others | Under review |
Also Read: Jen Selter Workout Routine and Diet Plan
Sarati Workout Routine
The workout routine of Sarati contains doing a lot of things like weight training, cardio, core workout, HIIT workout, and lots of other daily activities. Sarati is gaining lots of fans following slowly and steadily, and even her YouTube channel started to get lots of views. She recently also posted a workout routine.
It's called the ten minutes abs workout routine, which I will discuss later in this article. Anyone can do that routine at their home, and it will take a maximum of ten minutes only. Sarati trains for about five to six days a week, and each day she works out for at least two hours.
Sarati Workout Includes:-
Cardio
Cardio is one of the things she doesn't love doing, but she still does it because it helps her stay in shape. For cardio, Sarati does mostly exercises like; running on the treadmill, elliptical machine, and biking. In which she starts with a warm-up, then running on medium pace and ends with a cooldown. The whole workout duration goes near 40 minutes to 45 minutes, in simple terms the workout routine will look something like this;
Five to ten minutes of warm-up

20 to 25 minutes of running

Five to ten minutes of cooldown
Sarati Core Workout
Core exercises are one of her favorite things to do, and she performs them every day. As abdominal and core muscles recover very fast, and that is why you can work on them every day. She isn't much fan of cardio, so to maintain her body shape, she performs a high-intensity interval abs workout routine.
So I'm going to give you her updated workout routine, which she posted on 2nd April, in the time of quarantine. You can efficiently perform this workout at your home without worrying about any equipment. In this whole workout, she doesn't take much rest, so if you want to feel free to take a few seconds of rest in between each exercise.
25 leg raises

One minute plank hold

50 mountain climbers

30 seconds Plank hold

30 seconds V abs hold

30 bicycle crunches

10 Elbows to plank ups

50 mountain climbers

30 seconds Plank hold

30 seconds leg hold

Rest 30 seconds

Repeat the routine one more time
Weight Training of Sarati
The weight training workout routine of Sarati contains mostly lower-body workout routines than the upper-body. The ratio of her workout is mostly like 60:40, so 60% is her lower-body workout, and 40% is her upper-body workout.
Sarati performs weight training workout five times a week in which she trains lower-body on three days and upper-body on two days.
Monday Sarati Workout:- Quads
Exercise: Quads
Sets: 3 to 4
Reps: 10 to 15
Rest time: one minute
Weighted Squats

Weighted front squats

Leg extension

Leg press

Step-up lunges

Walking Lunges
Tuesday Sarati Workout:- Chest and Back
Exercise: Chest and Back
Sets: 3 to 4
Reps: 10 to 15
Rest time: one minute
Bench press

Dumbbell press

Dumbbell flyes

Chest machine press

Pec flyes machine

Cable crossovers

Pull-ups

Lat pulldown

Back lat pushdowns

Cable rows

V-bar machine Rows

Deadlift
Wednesday Sarati Workout:- Hamstring
Exercise: Hamstring
Sets: 3 to 4
Reps: 10 to 15
Rest time: one minute
Weighted squats

Leg curls

Dumbbell leg curls

Cable curls

Crusty Lunges

Globe Squats

Stiff-leg deadlift

Hyperextension
Thursday Sarati Workout:- Arms and Shoulders
Exercise: Arms and shoulders
Sets: 3 to 4
Reps: 10 to 15
Rest time: one minute
Biceps dumbbell curls

Barbell curls

Preacher machine curls

Cable curls

Tricep pushdown

Tricep overhead press

Tricep skull crusher

Tricep pulley kickback

Shoulder machine press

Shoulder Dumbbell Press

Front raises

Cable side lateral raise

Shrugs
Friday Sarati Workout:- Calves and Glutes
Exercise: Calves and glutes
Sets: 3 to 4
Reps: 10 to 15
Rest time: one minute
Standing calf raises

Sitting calf raises

Machine calf raises

Squats

Hip thrust

Hip extension

Glutes cable kickbacks

Hyperextension

Side hyperextension
This is all about Sarati Callahan workout routine.
Also Read: Alexia Clark Diet Plan and Workout Routine
Sarati Diet Plan
The diet plan of Sarati contains eating lots of vegetables and protein food, and she eats carbs only one time a day. Sarati also likes to drink a lot of water throughout the day to keep her body healthy and hydrated.
Her diet plan doesn't involve eating a lot of junk food; there are times when she enjoys her chest meal as well, but most of the time, she eats healthy and sticks to her diet.
Sarati Diet Includes:-
Sarati Breakfast Meal
Snack
Sarati Lunch Meal
Snack 2
Sarati Dinner Meal
Chicken breast or fish

Veggies

Salad
This is all about Sarati Callahan diet plan.
Also Read: Alexis Ren Workout Routine and Diet Plan