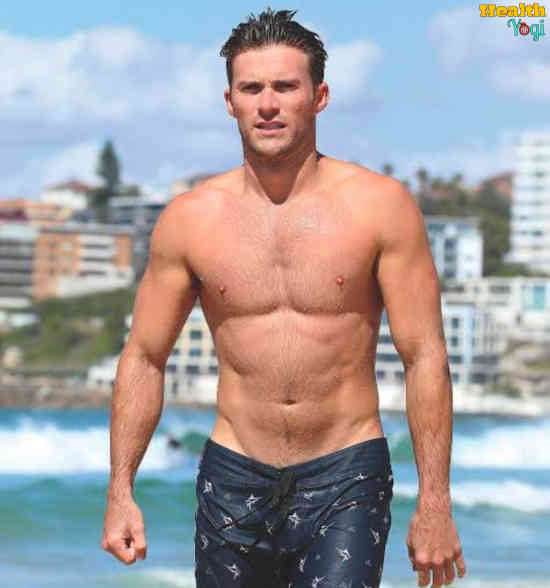 Scott Eastwood Workout Routine and Diet Plan: Scott Eastwood is a model and actor known for being part of movies and TV shows like The Longest Ride, Overdrive, The Outpost, Fast and Furious 8 and 9, Suicide Squad, Fury, etc.
Scott has worked a lot and with almost every big Hollywood star. He can undoubtedly consider one of the big names of Hollywood. Other than his talent in the movies, he also gets known for the body physique he maintains. So if you also want the Scott Eastwood workout and the Scott Eastwood diet plan, then keep reading.
Scott Eastwood Body Stats
| | |
| --- | --- |
| Height | 5 ft 11 inch |
| Weight | 75-80 kg |
| Age | 35 years |
| Chest | 43 inch |
| Waist | 32 inch |
| Biceps | 15 inch |
Also Read: John Boyega Workout Routine and Diet Plan | Fitness Training for Star Wars: The Rise of Skywalker
Scott Eastwood Workout Routine
Scott is well known for playing many characters, and while in most, we have seen him bulked up. There are some movies where Scott was a little bit more on the lean side. The same goes for him in some of the upcoming films where you will see him in specific roles.
While Scott has already donned many blockbuster movies, he will be giving us two more this year. The Fast and Furious nine and Wrath Of Man. Both films require him to look quiet in a superhero form, especially while Scott will see Jason Statham in that movie.
So yeah, now, coming back to his workout routine, there are many workouts. There were so many articles that I ignored most of them. Some unknown sources write many, and then there were old interviews. So I just took the recent workout interview and learned about his routine.
The Men's Health did his job to get us Scott's routine there at his house and did an interview. You can check the interview by clicking right here. Scott mentioned his workout in that interview, from muscle recovery, stretching, and weight training to other stuff. There was no mention of jiu-jitsu in that article.
Scott loves to do jiu-jitsu and boxing, which I have seen many times in his Instagram account. So I don't know why he didn't mention it; it probably is because, on that day, he showed the easy workouts everybody could do. So the activity contains doing stuff like yoga, cardio, stretching, weight training, and core workout.
However, do remember he takes a lot of time doing recovery, so do not miss that part. I will show you the workout that he stated, but I would suggest switching it up between full-body activities to fighting for the rest of the days. Include two days of boxing or martial arts workouts as well. Now let's see the movement Scott showed;
Scott Eastwood workout includes:
Recovery
In recovery, he does take a good time in a sauna bath and stays there for a while. It's great for your skin, so do that if you have access to a steam room every day. Many gyms have a steam room that you can use before and after the workout.
Then he would go for a swim for a while. Other than that, Scott also takes coffee before starting any workout. It acts as a pre-workout, as it helps you get energy and gives you a natural fat-burning supplement. 
Stretching
After that, it includes 10 to 20 minutes of stretching. It's yoga poses, so you can also call this a quick yoga workout. This pattern helps Scott open out all joints and muscles; it's an excellent routine that you should surely follow.
Cardio
In cardio, Scott showed us a skipping workout suitable for everyone as you can burn lots of calories very few times. You can change it to running or biking if it gets more challenging for you.
Weight Training and Core Workout
The weight training includes a concise but compelling routine that focuses on your overall body. You can check the video on the Men's Health article I gave a link to before. It will help you get the idea of exercise and also learn the proper way.
Then in the core workout, Scott does eight sets of abs workouts. In that, he did four sets of two exercises, so it's not that hard.
Swizz ball crunches

Swizz ball push-up to knee tuck in
That's all for the Scott Eastwood workout routine.
Also Read: Rock Dwayne Johnson Workout Routine and Diet Plan 2020
Scott Eastwood Diet Plan
The article later told about Scott's diet, which includes eating right and clean for 90℅ and 10℅ is for cheat meals. The foods consume lots of greens and lots of protein and healthy fat meat like chicken and salmon. Now there was no other information, and Scott didn't explain his plan. So I will give you a diet that you can follow for getting a body like him.
Scott Eastwood diet includes:
Breakfast
Egg white omelet

Avocado toast
Snack
Lunch
Evening Snacks
Dinner
That's all for the Scott Eastwood diet plan.
Also Read: Idris Elba Suicide Squad Workout Routine and Diet Plan [2021]