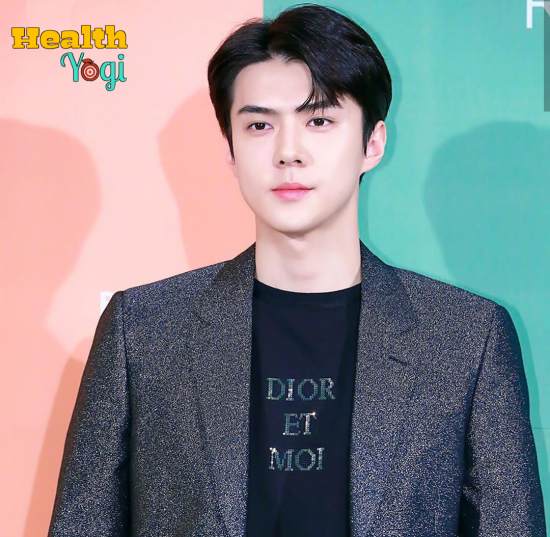 Sehun Workout Routine and Diet Plan: "Oh Se-hun" known as Sehun is a K-pop idol and a member of the EXO group. He is one of the best rappers in the whole K-pop industry. So when we talk about any K-pop idol, some things are prevalent in each of them. First is their awesome hairstyle, incredible fashion sense, and last is every one of them has a very ripped body.
Sehun is probably at the top when it comes to having a fantastic physique. So in this article, we will talk about the Sehun workout and the Sehun diet plan. We will take a look at what he does in his daily routine as well, so let's start.
Sehun Body Stats
| | |
| --- | --- |
| Height | 6 Ft |
| Weight | 60 Kg |
| Age | 25 Years |
| Biceps | 14 Inch |
Also Read: South Korean Singer Lisa Workout Routine and Diet Plan
Sehun Workout Routine | Train Like a K-Pop Star
The workout routine of Sehun is a mixture of doing a lot of things. In that, his daily routine is the most important thing as well. As we all know, K-pop idols dance well, actually if you cannot dance, you won't be able to become a K-pop idol.
In the Sehun workout routine, there is a lot of dancing, photoshoots, performance, weight training, boxing, and cardio involved. So it will be an arduous routine as there is so much activity that he does a lot and which helps him stay in really fabulous shape.
Sehun Exercise Routine Includes:-
Dancing
Dancing is one of the essential things for him to do; there are lots of dancing sessions every week. They will be rehearsing the dance routine of their songs before every show and live performance. Sehun also has to go to regular dance practice with other EXO members in the official studio.
That goes for every K-pop idol, and it's like one of the things that they have to do, no matter what happens. Each dancing routine can quickly go up to an hour or even two. So two hours of continuous dancing burns a lot of calories, and it keeps you very fit and healthy.
Shoots
Other than dance rehearsal, Sehun also does a lot of modeling shoots and Photoshoots, where he has to walk on a ramp many times. It is tough to walk a lot of times continuously by maintaining a perfect posture.
So this also takes a lot of his energy. On an average base, Sehun does at least five to six modeling shoots every month; sometimes, it just gets double or even more than that.
Sehun Cardio Exercise
Even though he doesn't have to do a lot of cardio, his daily routine burns a lot of calories for him. Sehun still runs for about 20 minutes to 30 minutes on the treadmill every time he goes to the gym.
This Sehun workout routine is one of the first things that he does as soon as he reaches the gym. It gets his body warmed-up for the other intense workout routine.
Boxing Training
Sehun's workout routine consists of doing a boxing session at least three to four times a week. He loves to learn a lot of boxing, and you can even see him doing boxing in the EXO workout video.
It's not just Sehun; actually, all the other EXO members do boxing or train mix martial arts. Sehun mostly focuses on learning boxing only; each session of boxing will be for about 30 minutes to an hour easily. In that, he will do a lot of sparring with trainers and punching bags.
Weight Training of Sehun
Just like any other celebrities, Sehun also follows a standard bodybuilding routine when it comes to weight training. The method mostly consists of doing moderate amounts of weight and reps in every set.
Sehun doesn't go heavy on the weight unless he is doing deadlifts. Sehun trains a weight training routine five days per week, and each day there is a different body part that he focuses on different days. Sehun weight training routine duration will go for about an hour max.
Sehun Workout for Chest
Sets: 3 to 4
Reps: 10 to 15
Rest time: one minute max
Bench press

Incline bench press

Dumbbell press

Dumbbell flyes

Chest machine press

Cable crossovers

Dips
Sehun Exercise for Back
Sets: 3 to 4
Reps: 10 to 15
Rest time: one minute max
Lat pulldown

One-Arm dumbbell rows

Bent over rows

Cable rows

Machine Rows

Back lat pushdowns

Deadlift
Sehun Shoulder Workout
Sets: 3 to 4
Reps: 10 to 15
Rest time: one minute max
Military press

Arnold dumbbell press

Lateral raise

Front raises

Pulley lateral raise

Rear delt flyes

Shrugs
Sehun Workout for Arms
Sets: 3 to 4
Reps: 10 to 15
Rest time: one minute max
Biceps curls

Isolation curls

EZ Barbell curls

Hammer curls

Preacher curls

Tricep pushdown

Skull crusher

Overhead press

Tricep ropes pushdowns

Tricep Dips
Sehun Exercise for Legs
Sets: 3 to 4
Reps: 10 to 15
Rest time: one minute max
Squats

Weighted squats

Leg press

Leg extension

Leg curls

Lunges

Calf raises

Stiff-leg deadlift
Sehun Abs Workout
Abs is one of the exercises that Sehun does two times a week, and he puts it whenever he wants in his workout routine. In the abs workout routine, he will perform only a few exercises and targets each muscle of the abdominal part.
This Sehun Workout routine is the only workout routine that takes only about 30 minutes to complete.\
Sets: 3 to 4
Reps: 15 to 20
Rest time: one minute max
Crunches

Bicycle crunches

Reverse Crunches

Hanging leg raises

Side leg raises

Planks
So this was all for Sehun's workout routine if you are also obsessed with his body shape. Then follow this workout routine and perform everything that he does to get a body just like Sehun.
Also Read: Singer Rosé Workout Routine and Diet Plan
Sehun Diet Plan
Well, when it comes to diet, Sehun doesn't have one. He eats what he wants, and he just adds some healthy food in his diet to control calories. Plus, Korean food is mostly boiled or steamed and contains a lot of vegetables, so it's okay to let loose with that.
Sehun does have his cheat food where he will eat a lot of junk food and fast food, but even though Sehun eats all that, his workout and daily activity are so much that he doesn't get fat at all. Sehun also drinks a lot of water throughout the day to keep his body hydrated and healthy. This is all about Sehun diet plan.
Also Read:
Daisy Keech Workout Routine and Diet Plan