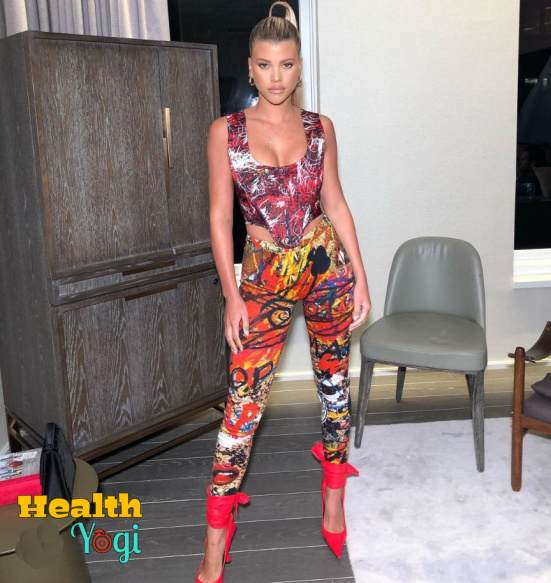 Sofia Richie Workout Routine And Diet Plan: Sofia Richie is an amazing American Model and brilliant fashion designer. She has worked with the most popular fashion brands and featured in international brands and campaigns including Tommy Hilfiger, Chanel, and Michael Kors for her splendid physique and fashion sense. She released her own fashion collection back in 2018.
Not only is she a great model and fashion designer, but she is also a fitness enthusiast that gives us major body goals and motivates us. In spite of being foody, she has managed to look gorgeous and maintained herself. Let me take you to her amazing workout routine and diet plan to achieve your body goals.
Sofia Richie Body Stats
| | |
| --- | --- |
| Age | 22 years |
| Weight | 58 kgs |
| Height | 5 feet 5 inches or 168 cms |
| Bust | 34 inches |
| Waist | 27 inches |
| Hips | 35 inches |
As seen through her body stats you can figure out she is a fitness diva.
Also Read: Kourtney Kardashian Diet Plan and Workout Routine
Sofia Richie Workout Routine
Sofia works out in a gym and has personal trainers. She is highly conscious of her workouts and hits the gym regularly. She likes to work out in a group or with her friends. Here is a glimpse of the exercises and workouts she does in a gym.
Abs Workout
Abs workout done by Sofia includes the following exercises.
Reverse lunges: 40 seconds

Standing hip extension with resistance band: 40 seconds

180-degree monster walks with squats using resistance bands: 1 minute

Clamshells using resistance bands: 40 seconds

Sit-ups with the single-arm press: 30 seconds

Bent over row with a resistance band: 30 seconds

Reverse sit-ups: 30 seconds

RDLs with dumbbells: 30 seconds

Side lunges with the overhead press: 40 seconds

Donkey kicks: 40 seconds
She does these exercises in several different sets with few repetitions each.
Toning her Butt for hourglass body: 
Sofia makes sure she looks amazing in her monochromatic bodycon dresses and for that she knows which muscles she has to act on. Also, she uses resistance bands for most of the workouts she does.
These are certain exercises that Sofia Richie includes in her daily routine. Her trainer shared a video of hers in which she did these workouts.
Prowler push: 40 seconds

Ankle weighted donkey kicks: 2 sets with 20 repetitions

Band activation step back: 2 sets of 25 repetitions

Kettlebell reverse lunges: 3 sets of 10 repetitions each

Banded bridges plus abduction: 2 sets with 25 repetitions

Glute bridges with life leg and right leg: 30 seconds each
These exercises work magic for Sofia and help her achieve that round, firm booty to look sizzling in all her designer dresses at every occasion. You can also achieve a fit body like Sofia Richie by being consistent towards your goals and repeating these exercises with a proteinaceous healthy diet.
Also Read: Hailey Baldwin Workout Routine and Diet Plan
Sofia Richie Diet Plan
As mentioned above, Sofia is a foodie. She does not emphasize eating according to plans daily as she has to travel a lot for her work which does not give her a choice to stick to one diet. She loves experimenting with new food overseas and new ingredients.
We can figure this out by her Instagram stories. There are days when she is all about carbs and days when she sticks to fruits and vegetables. Here is a regular diet plan she sticks on most of the days when she is not traveling overseas.
Sofia Richie Diet Includes:
Breakfast
Sofia loves eating blueberry pancakes, toast, eggs, slices of bacon, etc. She enjoys eating raw food and fresh fruits. Talking about liquid, she loves consuming a cup of tea every morning as it is refreshing.
Lunch
Sofia loves fresh salads with all her afternoon meals. Her salad includes garden blends of green for example spinach, kale, and arugula. She has a habit of drizzling her salads with vinaigrette, tastes yum! I know right.
Not only salads, her lunch includes sandwiches as she believes they are quick and comparatively easy to prepare. The ingredients included in her sandwich are bread, avocados, deli meat, cucumbers, tomatoes, and some other vegetables.
Dinner
Sofia Richie is fond of carbs like pasta and pizza. She loves Italian cuisine.
These were certain food items she eats regularly. Mention below the questions and thoughts on Sofia's diet and workout.
Also Read: Kendall Jenner Diet Plan and Workout Routine