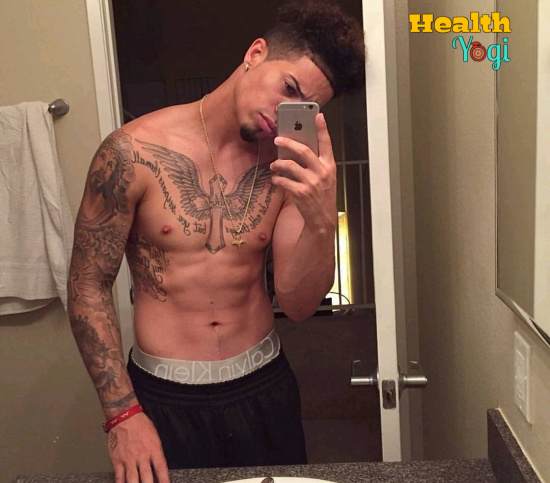 Austin McBroom Workout Routine and Diet Plan: Austin McBroom is a tik-tok star, and a massive YouTuber with over 19 million subscribers on his channel called the Ace Family. Austin and his wife, Catherine, started the chain together, and it's been more than three decades since they have achieved so much.
Both are known for being role models and influencing a lot of people to get fit, especially Catherine, who has just given birth to her third child. However, we will take a look at the Austin McBroom workout and diet plan today, so keep reading.
Austin McBroom Body Stats
| | |
| --- | --- |
| Height | 5 ft 9 inch |
| Weight | 72 kg |
| Age | 28 years |
| Chest | 43 inch |
| Wasit | 32 inch |
| Biceps | 15 inch |
Also Read: Logan Paul Workout Routine and Diet Plan
Austin McBroom Workout Routine
Austin's workout routine contains a lot of stuff; he used to be very athletic and fit when he was in college, where he even played basketball for his college team. Austin used to do a lot of basketball training, which he still implements in his workout routine. There was a phase where Austin and Catherine both were not super fit and weren't in their best shape.
Then around 2018, Austin bought a personal gym in his house, and since then, they both started training again and keep getting better and better. However, there still isn't a detailed video of them describing their workout routine so that I couldn't figure out the exercises that they do in the workout, but I still was able to figure some of the workout and use of Austin McBroom, so let's check it out.
Austin McBroom workout includes:-
Cardio
He's a former player of his basketball team, which is why Austin likes to maintain his quickness and fitness with a certain level of cardio exercises. In cardio, he does a lot of different activities like rope jump, a treadmill he even has in its gym at home.
Austin also plays a lot of basketball, practices various kinds of driving, and agility exercises, which can get included in the cardio workout. 
Austin McBroom Strength Training
Other than a cardio workout, Austin loves to do a lot of strength training routines. You can check a video here posted by some fan of the "Ace Family "Below, in which you can see Austin doing some very hardcore and intense strength training exercise like weighted plank hold, for which he has used a massive tire. He also did a lot of other activities in that video like bench press while doing flutter kicks, resistance band drilling, battle ropes while dribbling, etc. 
Austin McBroom Core Workout
In that video, there was some core workout involved where he has shown doing the ball throw sit-ups, and other exercises. There are different workout exercises that he does to train his core, as we saw in that video. Austin was training his abs while doing chest workout.
So we can say that he does core workout almost every day, maybe for about 20 minutes to 30 minutes max. Some of the exercises that you can do:
Pulse crunches

Medicine ball throws

Medicine ball Russian twist

Leg raise

Medicine ball hanging leg raises

Stability plank

Flutter kicks

Cross flutter kicks

Weighted Plank hold
Austin McBroom Weight Training
Austin also follows a mixed weight routine workout, where he performed a lot of compound movements exercises and some of the regular bodybuilding exercises. There isn't any single workout routine that he has shown to recommend you guys do a standard bodybuilding routine, focus on compound training, and train two body parts in one day like:
Day 1 and 5, Chest and biceps

Day 2 and 6, Shoulder and legs

Day 3 and 7, Back and tricep

Day 4, Rest day
That's all for the Austin McBroom workout routine.
Also Read: Jake Paul Workout Routine and Diet Plan
Austin McBroom Diet Plan 
When it comes to diets, even though he has seen eating a lot of unhealthy foods in his YouTube videos when Austin is not creating the videos, he tastes a lot of clean and healthy eating. That's one of the reasons why Austin still has maintained that super lean and muscular body.
Austin also drinks a lot of water, protein shakes, juice, etc. He also takes some supplements like vitamins, etc., to keep himself fit and healthy. His diet contains eating a lot of healthy fats, protein, whole-grains, carbs, etc. That's all I can tell for his diet plan as there is not much information available.
That's all for the Austin McBroom diet plan.
Also Read: LeBron James Workout Routine And Diet Plan