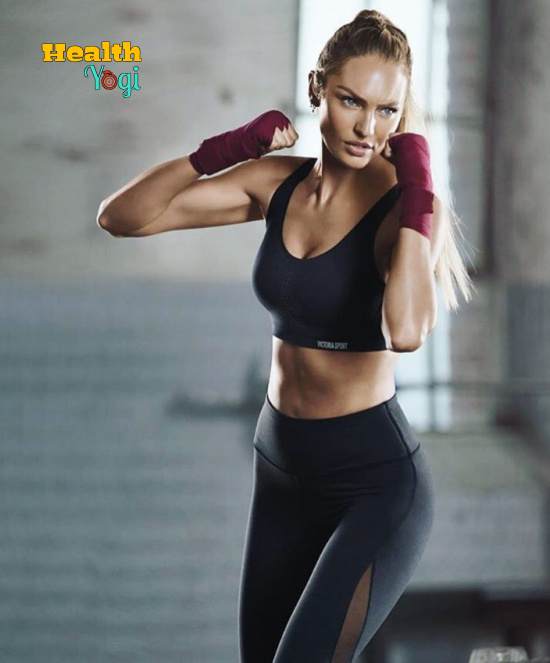 Candice Swanepoel Diet Plan and Workout Routine: Candice Swanepoel is a model known for being one of the best supermodels and part of Victoria's Secret Angels. That is why Candice is also known as the Angle Swanepoel; Candice has starred on the cover page of many big names magazines from Vogue, Harper Bazaar, New York Times, etc. In 2016 she was the 8th most paid model in the world.
So you can say, Candice is quite known worldwide. However, there is no denying it's all happening because of her fitness and body shape so that I will discuss the Candice Swanepoel workout and Candice Swanepoel diet plan.
Candice Swanepoel Body Stats
| | |
| --- | --- |
| Height | 5 ft 10 inch |
| Weight | 57 kg |
| Age | 31 years |
| Breast | 33 inch |
| Waist | 25 inch |
| Hips | 34 inch  |
Candice Swanepoel Workout Routine
Candice is still staring and being on the cover of many magazines; just around last week, she was on the front of Harper Bazaar magazine. So when you are doing so great and being on the top, as a model, there are certain things you need to take care of like your body and looks. Candice has done that the best, even after having two beautiful kids, she seems super slim and hot, so what's the secret behind that?
Well, it all lies in her workout routine; after searching for a while, I was able to find the latest interviews of Candice, where she talked about her workout and exercise. Around 2018, Harper Bazaar has also posted an interview and an article about Candice's fitness routine and diet plan. In that interview, it stated that Candice does many different kinds of things when it comes to workout.
Candice likes to stay active and do a different workout like circuit training of other body parts on separate days. Candice also enjoys working out by doing yoga, pilates, etc.; however, after seeing her Instagram, I only saw a yoga post posted by her; you can see some by clicking right here. The article also stated that Candice tries to do yoga at least twice a day, but if she feels nervous or uneasy, she does yoga at that time again.
Candice considers yoga as one of the best workouts she has done, as it also helped her deal during the pregnancy and even after the pregnancy, which is kind of understandable. Like other workouts, yoga enables you to relax and put your body in a better state where you start to forget about any physical pain. Candice also mentioned the resistance band workout at the end of the topic. The article also stated that Candice does boxing as well when she gets time. 
Now keeping all these things that Candice told in mind, we can create a routine that will be good for everyone. We will work out four days a week in which we will be doing a daily circuit routine and yoga and boxing a few days a week. The workout won't be longer than an hour or an hour and a half a day, so everyone can do it when they get enough time.
Candice Swanepoel workout includes:-
Candice Swanepoel Circuit Training
In the circuit training, Candice stated that she is training each body part on separate days, so we are also going to do that. Candice also does resistance band training, so that we will be adding a few of the resistance band workouts in the routine as well.
Candice Swanepoel Monday Workout
Sets: 3
Reps: 30 seconds
Rest time: zero
Rest time after the set: one minute
Banded squats walk

Banded squats

Banded 180° lunge

Banded alternative lunge

Banded good morning

Wall sit

Calf raises
Candice Swanepoel Tuesday and Thursday Workout
Sets: 3
Reps: 30 seconds
Rest time: zero
Rest time after the set: one minute
Push-up Burpees

Banded Push-ups

Mountain climbers

Crunches

Banded Leg raises

Russian twist

Hollow hold

Reverse plank hold

Banded Plank hold
Candice Swanepoel Wednesday Workout
Sets: 3
Reps: 30 seconds
Rest time: zero
Rest time after the set: one minute
Banded squat jump

Sumo squats

Banded hip thruster

Banded thigh abduction

Banded glute bridge hold

Banded fire hydrant

Donkey kickbacks
Yoga and Boxing
Like it has mentioned in the article that Candice does yoga and boxing a few times a week; you can do the same. However, yoga is one of her essential workouts, and she doesn't seem to do boxing that much these days. So I would recommend doing yoga as much you can, but make sure to do it at least two times a week. Yoga will help you gain a slim waistline and lose weight tremendously; what's the best is that you will be able to do poses like this pose that Candice is doing.
That's all for the Candice Swanepoel workout routine.
Candice Swanepoel Diet Plan
Candice is a huge believer in eating the right foods that will fill your stomach and give you the nutrition you need to get a healthy and fit body. In the same article by Harper Bazaar, it has stated that Candice's heaviest Beal is her breakfast.
Before Candice eats her breakfast, she enjoys her Candice particular smoothie containing coconut oil, flaxseed oil, banana, protein, blueberries, strawberries, and almond butter. Sometimes the smoothie will also have eggs and cheese for some more protein, flavor, and taste.
Candice also stated that one of the secrets is that her one meal will be very light. Candice eats a heavy lunch, and then dinner, she eats delicate foods. So now, after reading all these things, I guess I will be able to make a diet that you will be able to follow and get the results from, but before that, one last tip is to drink plenty of water.
Candice Swanepoel diet includes:-
Breakfast
Candice smoothie

Toast

Omelet or blueberries pancakes
Lunch
Chicken

Veggies

A little bit of brown rice
Dinner
A bowl of salad with some shredded boiled chicken 
That's all for the Candice Swanepoel diet plan.