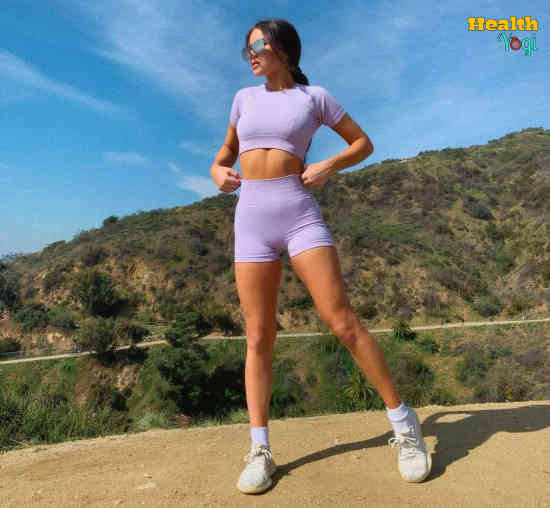 Tessa Brooks Diet Plan and Workout Routine: Tessa Brooks is an actress, model, and dancer known for her YouTube channel, where she has over 3.5 million subscribers. She has appeared in The Next Big Thing and the Boss Cheer series as well. She also gets widely recognized for her dance skills; you can see her dancing with many big-name YouTubers.
Tessa started her dance journey when she was only two years old, and until now, she's kept it up. However, her fans love her body physique as much as they love Tessa. So if you also want to know the Tessa Brooks workout and the Tessa Brooks diet plan, then keep reading.
Tessa Brooks Body Stats
| | |
| --- | --- |
| Height | 5 ft 6 inch |
| Weight | 56 kg |
| Age | 21 years |
| Breast | 33 inch |
| Waist | 24 inch |
| Hips | 34 inch |
Also Read: Erika Costell Workout Routine and Diet Plan [2020]
Tessa Brooks Workout Routine
Tessa Brooks is a person that has started her life by being fit. Since two years old, she was dancing almost every day and never has gotten into a shape where you can call her chubby or fat. So do remember the reason Tessa's muscles and abs are so awesome is mostly because of her dance workout. Even now, Tessa dances regularly and makes videos, Tik-Tok, etc.
Other than that, her workouts contain different things, including cardio and bodyweight exercises that she even stated in her video. Around a year ago, Tessa made a video about how she lost 20 pounds. In that video, she mentioned tips and other stuff that helped Tessa lose weight.
Tessa stated that the main reason is dancing, and other than that, she goes to the gym. There Tessa does 30 minutes of cardio workout and then gets to the yoga mat and does lots of abs and lower body workout and 20 push-ups a day. Yep, that's the upper body workout, 20 push-ups a day. That's why she said her muscle toning is mostly because of dancing.
A couple of months later, Tessa made another video and posted on YouTube about how she maintained that shape. Tessa stated that now she goes to the apartment gym, and there you can see her doing Treadmill and almost similar routine of bodyweight exercises like in the previous video. There also, Tessa gave credit to the dancing.
Also, follow her Instagram as there in the video; Tessa said she would share her home workouts on Instagram TV. Tessa also stated that she likes to stay active and go for hikes and walks. Also, Tessa loves doing Pilates workout classes whenever Tessa can go. Now that we know what kind of training she does. Let's turn it into a routine that will help you get a body physique like Tessa. It will get divided into morning and evening routines, and we will be working out five days a week.
Tessa Brooks workout includes:
Morning Routine
In the morning routine, we will do an hour of dance work out. The dance workout will help you burn calories and get your body toned. Make sure you do stretching and all the stuff, also it would be better to join a dance class.
Evening Routine
In the evening routine, there would be different things. For three days, we will follow how Tessa explained in the video about doing 30 minutes of the Treadmill and then the circuit routine, which Tessa showed. Then for the rest two days, we will do a Pilates class for about an hour.
Active Rest Days
For two days, go on a hike or trek just like Tessa or play any sports with your friend.
That's all for the Tessa Brooks workout routine.
Also Read: Alissa Violet Workout Routine and Diet Plan 2020
Tessa Brooks Diet Plan
Tessa Brooks also stated her diet in the new video where she said she eats lots of clean food. Tessa also left dairy for good, but now she does consume it but in a low amount. Tessa also drinks celery juice every day when she wakes up and even controls the meats.
Another thing that Tessa stated was lots of water. That's the most important thing about her diet plan. If you want to eat exactly like Tessa, please check both of the videos out, where she has given the foods that she likes to consume.
That's all for the Tessa Brooks diet plan.