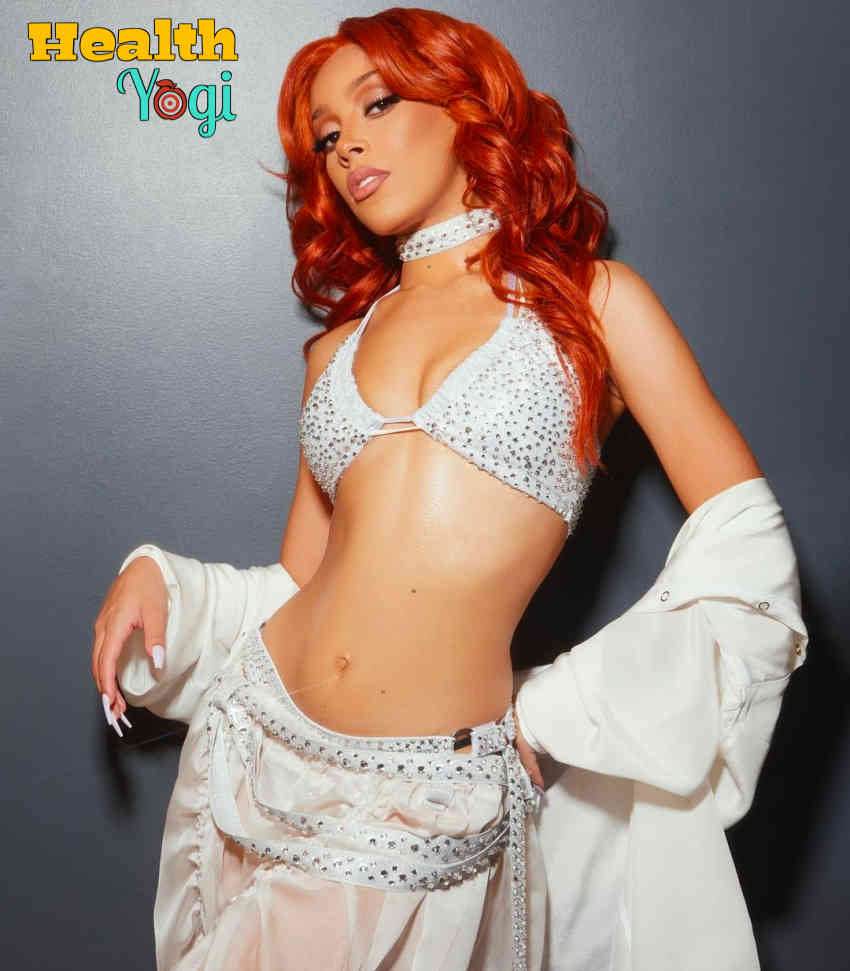 Doja Cat Weight Loss | Doja Cat Workout Routine [Updated]: Doja Cat is a singer, rapper, and songwriter known for her incredible songs and albums like Planet Her, Hot Pink, Amala, Purrrr!, etc.
Doja Cat is undoubtedly one of the well-known rappers worldwide. She has gained immense popularity, but Doja Cat has also gotten known for her weight loss last year. So if you also want to learn more about the Doja Cat Workout routine, keep reading.
Doja Cat Body Stats
| | |
| --- | --- |
| Height | 5 ft 3 inch |
| Weight | 50-53 kg |
| Age | 26 years |
| Breast | 33 inch |
| Waist | 24-25 inch |
| Hips | 34 inch |
Also Read: Megan Thee Stallion Workout Routine and Diet Plan
Doja Cat Workout Routine
Doja Cat is undoubtedly one of the best rappers you would see. Doja Cat also is one of the most popular rappers on social media in the youth fan base. Teenagers love the songs that Doja Cat makes, but many people also want to know about her weight loss. Well, let me tell you that it's been a journey, and Doja Cat has lost so much weight. It's not like Doja Cat was not fit before, but it's just that she was more of a curvy woman.
Doja Cat now has gotten so toned and slim by working out for what is like almost two years in the gym now? So if you also want to learn how she lost all the weight and how Doja Cat got that toned and slim body shape, keep reading. After searching for many articles, I was able to find a few things and also went on some videos to get details. You can see one of the videos by a fan that shows a compilation of different videos that Doja Cat posted.
You will see Doja Cat working on different routines like training her upper-body lower-body a lot and on her core and dancing routine. We knew that she would switch to dance routines whenever Doja Cat wanted an excellent sweat workout. That's still a thing, but it's not a regular workout, so the gym routine was the primary workout that helped her get toned.
After watching videos, I can tell most of the things that Doja Cat does, and I got a routine for you to get you toned and in shape. We will be working out five days a week ago least for two hours; it will be pretty intense, so get ready. We will be mixing some weight circuit training, adding a little warm-up, and getting going. Also, make sure that you stay active and move around as much as you can throughout the day on rest days.
Doja Cat workout includes:
Cardio
Doja Cat loves doing a dance workout to stay fit and sweat the calories out for the cardio routine. So I would also recommend doing at least an hour of cardio workout in the morning or the evening. The dance routine will help your lower body get toned also work a lot on your core. Plus, nothing else will help you more than the Dance workout if you want to be flexible.
Circuit Training
In one of the Instagram live, Doja Cat mentioned that she loved going to the gym and working on her arms and lower body a lot. It seems like Doja Cat has arms day separately; I thought maybe she would be mixing them and getting a good workout.
However, it looks like Doja Cat follows a good training pattern, but she still makes the lower body priority. I can't blame her as that was the curviest and thick part of her body, and then it was her flabby arms. So now let's see a workout that will help you get like Doja Cat.
Circuit: 3
Sets: 3
Reps: 15
Rest time after each circuit: 90-120
Monday
1st
Weighted squats

Barbell squats

Goblet squats

Leg press
2nd
Leg extension

Lunges

Calf raises

Seated calf raises
3rd
Crunches

Leg raises

Russian twist

Plank hold
Tuesday
1st
Push-ups

Chest press

Dumbbell press

Dumbbell flyes
2nd
Wide grip lat pulldowns

Cable rows

Dumbbell rows

Dumbbell deadlifts
3rd
Ball plank in and out crunches

Hanging leg raises

Cable wood chops

Side plank to a crunch
Wednesday
1st
Banded squat walks

Dumbbell explosive squats

Stability squats

Leg curls
2nd
Dumbbell sumo squats

Curtsy lunge

Stiff-leg deadlift

Single leg pushdowns
3rd
Incline weighted crunches

Leg lifts up

Scissor kicks

Plank reach
Thursday
1st
Shoulder press

Lateral raises

Front raise

Shrugs
2nd
Biceps curls

Barbell curls

Triceps pushdown

Triceps kickbacks
3rd
Reverse crunches

Bicycle crunches

Plank twister

Plank to toe touch
Friday
1st
Deep smith machine squats

Hack squats

Bulgarian squats

Hip thruster
2nd
Hip abduction

Donkey cable kickbacks

Glutes hyperextension

Glutes cable kickbacks
3rd
Toe touch crunches

Hanging leg raises

Side high plank

Stability ball plank
That's also for the Doja Cat workout routine.
Also Read: Saweetie Diet Plan and Workout Routine