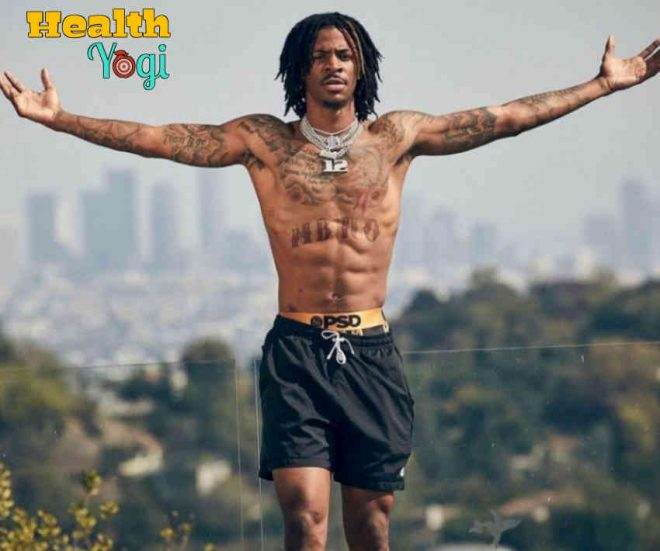 Ja Morant Workout Routine and Diet Plan [Updated]: Ja Morant is a professional basketball player that plays for the Memphis Grizzlies as a point guard in the NBA league.
Ja Morant is known for his crazy bounce in the NBA, and I'm sure many people love to know more about that. So if you also want the secret to the Ja Morant workout and the Ja Morant diet plan, keep reading.
Ja Morant Body Stats
| | |
| --- | --- |
| Height | 6 ft 3 inch |
| Weight | 79 kg |
| Age | 22 years |
| Chest | 42 inch |
| Waist | 30-31 inch |
| Biceps | 13-14 inch |
Also Read: Zion Williamson Workout Routine and Diet Plan
Ja Morant Workout Routine
Ja Morant is a well-known player in the NBA league and is primarily known for that crazy bounce. Ja Morant can fly in the court, man, and he can fly so high, and he has to train hard for that. This young lad is one of the youngest players in the NBA, and if he keeps doing what he is doing and gets better, he will be here for over a decade or two. Now, if you also want to know more about how Ja Morant keeps himself fit and athletic, you can keep reading as I will try to break out the things I found about Ja Morant.
Ja Morant started with the tire drill; you can find it easily on YouTube. It's something that Ja Morant dad created for him when he was in college. However, now that Ja Morant is in the NBA, he doesn't train with that much, but he still goes there with his dad when he is visiting his family and in the off-season. So now, it's more of a proper gym workout that Ja Morant introduced by the team trainer.
When I say the gym workout, I don't mean weight training; it's part of it, but not the whole gym workout. As all basketball players go to a basketball gym and inside it, they have a court, weights, and many other facilities, as you can see here in this post that Ja Morant posted. You will see him there doing all the things that I have mentioned. Also, in the last pic, you can see that the proper box jumps now replace the tire drills.
So Ja Morant is still focusing on the plyometrics workouts that will help him stay light and fly high on the court. Besides that, he has also incorporated certain lifting routines that focus on compounds exercises and functional workouts. Now, that's the workout in the gym, but besides that, there are many basketball drills and workouts that you would need to figure out and follow.
I can't give advice much on the court workout with the ball, and I suggest you join a professional gym or get a coach to figure things out for you. However, I will still give you an NBA trainer-approved drill that will work on your stretch, mobility, ankle mobility stability, core stability, etc. It will also have some HIIT routines, which will work more than enough for your cardio if we include court running and practice.
Ja Morant's workout includes:
Dynamic Warm-up Circuit
Rounds: 2
Training pattern: start from endline to midcourt
High skips

Carioca

Walking hamstring stretch

Quad stretch with lean

Frankenstein kicks

Adductor Stretch

Hip Flexor Stretch
Mobility Drills
Rounds: 2
Training pattern: start from endline to midcourt
High skip to a deep squat

Quick line into stick
Core activation and Full Body Stability 
Rounds: 2
Training pattern: start from endline to midcourt
Eurostep stability Drill (4 sets of 4-6 reps)

DaVinci Plank (3 sets of 30-second hold on each side)
HIIT
Sets: 4
Reps: 10-15
Weighted jumps

One-arm Dumbbell Press

Rear-Foot Elevated Split Squat

Inverted Row
Recovery 
Reps: 8-12
Active hamstring stretch

Samson stretch

90-90 Get-ups

Kneeling Ankle Mobility
Strength and Conditioning
We will focus more on getting an overall balanced body in strength and conditioning. Ja Morant is not a guy doing standard bodybuilding workouts and getting an incredible physique. Instead, it's a mixture of compound movements, functional exercises, and isolated routines. Also, get advice from your trainer, as that will be more necessary than anything to know which thing you need to avoid or focus on while working out.
Sets: 4-5
Reps: 8-10 (explosive and heavyweight reps)
Monday
Explosive incline push-ups

Explosive pull-ups or muscle-ups

Incline bench press

Cable crossovers

Landmine press

Barbell squats

Deep barbell explosive hack squats

Bulgarian split squats

Calf raises
Tuesday and Thursday
Vertical jumps to quick steps

Squat pulse to med ball slams

Box-jumps

Hurdles jump

Lateral hurdles jump

Crunches

Med ball Russian twist

Hanging leg raises

V-ups

Plank hold

Side plank hold
Wednesday
Landmine shoulder press

Lateral raises

Kettlebell swings

Clean & jerks

Goblet squats on a stability ball

Squat variation

Stiff-leg dumbbell deadlifts

Leg curls

Seated calf raises
Friday
Snatch

CrossFit pull-ups

Med ball throws to jumps

Med ball slams

Bicep curls to triceps extension

Hammer curls

Leg extension

Leg press

Lunges

Deadlifts
That's all for the Ja Morant workout routine.
Also Read: Trae Young Workout Routine and Diet Plan
Ja Morant Diet Plan
Ja Morant focuses a lot on how he eats; the young player knows that he can't let himself lose to keep up with the game. Of course, there are days when Ja Morant would have some unhealthy meals, but he tries to eat as healthy as he can most of the week—focusing on carbs before the game or practicing as he needs energy.
Ja Morant also focuses on getting a type of protein in every meal and making sure that they eat fruits containing antioxidant agents. Besides that, his primary meal is Breakfast, as it's a big breakfast, and he stays hydrated all the time. So now let's make a diet for you to help you get fitness like Ja Morant.
Ja Morant's diet includes:
Is Ja Morant a Vegan?
No, Ja Morant is not a Vegan.
Breakfast
Spinach and tomatoes omelet

Avocado toast

Juice

Chicken sausage
Snack
Lunch
Grilled chicken

Sauteed veggies

Rice
Evening Snack
Dinner
That's all for the Ja Morant diet plan.
Also Read: Stephen Curry Workout Routine and Diet Plan