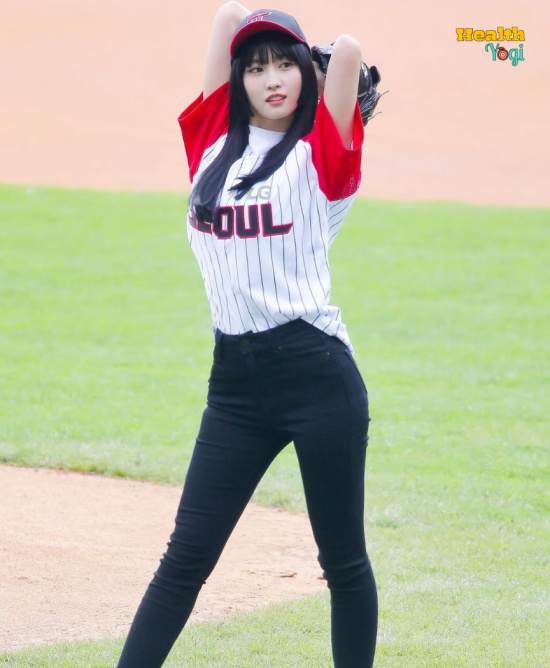 Momo Hirai Diet Plan and Workout Routine: Momo Hirai is a singer, songwriter, and dancer known for being part of the group Twice. Momo is originally from Japan, but she moved to South Korea to become a part of the K-pop industry. Her journey started with being a Sixteen member, and then later, she finds her dedicated spot on the group Twice.
Momo is well known for different things, but her lean and slender body shape and sizzling and do stands out the most. If you also love the way Momo looks and want to learn how she achieved body shape and what the Momo workout and diet plan is, then keep on reading.
Momo Hirai Body Stats
| | |
| --- | --- |
| Height | 5 ft 3 inch |
| Weight | 48 kg |
| Age | 24 years |
| Breast | 32 inch |
| Waist | 24 inch |
| Hips | 33 inch |
Also Read: Koki Kimura Workout Routine and Diet Plan
Momo Workout Routine
Momo is a k-pop idol, and because of that, she always has to stay fit and healthy to make sure her career still keeps running. It's something that every K-pop idol or actor has to follow; you can't be an idol if you are bulky or chubby in south Korea. To maintain her shape, Momo has gone through extreme measures in her diet, and also with some rigorous training routine. So let's see the workout practice she follows to stay in shape.
Momo workout includes:-
Dancing
Momo or any other K-pop group member needs to be perfect while dancing on the videos and live performances. It's basic requirements of the skills that you need to have to become a K-pop idol and maintain that every one of the singers has regular dance practice. Momo is not an expectation; she also goes on regular dance practice sessions and trains for a couple of hours, which helps her maintain her weight and burn many calories.
So you can also do dance work out for five days a week and learn any dance style you want. If you are not interested in dancing, you can do a cardio routine that will burn at least 500 to 800 calories. Dancing would be more fun and easy to burn calories with, as you won't get bored. However, it's up to you which one you want to do.
Momo Hirai Core Workout
I read in a few resources that Momo also does lots of planks and plank twisters to maintain her abs. It explained that Momo does almost 50 planks twister and plank three times a day to keep her stomach flat and slim. Well, you can also do that, but instead of just doing planks, you can follow this routine once a day, and you will be good.
Sets: 3
Reps: 40 seconds
Rest time: 20 seconds
Rest time after the set: 1 minute
Crunches

Russian twist

Side plank drops

Plank twister

Leg raises

Plank reach

Plank

High plank
That's all for the Momo workout routine.
Also Read: [How do i get a body like Lisa of Black Pink] South Korean Singer Lisa Workout Routine and Diet Plan
Momo Diet Plan
Momo Hirai has quite a hard time dealing with the diet; as I stated earlier, she went through extreme dieting, which helped Momo lose 7 kg in a week, but it was not good. In her V-Live broadcast, Momo talked about her experience about which you can read in this article of Koreaboo.
Momo stated how she left food and even water for a whole week and went to the gym to lose seven kg in one week as it was a requirement for her work. Momo just had one ice cube, and even then, she was getting paranoid that she would gain weight. She was so pale that other members thought she was about to die. However, once the day ended and relieved, Momo started eating a lot and gained 7 kg back in one week.
So yeah, it was not healthy, and you should not even consider following that kind of diet plan in your life. However, now she takes a regular diet, as the amount of training she does while dancing and other stuff she can easily consume three regular meals a day and don't have to worry about getting fat.
That's all for the Momo Hirai diet plan.
Also Read: Jeon So-mi Workout Routine and Diet Plan