Sommer Ray Workout Routine and Diet Plan: Today I am going to start a series of Workout routines and diet plans of the Instagram Fitness model. My main motive behind this is to help you people and tell you the secrets which fitness model used to keep themselves fit and healthy. My today's Fitness model is Sommer Ray. Here we are going to discuss "Sommer Ray workout routine" and "Sommer Ray diet plan" in detail.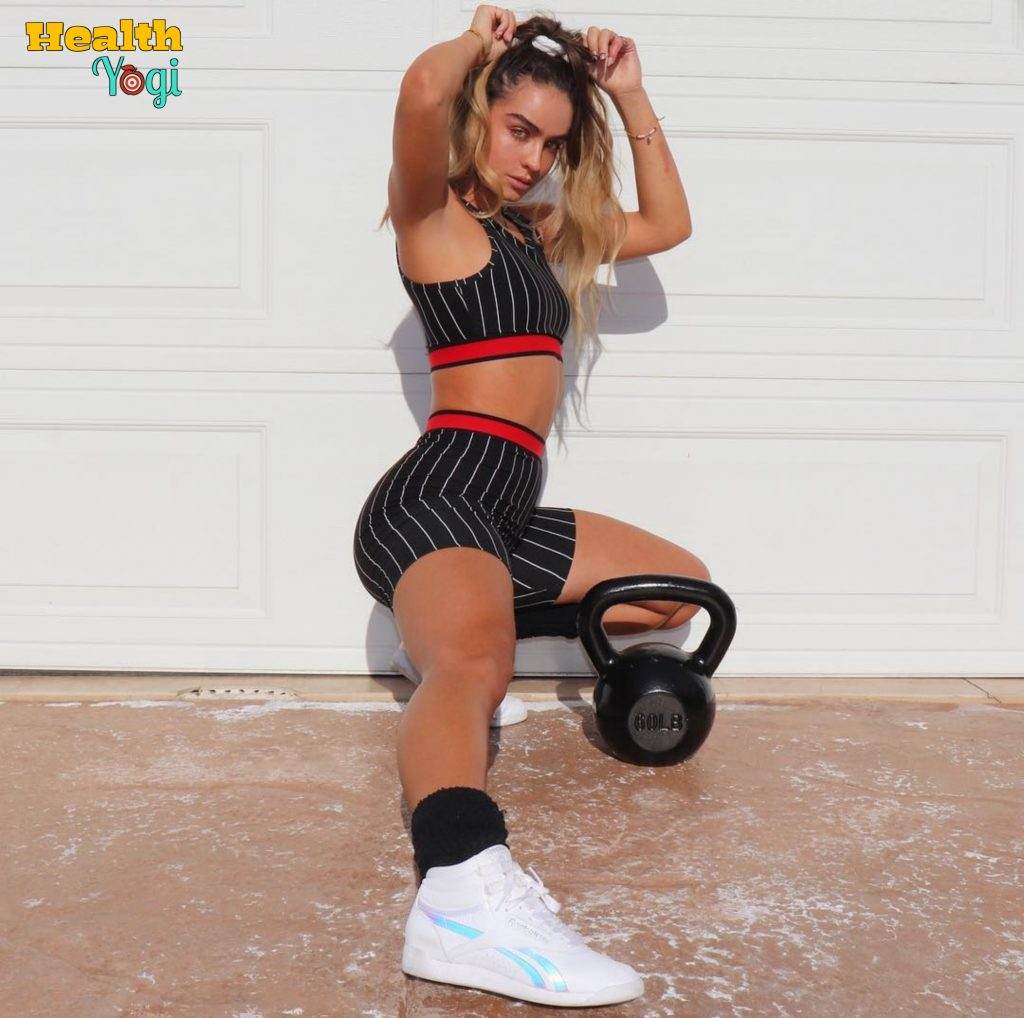 Sommer Ray is an American fitness model that has taken the Internet like a storm in a short time with her Jaw-dropping beauty blended with her flawless curves and booty.
Sommer Ray is an American social media influencer with over 21.3 million followers on Instagram in just 850 posts. She recently also launched her youtube channel where she posted vlogs and fitness-related videos, of course, this is the starting journey of Sommer ray although she has slowly risen on other social media. Sommer Ray has a  net worth of around 4 million.
She is currently has age around 24 yrs with a weight of 52-57 kg and a height of 5 feet and 6 inches (167 cm). Sommer ray was inspired for fitness by her late bodybuilder father. Yes! You guess it right she belongs to a fitness enthusiast family.
Sommer Ray workout routine
Before Starting Sommer Ray workout routine, I want to tell you one necessary thing that Sommer Ray has a higher metabolism. So, she has to train harder than other people that have Average metabolism.
So, if you are a person who has a normal metabolism, it is highly advisable not to overtrain your body that will only lead to the destruction of your body's lean muscle mass. The fundamental reason for telling this information is what works for Sommer ray might not work for you.
Sommer Ray usually does 12-13 sets of an exercise to get her body in shape and toned. However, this plan for workout did not work for Gaining Muscle mass.
She goes to the gym five times a week for at least 90 minutes. Out of which two days she trains her lower body.  
Below I have explained the lower body exercise routine that Sommer Ray follows, "Sommer Ray workout" includes –
Hack squats – 4 * 12 reps

Leg Press– 4 * 12 reps

Standing cable glute extensions – 4 * 12 reps

Jump squats – 4 * 12 reps

Jump rope – 4 * 12 reps
However, she also performs high cardio and some high quantity squats for making her glutes more attractive and sexy.
In cardio, Sommer Ray likes to do skipping ropes for 6 minutes with 1 min work and 30 seconds gaps. This is all about Sommer Ray workout routine.
Sommer Ray Diet Plan
The kind of job that Sommer has to perform requires a lean physique that sommer maintained perfectly. According to her, she made her diet strict in her late teens even. Sommer said in an interview that "for making your body according to your needs, you must know what are you eating?"
Sommer Ray got to knows the value of lean proteins early-which help her to get a slim and attractive figure. She also keeps eats carbs in a controlled way and knows what food is needed to be consumed.
Making it easier for her to maintain her caloric value and help her to mold her body into her dream physique. Sommer ray says she keeps changing her diet according to her needs and there is no specific diet plan that she follows every day.
More about Sommer Ray diet plan, If we talk about supplements, then sommer ray uses no artificial supplements. In fact, people with higher metabolism like sommer ray do not need supplements but it is highly advisable to be careful while choosing a supplement for your need.
Sommer ray, however, uses a Natural supplement that is very safe to use and has no side- effects. This is all about the "Sommer Ray diet plan".
I hope you like my post " Sommer Ray Workout Routine and Diet Plan."Share it with your fitness enthusiast friends.