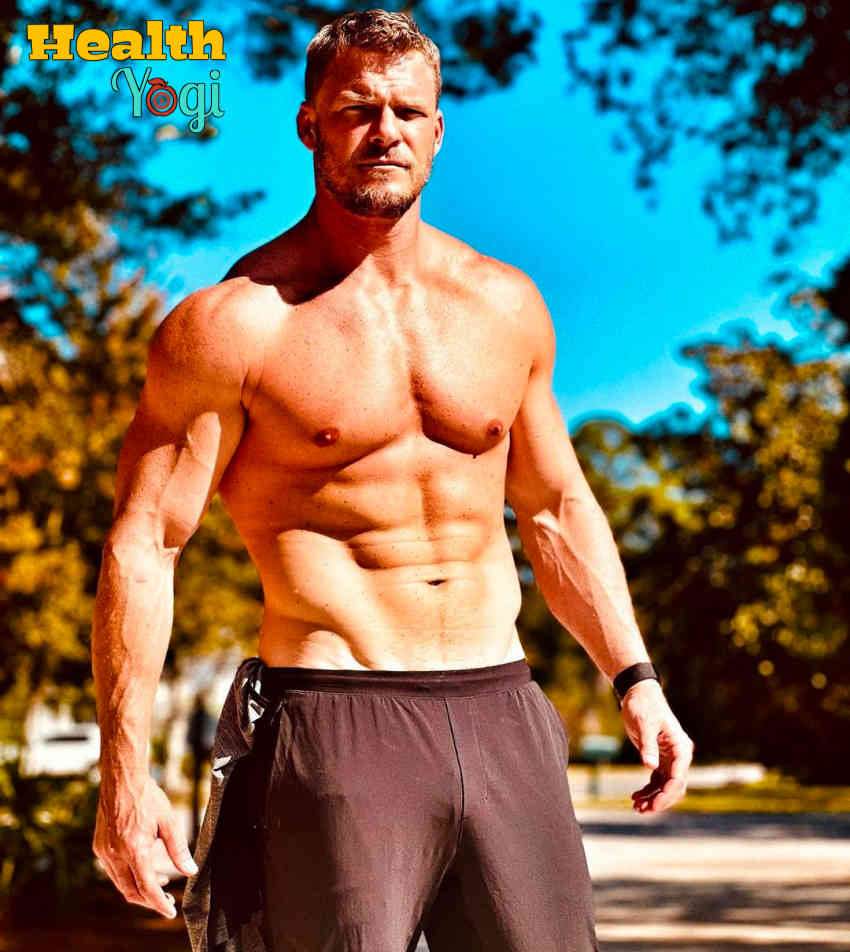 Alan Ritchson Workout Routine and Diet Plan: Alan Ritchson is an actor, filmmaker, and singer known for movies and TV shows like Reacher, Blue Mountain State, Titans, The Hunger Games, Dark Web Cicada 3301, etc.
Alan Ritchson is entirely a known actor, but he has gotten super popular since the Reacher series. Why? Well, besides acting, his physique takes all the credit. So if you also want the Alan Ritchson workout and the Alan Ritchson diet plan, keep reading.
Alan Ritchson Body Stats
| | |
| --- | --- |
| Height | 6 ft 2 inch |
| Weight | 91 kg |
| Age | 37 years |
| Chest | 46-48 inch |
| Waist | 34 inch |
| Biceps | 16-17 inch |
Also Read: Tom Felton Workout Routine and Diet Plan
Alan Ritchson Workout Routine
Alan Ritchson is one of the most talked-about actors this year. He is undoubtedly gaining a lot of fans after his shirtless scenes in the new Reacher series that he is doing. Alan Ritchson has been known to gain over 30 pounds for this role and got asked to get buffed a lot. So it was indeed not easy, and Alan Ritchson was working out consistently and for eight months to gain all of those 30 pounds of muscle. So if you also want to learn more about how Alan Ritchson did that in eight months, then keep reading.
After searching for a while, I found Alan Ritchson's interview with Men's Health; since the series is recent, it's not hard to find details about Alan Ritchson. There you can see Alan Ritchson talking about how he was working out five days a week, going to the gym, lifting weights, and ending his session with some cardio. Alan Ritchson also mentions the five go-to exercises besides the gym.
The exercises that Alan Ritchson makes a lot and loves consist of pull-ups, dips, press-ups, sit-ups, and 200m sprints. Alan Ritchson loves cardio; you don't need to do an extended cardio session, but try to involve 10-15 minutes of daily cardio. Besides that, Alan Ritchson also gave his arms supersets workout that he would do in the gym with another Men's Health video. Alan Ritchson does six exercises, three exercises for biceps and three for triceps.
We will be adding that workout to our workout routine, and I will also fill the other routines with different workouts to get a better workout. We will be doing five days of workouts and training our legs twice a week. That's just how I prefer to train, as legs are our foundation, and you need to make sure the foundation is strong. Also, if you want, you can add a quick core workout at the end of the routine for three days a week.
Alan Ritchson's workout includes:
Weight Training
We will be training five days a week and targeting all muscles in weight training. Also, since we are going for bulk, we will be doing fewer reps and higher sets with moderate heavyweights to get better contractions while working out. Also, once you finish doing the routine, add 15 minutes of cardio; it can be any routine from running to biking.
Sets: 3-4
Reps: 12-15
Lower body 1
Warm-up (deadlifts)

Deadlifts to dumbbell sumo squats

Hack squats to walking lunges

Stiff leg deadlift to squat variation

Leg extension to curls
Chest and Back
Push-ups to Pull-ups

Bench press

Dumbbell press 

Cable flyes

Lat pulldowns

Cable rows

Barbell rows

Deadlifts
Arms 
Triceps pulldowns to an overhead extension to Rope biceps curls

Dumbbell hammer press to skull crusher

EZ barbell curls to overhead extension

Dips
Shoulder and Delts
Dumbbell shoulder press

Dumbbell lateral raises

Front raise

Cable upright rows

Shoulder shrugs

Bent-over dumbbell lateral raises

Delt flyes
Lower body 2
Barbell deep squats

Bulgarian squats to side glute cable kickbacks

Hip thrusters to back glute cable kickbacks

Hip abduction machine to single-leg pushdowns

Hyperextension
That's all for the Alan Ritchson workout routine.
Also Read: Chris Hemsworth Workout Routine and Diet Plan
Alan Ritchson Diet Plan
Alan Ritchson's diet was eating all day after every few hours. This is because Alan Ritchson had to gain 30 pounds, and it had to get done with a calories surplus. So Alan Ritchson was eating chicken, rice, veggies, more chicken, smoothies, protein, and sometimes Popeyes chicken sandwich.
Alan Ritchson mentions that he was training so much that he had some freedom to add in Popeye's chicken sandwich and cookies once in a while. Alan Ritchson also mentioned that he had a guy whose job was to bring him food. So now, if we make a diet for Alan Ritchson, it will be seven meals a day with lots of protein and other nutrients.
Alan Ritchson's diet includes:
Is Alan Ritchson a Vegan?
No, Alan Ritchson is not a Vegan.
Breakfast
Scrambled eggs

Chicken sausage

Avocado toast
Snacks
Lunch
Grilled chicken breast

Broccoli

Rice
Second Lunch
Grilled chicken breast

Asparagus

Rice
Evening Snacks
Second Snack
Dinner
Smoked salmon

Sauteed veggies

Rice
That's all for the Alan Ritchson diet plan.
Also Read: Chris Pratt Workout Routine and Diet Plan