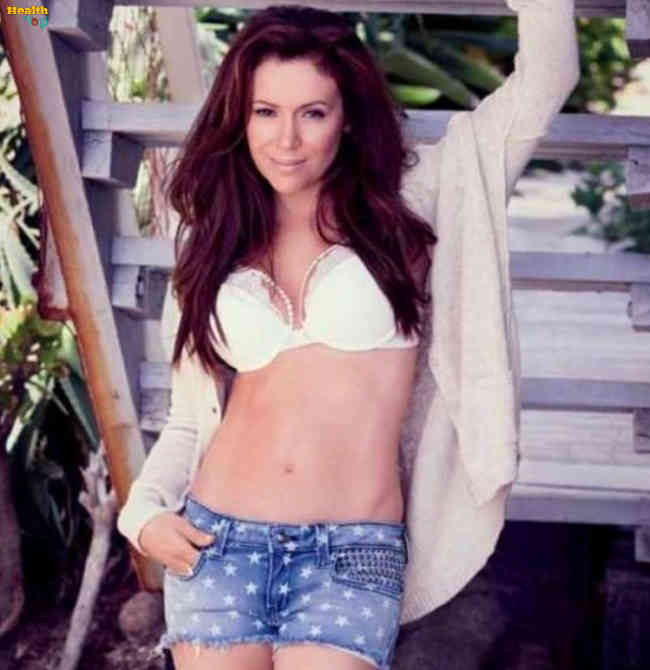 Alyssa Milano Diet Plan and Workout Routine: Alyssa Milano is an actress, producer, singer, and author known for her movies and TV shows like Charmed, Who's the Boss, Commando, Embrace of the Vampire, Insatiable, Hall Pass, etc.
Alyssa Milano has an extensive career and has done many movies and shows. However, she also gets known for keeping herself so fit at her age. So if you also want the Alyssa Milano workout and the Alyssa Milano diet plan, keep reading.
Alyssa Milano Body Stats
| | |
| --- | --- |
| Height | 5 ft 4 inch |
| Weight | 50 kg |
| Age | 49 years |
| Breast | 34 inch |
| Waist | 25-26 inch |
| Hips | 34-35 inch |
Also Read: Angelina Jolie Diet Plan and Workout Routine
Alyssa Milano Workout Routine
Alyssa Milano is an actress known for her extensive career and one of the most talked-about stars. Even now, Alyssa Milano is pretty active in the Hollywood field and also slaying the way she looks. However, the actress, who is about to enter her 50 next year, still slays fitness like a 30-year-old woman. So there is no doubt that many women get inspired by how Alyssa Milano can keep herself fit and strong.
So now the question is what Alyssa Milano loves to do to stay motivated and fit? Well, to find that, I saw this interview on E Online that asked Alyssa Milano about her healthy eating and working out. In that interview, you can see Alyssa Milano talking about her diet and the routines she does. When she got asked if she workout and incorporated exercises in her daily routine. Alyssa Milano answered that "I love to work out, and I work out a lot."
Alyssa Milano gave because she needed to maintain her energy level, so she needed to stay fitter as she is a mom of two children. What are the workouts that Alyssa Milano likes to do? Well, she loves going to group workout classes and mixing it up. However, the two exercises that Alyssa Milano enjoys the most and loves every time are soul cycling and Zumba classes. Now, if you want to get a good body like Alyssa Milano, try to follow this routine:
Alyssa Milano workout includes:
Soul Cycle
Soul cycling is one of the most loved cardio workouts by many celebrities, including David Beckham. So you can surely expect to sweat a lot while working out an hour to an hour and a half in the group class. I would suggest doing this workout at least three days a week for about an hour to an hour and a half. It will help you get a good lower body workout and burn many calories.
Zumba
For the next three days, you should try doing an hour of Zumba class which will help you get a good workout. It will be working your whole body while burning an insane amount of calories. Plus, it's fun to do; you may find Zumba classes hard at the start if you are not so familiar with dancing and jumping around, but slowly and surely, you will end up loving the workout.
Yoga
Now on Sunday, take it easy and finish the week with an excellent relaxing stretching workout for about an hour as soon as you get up. Yoga is undoubtedly one of the best ways to relax all the tensed-up muscles and give you a flexible body. It will also tone your muscle and burn many calories if done the right way.
That's all for the Alyssa Milano workout routine.
Also Read: Emma Roberts Diet Plan and Workout Routine
Alyssa Milano Diet Plan
Alyssa Milano's diet removes all unhealthy carbs and replaces them with healthy carbs, fibers, fats, and proteins. That's how she has changed her way of eating and living. She focused on eating veggies, chicken, whole-grain foods, etc. So yeah, now let's see a diet that you can follow to get a body like Alyssa Milano.
Alyssa Milano diet includes:
Is Alyssa Milano a vegan?
No, Alyssa Milano is not a vegan.
Breakfast
Snack
Almond milk fruit smoothie
Lunch
Dinner
Chicken or salmon

Veggies

Salad
That's all for the Alyssa Milano diet plan.
Also Read: Courteney Cox Workout Routine and Diet Plan