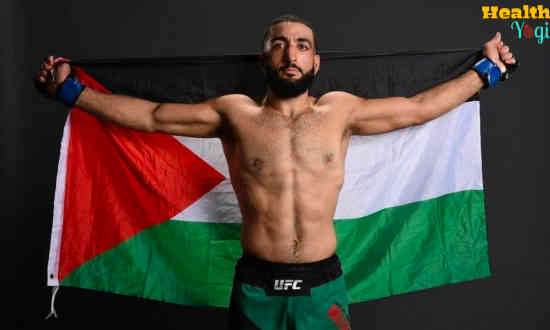 Belal Muhammad Workout Routine and Diet Plan: Belal Muhammad is an MMA fighter fighting in the UFC Welterweight division at this moment. Holding the record of 18 wins, he has ranked 13 in the UFC ranking 2020.
Talk about being at the top of the game. However, Belal has the hunger to be the number one. Belal also gets known as Remember The Name by his fans. Belal's fighting style and the secret behind his wins lie in his training. So if you also want to know the Belal Muhammad workout and the Belal Muhammad diet plan, then keep on reading.
Belal Muhammad Body Stats
| | |
| --- | --- |
| Height | 5 ft 11 inch |
| Weight | 77 kg |
| Age | 32 years |
| Chest | 43 inch |
| Waist | 32 inch |
| Biceps | 15 inch |
Also Read: Leon Edwards Workout Routine and Diet Plan
Belal Muhammad Workout Routine
Belal has been part of this MMA professional fight since 2012, and since then, he has shown his fitness and skills. There are lots of fighters that come and go, but only a few that stay. Belal is one of the people that remains, and that's why you see him training and grinding hard every day in his life.
Now coming to his workout routine, I tried finding a few things from news and interviews. However, luckily he's super active on Instagram, and it's not that hard finding the pattern that he follows. There are also videos on Youtube; for example, this video shows the sparring routine of Belal.
Belal focuses a lot on MMA training and workouts that are related to fighting. He does seem to have some weight lifting workouts that involve, but mostly Belal keeps the activities based on MMA. That's why he's so natural when he fights; after seeing his videos, I do think I can give you a routine to follow that will help you get close to Belal's body shape and fitness.
We will start by working out for five days, and every day the training will get divided into two parts. There will be a morning routine that focuses on MMA training and an evening routine that focuses on other stuff.
Belal Muhammad workout includes:
Morning Routine
The morning routine will be MMA, as that's when a person has most of the energy. So without any worry, feel free to spend all of your power there. I can't give you a routine as it doesn't fall under my expertise, but you should join an MMA gym and train there.
Once you finish your MMA training, I would recommend working on your core muscle for 30 minutes. It will help you endure a lot of punches and body kicks while you fight. Even if you are not fighting, ensure that you train the core as it's the human body's foundation.
Evening Routine
The evening routine will contain weight training workouts so that we will focus on making your body healthier. Now I would recommend doing two days of the upper body and lower body routine. Mix the exercises and make sure you do at least two to three training for each body part.
One day a week, we will focus on doing overall strength-based workouts. Such exercises like rope climbing, battle rope, sled drag, weight lift, deadlifts, snatch, etc., will get done that day.
That's all for the Belal Muhammad workout routine.
Also Read: Platinum Mike Perry Diet Plan and Workout Routine
Belal Muhammad Diet Plan
The diet plan of Belal is immaculate and healthy. Belal does like to eat unhealthy food sometimes, but that happens rarely, and if he has a fight coming. Belal will start focusing on eating clean at least two months before the fighting season. Even though I couldn't find out the exact diet of Belal, I can still give you a diet that you can follow.
Belal Muhammad diet includes:
Breakfast
Avocado toast

Chicken sausage or turkey bacon

Egg omelet

Juice
Snack
Lunch
Chicken or turkey breast

Rice

Kale and asparagus

Brown rice
Evening Snacks
Dinner
Salmon or steak

Rice or sweet potato

Veggies

Salad
That's all for the Belal Muhammad diet plan.
Also Read: Kamaru Usman Workout Routine and Diet Plan