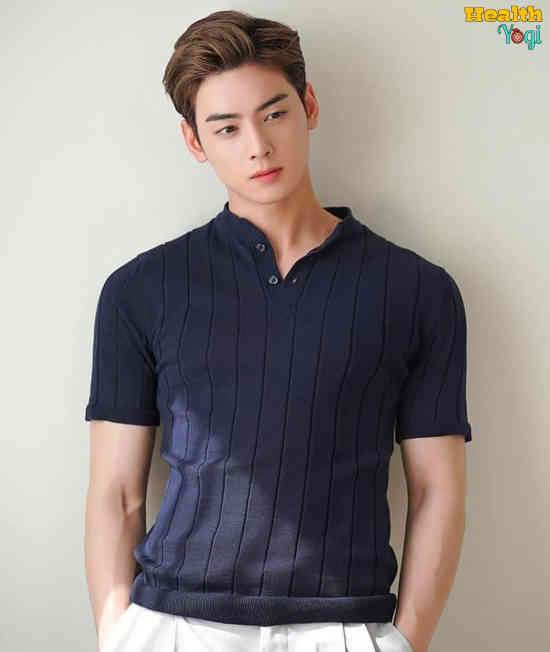 ASTRO Cha Eun-woo Workout Routine and Diet Plan: Cha Eun-woo is an actor, dancer, model, and singer in the Kpop boy band ASTRO. He also has done movies and TV shows like My Brilliant Life, The Best Hit, True Beauty, Handsome Tigers, Sweet Revenge, etc.
Currently, Cha Eun-woo is focusing on his acting career more and has a lot going for him. Even on Instagram, Cha Eun-woo has a fan following of almost 18 million followers. He also gets admiration for his lean body shape, so if you also want to know the Cha Eun-woo workout and Cha Eun-woo diet plan, then keep reading.
ASTRO Cha Eun-woo Body Stats
| | |
| --- | --- |
| Height | 5 ft 11 inch |
| Weight | 72 kg |
| Age | 23 years |
| Chest | 40 inch |
| Waist | 30 inch |
| Biceps | 14 inch |
Also Read: BTS Singer Jungkook Diet Plan and Workout Routine
ASTRO Cha Eun-woo Workout Routine
Cha Eun-woo has a very lean and slim shape; however, it was even more slender before. At least now Cha Eun-woo has gained some muscles and looks a little better. I have seen him quite a few times, but I'm not a fan of him. There is quite a change that you can see in Cha Eun-woo's body shape.
So now, coming to the activity and workout that Cha Eun-woo likes to do, I searched a few of the videos and articles also where his movement got shown. In most of them, you can see Cha Eun-woo dancing and practice for his songs and albums. Even if there is no album coming up, Cha Eun-woo still likes to work out by dancing.
His workout also involves staying active a lot; Cha Eun-woo is always on shoot doing some stuff, either making a video, recording a song, or attending events or shoots. All of these activities keep Cha Eun-woo moving and help the weight stay in control.
Many people have stated that Cha Eun-woo is doing gym because he suddenly gained muscles and biceps. However, I didn't find any video on his Instagram of him lifting weight and looking at his body; it won't be hard to get muscle with basic free body workouts.
Now let's see a routine that you can follow to get a body like Cha Eun-woo. In this training period, you will be working out six days a week for about an hour and a half. It will be a mixture of cardio and some free body workouts that everybody can do in their home.
Cha Eun-woo workout includes:
Cardio
We will start with a few cardio exercises. You can do any cardio workout that you want to do. Dancing, running, biking, or even switching it up when you want. That way, it will be exciting working out, and you will be able to enjoy yourself while doing different activities.
I would recommend doing dance class for four days a week and then doing yoga for two days. That will help you increase the flexibility of your body and even let you learn cool dance moves.
Free-body Workout
We will do a circuit routine in the free-body workout to tone our muscles and work on our cardiovascular. It will be a quick 20 to 30 minutes full-body workout, so get ready:
Circuits: 3
Reps: 30 to 40 seconds
Rest time after the whole circuit: 90 to 120 seconds
Push-ups

Wide push-ups

Pike push-ups

Reverse plank

Plank

Crunches

Leg raises

Russian twist

Squats

Jump squats to squat pulse

Lunges

Glute thruster
That's all for the Cha Eun-woo workout routine.
Also Read: BTS Singer Kim Taehyung V Diet Plan and Workout Routine
ASTRO Cha Eun-woo Diet Plan
Cha Eun-woo does a diet that allows him to eat a lot when he wants, but he also tries not to eat anything after 6 pm. However, when Cha Eun-woo said a lot, it doesn't mean that he's eating super unhealthy.
His diet usually is a regular diet of two to three meals with snacks. However, if you want, you can follow this diet below to get more fast results. We will also follow an intermittent fasting rule and eat from 10 am till 6 pm every day.
Cha Eun-woo diet includes:
Breakfast
Chicken sausage

Toast

Avocado or berries

Juice
Snack
Ice tea/coffee or Shake/smoothie
Lunch
Chicken breast or salmon

Veggies

Salad
Dinner
That's all for the ASTRO Cha Eun-woo diet plan.
Also Read: Jimin Workout Routine and Diet Plan [2020]