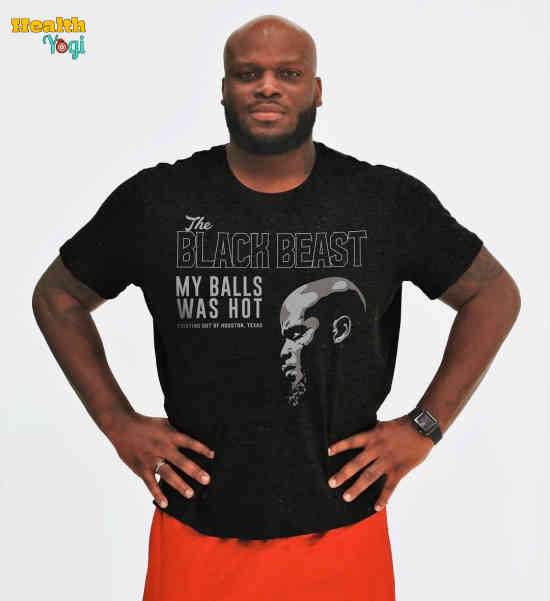 Derrick Lewis Workout Routine and Diet Plan: Derrick Lewis is an MMA fighter and UFC Heavyweight fighter who is competing for the heavyweight division. He is also named the Black Beast because of his fighting style and how he attacks like a beast. In two days, he will also be fighting Curtis Blaydes, an exciting fight to watch.
Now, when you are a beast, it's obvious you gain a lot of eyes on yourself. Derrick has quite an intense aura and physique. So if you also want to know the Derrick Lewis workout and the Derrick Lewis diet plan, keep reading.
Derrick Lewis Body Stats
| | |
| --- | --- |
| Height | 6 ft 3 inch |
| Weight | 120 kg |
| Age | 36 years |
| Chest | 45 inch |
| Waist | 34 inch |
| Biceps | 16 inch |
Also Read: Curtis Blaydes Workout Routine and Diet Plan
Derrick Lewis Workout Routine
Derrick has a different way to workout than other players that fight in the league. You can even consider him a natural talent, as he puts less effort into others but gets the best results. At the same time, other fighters train for four hours to five hours a day. Derrick trains two hours a day, and what's incredible is that he used to teach just one hour before facing the champion.
His training does not include a lot of weight training, and in an interview with Muscle and Fitness, Derrick stated that he doesn't even spar as it's not easy to find guys that he can trust is equal to Derrick's size. However, he does train boxing and other essential tricks with bags and his coach. So yeah, indeed, it's incredible that he has gone this far.
I went to Derrick's Instagram page to get more info, where he has uploaded a few more posts regarding his workout. You will see Derrick in the gym doing bodyweight exercises with slate; in others, he's running at a very moderate speed, and then there are other boxing posts. Derrick also stated that he does five rounds of pad work, and then he will do 15 minutes of Stairmaster and then hit the treadmill for 15 minutes.
However, I can see that his workout got updated for sure. So to get a body like him, you can train for an hour two times a day for six days a week. Start with MMA training in the morning in which you would do things like pad work, spar, and whatever your trainers tell you to. In the evening, focus on 30 minutes of weight training that involves exercises like dealings, snatch, tire flip, hammer slam, clean and jerk, squats, explosive squats, etc.
Finish it with 30 minutes run to get the best result in your training. It's something that I recommend that will help you get as close to Derrick's physique.
That's all for the Derrick Lewis Workout Routine.
Also Read: Jon Jones Workout Routine and Diet Plan 2020
Derrick Lewis Diet Plan
In the interview with Muscle and Fitness, Derrick also stated the diet he was taking. It was a high protein diet with carbs and fibers. Derrick consumes lots of water and doesn't drink juice or soda at all. His main diet revolves around foods like chicken breast, rice, grains, smoothies, etc.
So yeah, it's mostly clean; however, when Derrick doesn't have a fight coming for a long time, he does have burgers and stuff. After reading that, I can give you a diet that will provide you with all those nutrients. So here is my version of Derrick Lewis's diet.
Derrick Lewis diet includes:
Breakfast
Chicken sausage

Eggs

Toast
Snack
Lunch
Chicken breast

Rice

Veggies
Evening Snack
Dinner
Steak or turkey

Rice

Veggies
That's all for the Derrick Lewis diet plan.
Also Read:  Israel Adesanya Workout Routine and Diet Plan [2020] | Train Like a Middleweight Champion