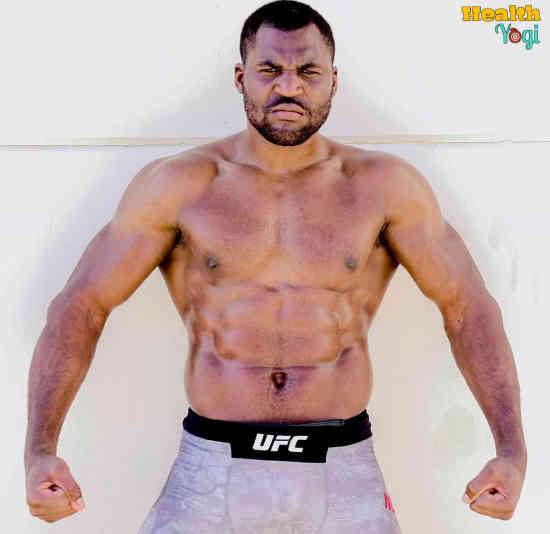 Francis Ngannou Workout Routine and Diet Plan: Francis Ngannou is a professional heavyweight UFC fighter and one of the top contenders for the Heavyweight Championship. Let me start it out by saying that Francis is a beast when it comes to fighting.
We have seen him fighting many fights; he's even getting compared with some of the biggest fighters in history. However, all of that is because of the dedication and effort that Francis put into his training. So if you also want to know more about the Francis Ngannou workout and the Francis Ngannou diet plan, then keep reading.
Francis Ngannou Body Stats
| | |
| --- | --- |
| Height | 6 ft 4 inch |
| Weight | 113 kg |
| Age | 34 years |
| Chest | 45 inch |
| Waist | 33 inch |
| Biceps | 16.5 inch |
Also Read: Stipe Miocic Workout Routine and Diet Plan | Train like a Heavyweight Champion
Francis Ngannou Workout Routine
Francis is undoubtedly the biggest name in the UFC at this moment. You can even say he's super close to running the yard on his own. I know many of you would disagree, but in my opinion, it's just a matter of time before he holds the title soon. Francis trains super hard every day to follow that goal.
He does lots of things in the training routine, and it depends on the time as well. There are lots of factors that you need to consider before having a huge fight. Francis has talked many times about his different workouts and many routines that he follows. So let's uncover all of them to know how to achieve fitness like Francis.
Francis's workouts depend on the days left before the fight. Usually, he starts to train hard two or three months before his fight.  Then two weeks before the match, Francis starts to slow down his routine. He even explained these things in his new video of UFC fight camp. You can see the whole video and learn more about the way he trains by clicking right here.
Francis does many MMA high-intensity workouts that include sparring, pad work, boxing, agility, weight training, etc. However, before the fights, he turns it down to slow movements and takes his time while doing pad workouts, sparring, etc. Other than that, he also loves to teach people about fitness.
Francis has his own YouTube show called fitness with Francis. That's the place where Francis himself teaches you and many other people how to stay fit. I recommend you watching that and learning lots of various workouts that anybody can do from home. The best thing about the activities is that you don't have to buy any equipment and Francis has shown a routine for every muscle.
Now that we have seen all of that workout, you can do all of that in a specific routine to get the best shape. If you don't know how to incorporate these into your training, then I would recommend you follow this plan made by me:
Francis Ngannou workout includes:
Morning Routine
You can start by training for two hours in the morning—all of your MMA routines like sparring, pad workout, agility, submission, etc., will get covered here. Of course, I'm not an MMA fighter or trainer, so I can't provide you a routine to follow. So join your nearby MMA gym and start working out there five days a week.
Evening Routine
In the evening routine, it will be an all-weight training routine. Conditioning your body is as important as building physical strength. You can see how nicely built physique Francis has; that's all because of the weight routine. Do your standard gym routine, but add these exercises for better results:
Deadlifts

Snatch

Sumo deadlifts

Bulgarian squats

Split squats

Walking lunges

Kettlebell swings

Overhead press and squats

Planks
That's all for the Francis Ngannou workout routine.
Also Read: Jon Jones Workout Routine and Diet Plan 2020
Francis Ngannou Diet Plan
Francis did an interview show with Brendan on his show called Below The Belt with Brendan Schaub. In that, they started by eating and talking about Francis's diet. Francis stated that he didn't start eating healthy until 2018 after losing a big fight.
Before that, he used to eat whatever he wants and doesn't even consider what he's eating. However, after that, he's eating cleaner, and by the cleaner means controlling the fast foods. Francis still doesn't have a super strict diet, but he stays away from processed and fast foods as much as he can.
Also, as he's a heavyweight fighter, Francis's daily calorie intake is at least 3.5k or more per day. So as long as you eat foods that contain lots of protein and some carbs with healthy fats, you will be okay. Try focusing on lean meat, steak, chicken, turkey, salmon, rice, veggies, soup, fruits, protein shakes, etc.
That's all for the Francis Ngannou diet plan.
Also Read: Derrick Lewis Workout Routine and Diet Plan